'Wynonna Earp': Could These Characters Return in Season 4?
The first three seasons of the beloved SyFy series Wynonna Earp have featured only a few characters consistently. The rest of the cast has been rotating series regulars and recurring stars like Shamier Anderson, whose character, Deputy Marshal Dolls, was written off in Season 3, and Varun Saranga, who began portraying scientist Jeremy Chetri in Season 2.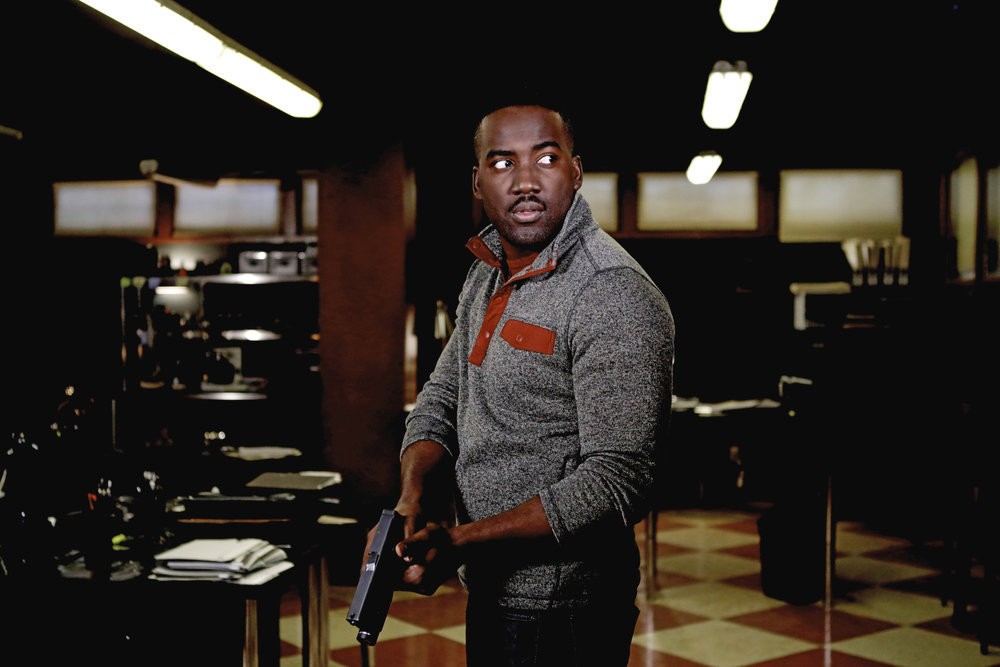 So which recurring and guest stars who have since left might be coming back? Here's what we learned at San Diego Comic-Con 2019.
Alice and Gus
What about Alice, Wynonna's daughter with Doc? Now that the curse has been lifted, will Wynonna reunite with her? "That's a very good question," said Andras. Scrofano even posed a conundrum for the heroine: What if it came down to saving Waverly and Doc versus Alice? "That's good drama, that's good television," she said to Andras.
There's also Gus McCready, Wynonna and Waverly's aunt who sold Shorty's and left Purgatory in Season 1. She is also said to the one raising Alice. "Gus sold the bar and was like, 'See ya!'" laughed Andras. It doesn't sound as though she'll return.
Mama Earp
For the first two seasons, Wynonna and Waverly's mother, Michelle, is mostly mentioned in passing. However, the character, portrayed by actress Megan Fellows, returns to her daughters' lives in Season 3 after they discover that Waverly has a different father.
"I'd love to [have her back]" said Andras of Fellows and the character. "Well she went off looking for her love who was Julian and it's a bit of surprise waiting for her at home," she reminded audiences, as Julian (known as Charlie to the Earp girls until recently) sacrificed himself to save Nicole in the Season 3 finale. "I would love to bring Mama Earp but as usual I'm sure she would show up when least expected and maybe not the best time."
Chrissy Nedley
Another character we haven't seen in awhile is Chrissy Nedley, the Sheriff's daughter and an old friend of Waverly's. She last appeared in the Season 1 finale. "I wouldn't mind seeing Chrissy Nedley again," said Andras. "But it seems like everyone in the town is missing right now." 
Additionally, it seems as though actress Dana Hollenbach is busy right now. "Can I tell you? Chrissy Nedley is a chiropractor in real life. The girl who played her is a doctor," said star Melanie Scrofano.
A quick Google search appears that this is true: Hollenbach is a Doctor of Chiropractic at a clinic in Calgary. Andras jumped on board. "Dr. Nedley, I love it already. It writes itself. It's so good. Yes, I think that would be interesting. If she's not too busy cracking backs." 
A potential new character
Andras was the showrunner of another Canadian series, Lost Girl, prior to creating Wynonna Earp. Anna Silk, who starred on Lost Girl as Bo Dennis, made a very notable appearance in a Season 3 episode of Wynonna Earp. One fan asked if Ksenia Solo, who portrayed Bo's sidekick, Kenzi, on the series, would maybe show up on a future episode of Andras' current show.
"I would love to get Ksenia Solo," said Andras. "I think the energy of Ksenia and Kat [Barrell] would be hilarious. Yeah please, Ksenia, call me! You can play literally whatever you want."
Someone from the audience shouted out that Solo would be signing autographs the next day. Solo was in attendance for her series, Project Blue Book. "Somebody slip a binding contract under her headshot and then, at the last minute," she mimed pulling back the paper. "You've got yourself a series regular!" 
Check out Showbiz Cheat Sheet on Facebook!
Source: Read Full Article