What You Didnt Know About Hannah Ferrier From Below Deck
When it comes to the hit Bravo reality show, "Below Deck Mediterranean," no one stood out quite like former chief stewardess Hannah Ferrier. The show follows the lives of members of a crew who live and work aboard a mega-yacht and sometimes deal with difficult guests and co-workers — and this Australia native had been part of the "Below Deck" spinoff since its premiere in 2016 until her departure in 2020. While being on a mega-yacht on the Mediterranean Sea may sound like a glamorous job, Hannah's role as chief stew wasn't easy. According to Work On A Yacht, chief stew's are "responsible for the interior of the vessel and for providing superior hospitality service to meet the owner's and guests' expectations." 
Hannah handled that and much more thanks to the ever-present drama with some of her castmates. However, she made headlines when she left the show after being fired by Captain Sandy (more on that later). "Honestly, it's so sad to me because it's five years of my life that I dedicated to this show," Hannah told The Daily Dish. "It changed and grew so much since Season 1 in Greece. …I'm just really sad that it's ended that way." Yet, the reality star has no regrets, explaining, "I feel like if you're regretting something, then you're probably not learning from it."
Clearly, Hannah Ferrier is usually very open about her life, but there may be some things fans don't know about the former "Below Deck Med" star. Let's dive in.
Hannah Ferrier would sometimes break the fourth wall on TV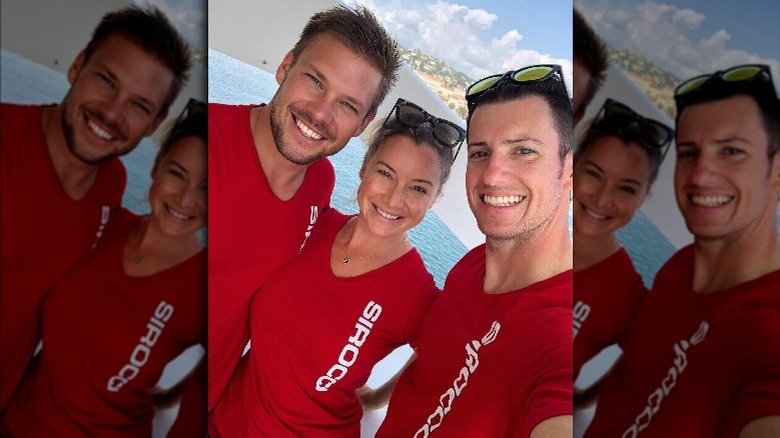 Hannah Ferrier may be a well-known reality star, but that doesn't mean she got used to having a TV crew or cameras follow her around as part of her everyday life. "On 'Below Deck,' they're very, very, very strict with the fourth wall," she dished to In Touch. "So even for myself, I've filmed five seasons of it, the camera crew, audio and everything like that, they won't interact. They won't say hello to me."
However, the chief stew revealed that sometimes she couldn't help herself when it came to breaking that fourth wall. As she once recalled on her "Dear Diary, You're Effed!" podcast, "I had one camera guy that was on every single season with me. And basically, he would wear this ridiculous pair of birthday board shorts once a year on his birthday. So he would be filming me, and I would be like shaking a cocktail, going like, 'Happy birthday to ya!'" She added, "You just know there's a producer in the control room going like, 'Hannah! Fourth wall!'"
The former "Below Deck Med" star also believes that shooting the series is harder than most other reality shows. "If you think about other Bravo shows, they film in a massive mansion or big restaurants or on the beach. And we're in these tiny confined spaces. And they have very big equipment," she explained to In Touch. "So it makes it difficult like that." It's clear that making reality TV isn't as easy as it looks!
She wanted to leave Below Deck Med, but could've done without the drama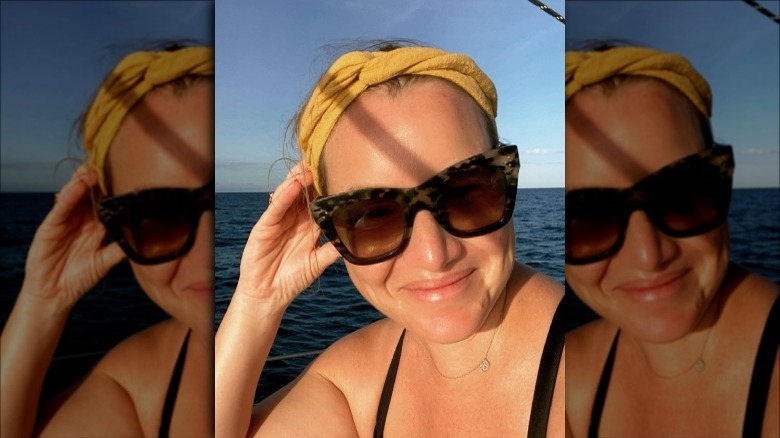 Hannah Ferrier's departure from "Below Deck Mediterranean" in 2020 came with its fair share of drama. The Bravo star was fired by her boss, Captain Sandy Yawn, for failing to declare her Valium and a CBD pen on the luxury mega-yacht, which was a part of protocol. Yet, Hannah believed the firing was unfair, since it was over prescription medication. 
"It was really upsetting at the time, especially after being on the show for so many years, and knowing that it wasn't a hidden fact that I suffered from anxiety and had anti-anxiety medication," she explained to Peninsula Living Pittwater. Noting that she wasn't "trying to be sneaky," Hannah revealed that she took issue with the "stigma" now associated with her since her firing was due to prescription drugs: "Anxiety medication is for a mental illness, so it shouldn't be painted like, 'You're a drug addict smuggling drugs on board.'" 
While Hannah continued to speak out over the matter in the press, including an interview with Decider, she also revealed ahead of Season 5 that she was ready to leave the show anyway. "I think I'm probably done," she admitted to ET. Referring to the profession as "young people's game," Hannah added, "I don't want to get to the stage where I'm locked into yachting and there's nothing else in my life except that."
If you or someone you know is struggling with mental health, please contact the Crisis Text Line by texting HOME to 741741, call the National Alliance on Mental Illness helpline at 1-800-950-NAMI (6264), or visit the National Institute of Mental Health website.
Inside Hannah Ferrier's beef with fellow chief stew Kate Chastain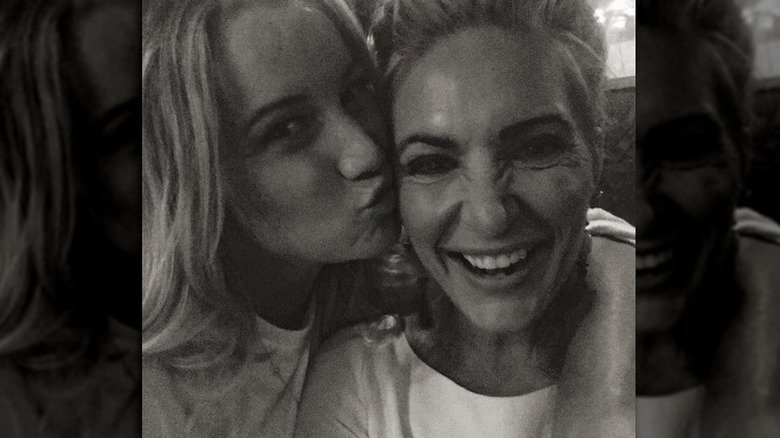 Hannah Ferrier is no longer friends with her former pal and fellow chief stew, "Below Deck's" Kate Chastain, after they apparently had a falling out sometime in 2019. While speaking with The Daily Dish that October, Kate shed some light on what allegedly went down to cause the rift. "A lot of people that work with Hannah also work with me, and people tell me things that are said," she said. "And so, at this point, it's just like I don't really want to be friends with somebody that said bad things about me."
As for Hannah, she opened up about the matter on the "Side Piece with Melissa Pfeister" podcast in 2021. Noting that "dragging people in press" isn't her "style," she claimed of the feud, "That was basically just like a situation with my friends, where I kind of called her out on, and I don't think she liked getting called out."
For her part, Kate previously took aim at Hannah following her "Below Deck Med" firing in 2020, dishing on "Another Below Deck Podcast" that she believes she would have been able to keep her job "if Hannah was a fantastic chief stew, hard-working, good team player." Kate claimed, "Even when she was sober, she still wasn't that good at her job. She wasn't good for morale." With comments like that, it's clear that friendship is definitely over.
She's still feuding with Captain Sandy, but has the support of others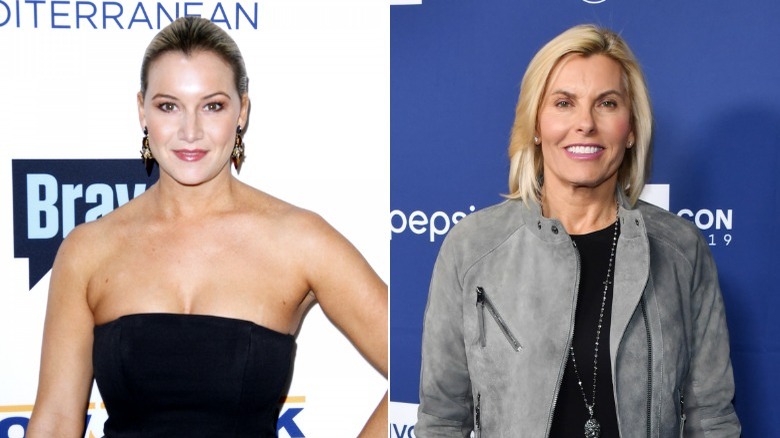 At the time of this writing, Hannah Ferrier is still locked in a feud with Captain Sandy Yawn — her former boss who fired her during Season 5 of "Below Deck Mediterranean." On "Side Piece with Melissa Pfeister," Hannah dished that she thought Captain Sandy had it out for her, saying, "There was some weird competitive thing she had going on with me, which was kind of silly, because it's not two positions that should be competing. … I think she was competitive with me on the TV side of things." As Hannah noted on "The Real House Husbands" podcast, "I felt like she was very much trying to find fault with what I was doing."
As for Captain Sandy, she's had her own things to say about Hannah. "I fired Hannah because I don't trust her as a crew member," she told Showbiz CheatSheet, adding, "I'm a captain and she waits tables. … I think that's the part that I think really disturbs her, is her ego."
Yet, not everyone is on board with Captain Sandy's assertion. While Season 1 stewardess Julia d'Albert-Pusey called Hannah "amazing" and "hard working" on Twitter, fellow chief stew Bugsy Drake told Us Weekly that the job "goes above and beyond … just waiting tables." Even Hannah's replacement, Katie Flood, gushed to Decider how Hannah "was really kind" and "reached out," adding, "She just said congratulations and that she's here if I need to talk to her about anything."
Hannah Ferrier's fiance is 'very private'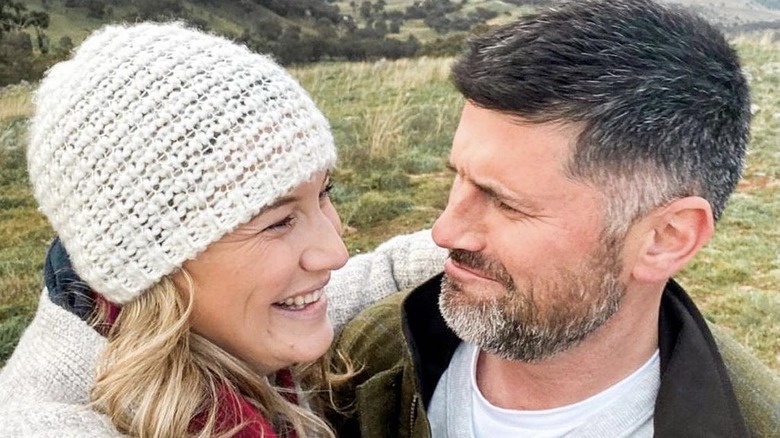 While Hannah Ferrier used to live her life on camera, her fiancé, Josh Roberts, is the opposite in that he's very private. So much so that Hannah didn't include him in her social media pregnancy announcement, and they didn't even become Instagram official until over a month after their November 2020 engagement. So, the Bravo star shocked her fans in January 2021, when she posted a photo of him, writing, "Okkkkkk. Here he is. Insta official." Hannah has since shared more pics of Josh, especially when it comes to gushing about their "little family."
As for the reason behind all the secrecy? Hannah told Bravo Insider (via The Daily Dish), "He's very private, he hates social media, so, that's definitely something that I respect. He's just very low key." Yet, Hannah shared during the "Below Deck Med" Season 5 premiere that it was "definitely the first relationship that I actually see some longevity and potentially getting married and making babies and having a family."
Hannah also revealed on "Watch What Happens Live" that she had met Josh after filming Season 4, while at a bar in Sydney. She gushed, "We kind of both flirted with each other, but I did let him know I just finished filming, so I was at 50 percent of my normal capability. So I'm surprised that alone didn't scare him off." Not only did Hannah not scare Josh off, but she made him a father. After sharing her pregnancy news in June 2020, Hannah told The Daily Dish, "He's over the moon. He's so excited."
This Below Deck Med alum is 'living that best mum life'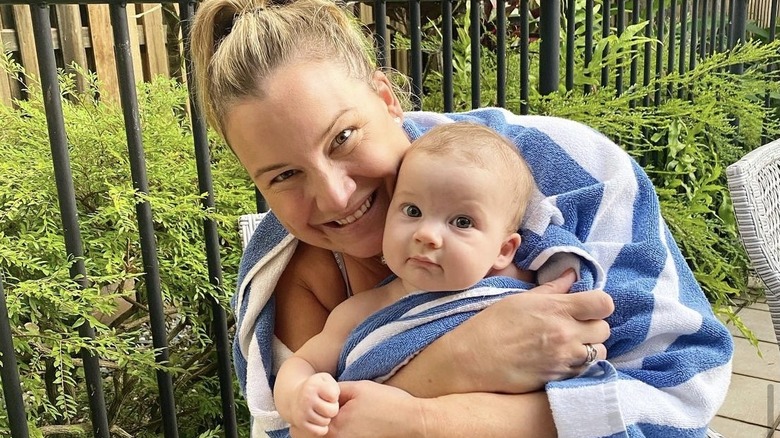 Fans of "Below Deck Mediterranean" were used to seeing Hannah Ferrier take care of a mega-yacht, but these days, she's happily taking care of a baby instead. The former reality star welcomed daughter Ava Grace in October 2020. She announced her birth on Instagram, gushing in the caption, "Josh and I are so happy to welcome to the world our little girl, Ava Grace Roberts … She is already a little menace that has captured our hearts forever."
It seems that Hannah has really taken to being a mother, telling Who, "I'm loving it. We're at the three-month mark now, so she's settled into her little routine. It was a big change to life as I knew it but it's amazing." Hannah even frequently takes to her Instagram to gush about how she's "living that best mum life." In another photo with Ava Grace, the new mom wrote, "We walk, we sing, we dance and we smile — life is good."
However, Hannah did share that motherhood does come with its challenges. "Those first few weeks are a bit questionable. I was like, 'This is not what it looks like in the movies, let me tell you.' But, it's good now," she told Who, adding, "So many people every day tell you, 'You've got to appreciate every moment — it goes so quickly!' And it's stressing me out, because I'm like, 'Oh gosh, I'm not enjoying this second, I'm doing it wrong!'" It seems to us like Hannah Ferrier is doing just fine.
She loved being pregnant, but isn't sure about baby No. 2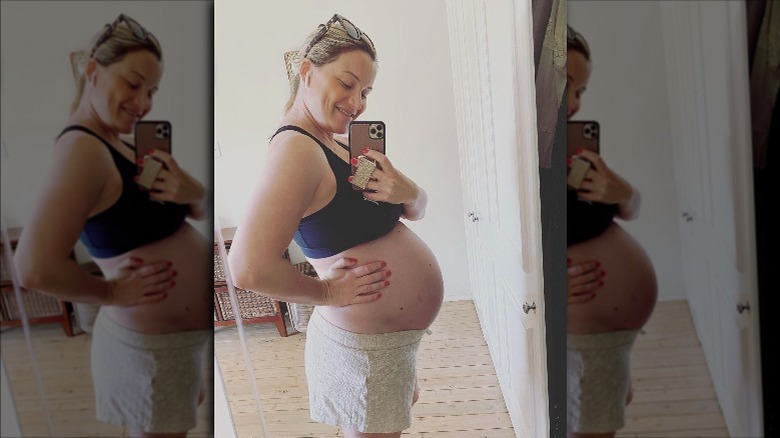 While Hannah Ferrier loves being a mom, it doesn't necessarily mean she's ready to go through pregnancy again or that she even wants another baby — and it's something that she and her fiancé, Josh Roberts, don't seem to be agreeing on. In May 2021, Hannah told Us Weekly, "Josh has [thought of baby No. 2], but I'm on the fence still." She then explained why she's hesitant, saying, "I think I still have PTSD. I had a really traumatic labor. So, I don't know." Yet, the "Below Deck Mediterranean" alum did add that she could change her mind in six months.
Although Hannah had a difficult labor, the Bravo star did really love being pregnant. In July 2020, she wrote in the caption of an Instagram photo showing off her baby bump, "I always thought people were crazy when they said they enjoyed being pregnant but I totally get it now!! I am absolutely loving everything about it!!" She continued, "From the changes in my body, to the closeness in my relationship, to feeling kicks and movement and I'm especially loving falling head over heels in love."
Hannah even joked in another caption about how she missed her baby bump post-pregnancy, writing, "Did anyone else spend the last month complaining about their bump and then really miss it when it disappeared??" It seems only time will tell if Hannah will eventually give her daughter, Ava Grace, a sibling!
Hannah Ferrier has clapped back at online trolls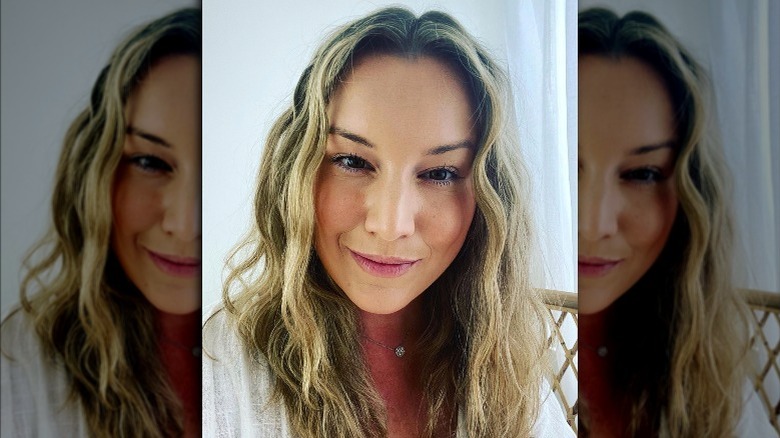 As a reality TV star, Hannah Ferrier gets a lot of online hate, but the former "Below Deck Mediterranean" chief stew isn't afraid to shut down the trolls and fans who share unwanted life advice — including how to raise her own daughter. Us Weekly reports that someone once wrote in the comments of one of her Instagram posts, "I hope that you will choose to retire from your yachting career and commit to raising your child personally, becoming a full-time mother to your child." Hannah didn't take it lightly and responded with, "Just because I retire from yachting doesn't mean I will be a full-time mother … having a happy and fulfilled mother is a lot better for the child than having a mother who's around 24/7."
That wasn't the first time Hannah had to defend her parenting. She revealed to the outlet, "I actually put something up on my stories the other day and I was like, 'Look, this isn't to be rude. Thank you very much for all the advice, but I don't take my parenting advice off strangers on the internet.'"
Unfortunately, Hannah also had to clap back at those who criticized her appearance and accused her of getting plastic surgery after she posted a selfie in July 2021. "How f**ked is it?!?!" she wrote in the comments (via Page Six). "I've put on weight due to a baby and an injury that occurred during birth and now I'm disgusting and have had so much work done!!!!" The message is clear, don't come at Hannah Ferrier on Instagram!
This chief stew started her own online yacht training academy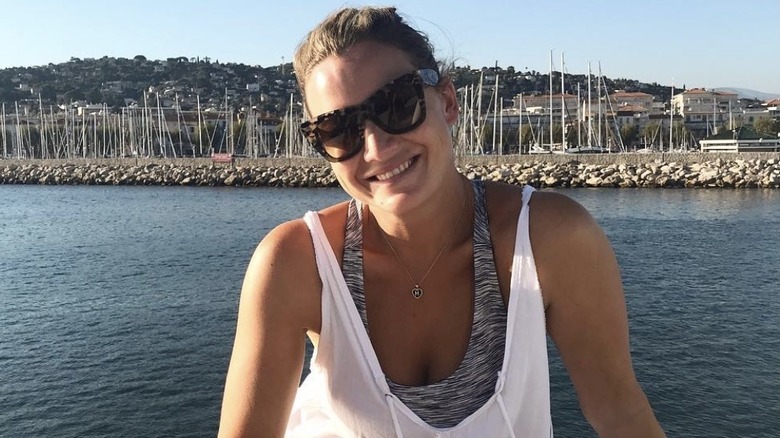 Hannah Ferrier may no longer be chief stew on "Below Deck Mediterranean," but she's still working in the yachting business with her online training course, Ocean International Training Academy. In fact, it was her time on the show that inspired her business venture, since fans always asked her about how to get into yachting. She told The Daily Dish in 2020, "I found that there was this gap in the market because … it's like, how do you know that yachting is right for you in the first place? And that's where Ocean International comes in." Ferrier continued, "It's like the street smarts of yachting. So it really breaks it down for you, what the industry is actually like, what you can do at home before you even leave to go and join yachting. … It gets down to the nitty-gritty of yachting."
Hannah is even partnering with Season 4 stew and chef, Anastasia Surmava. The former explained, "We complement each other very well in terms of the business side and what we're good at."
But then there's another "Below Deck" alum, EJ Jensen, who has accused Hannah of ripping off his yachting school. "She has literally word for word copied my Yacht University course and made it kind of her own," he claimed on the "Behind the Velvet Rope" podcast. Hannah responded to the allegations, tweeting, "I love that anyone would think someone with a newborn has time to be that calculated!!! I'm literally just trying to keep everyone alive right now lol."
The reality star stays connected with fans through her podcast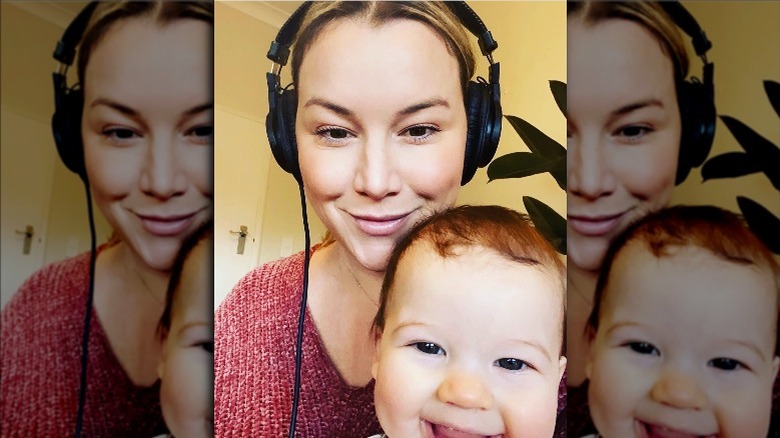 In addition to Hannah Ferrier's new training academy, the new mom started her own podcast with her friend, Australian red carpet reporter Justin Hill, called "Dear Diary, You're Effed!" Hannah summed up what it's about to The Daily Dish in 2020, saying, "Basically every week, we just go in and we read a diary entry and very much make fun of 13-year-old Hannah. There's a lot of very serious podcasts out there; this is not that. It's like escapism. It's reality TV in a podcast."
The "Below Deck Mediterranean" alum dished how she got the idea for it, writing on her Instagram, "I started this podcast as a way to keep in touch with you guys now that I'm home and 'knocked up.' When I was moving house a few months ago I stumbled across my old diaries from when I was a teenager and couldn't believe my eyes! I was the same but worse!!"
Hannah wants the podcast to be interactive, where fans give her feedback, as well as share their own diary stories. As mentioned in her Instagram post, the podcast is a way for Hannah to keep a relationship with her fans now that she's no longer on Bravo. She explained, "One of my saddest things with leaving the show was losing touch with fans. It's a weird relationship. It's online, but some of these people I've been chatting to for five years."
Hannah Ferrier is worth more than you'd think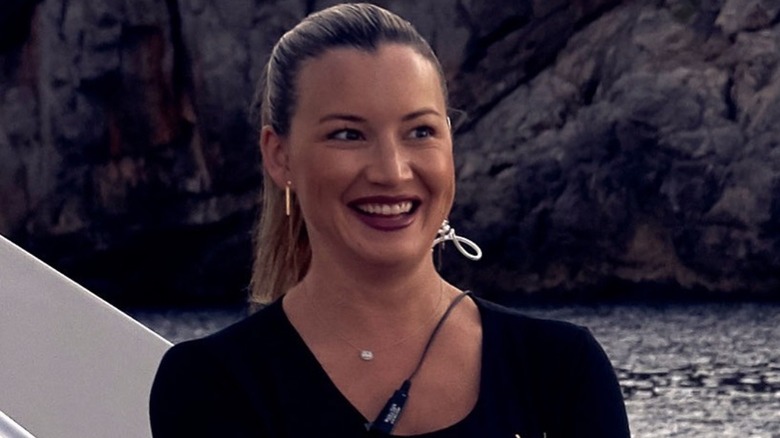 It appears that "Below Deck Mediterranean" has made quite the impact on Hannah Ferrier's bank account, in that her job on the mega-yacht paid well and her time on Bravo made her somewhat of an influencer. From just her job as chief stew alone, Crew Finders reports that she could have made an annual salary anywhere from $54,000 to $84,000, depending on the size of the yacht. That's not counting her tips, which, according to Decider, averages to about $12,790 per season. But most of Ferrier's money from the series came from her actual job, since production reportedly "only pa[id] the cast a small appearance fee," per Pootonopedia.
With all that said, various outlets report that Hannah has an estimated net worth of around $600,000, yet that number could be much higher depending on the success of her latest ventures, the Ocean International Training Academy and her "Dear Diary, You're Effed!" podcast. The former reality star also makes money through sponsored posts — for brands like for Natural Cycles and BondiBoost, to name just a couple — on her Instagram account, which boasts over 714,000 followers. As for other perks of the yachting job? Hannah tweeted in January 2021, "It's good pay. Chief stew is around €5000 per month with no expenses! So no rent or bills!"
Fans may know Hannah Ferrier best as a former chief stew on "Below Deck Mediterranean," but it seems she's having no problem continuing her success and enjoying life off-camera. And who doesn't love to see that?
Source: Read Full Article