Weve Already Lost Too Many Harry Potter Actors
Nobody could have predicted how successful J. K. Rowling's "Harry Potter" series would be. But with each book she released, the tales garnered more and more attention, culminating in a global and cult following. The reach of her magical world was extended further when Warner Bros. brought the series to the big screen. Currently, the collective Wizarding World movie franchise (which now includes the "Fantastic Beasts" films) is the third highest-grossing film franchise of all time (via Investopedia).
2021 marked two significant milestones for the "Harry Potter" film franchise. It celebrated the 10th anniversary of the eighth and final film "Harry Potter and the Deathly Hallows: Part 2" in July 2011. This is followed closely by the 20th anniversary of "Harry Potter and the Sorcerer's Stone," which launched the film franchise in November 2001.
It's hard to imagine that "Harry Potter" was brought to the big screen two decades ago, yet, time flies, and sadly, some stars who helped to make the iconic franchise are now no longer with us. We've already lost too many "Harry Potter" actors, so let's celebrate the legacy all these screen legends have left behind.
Richard Harris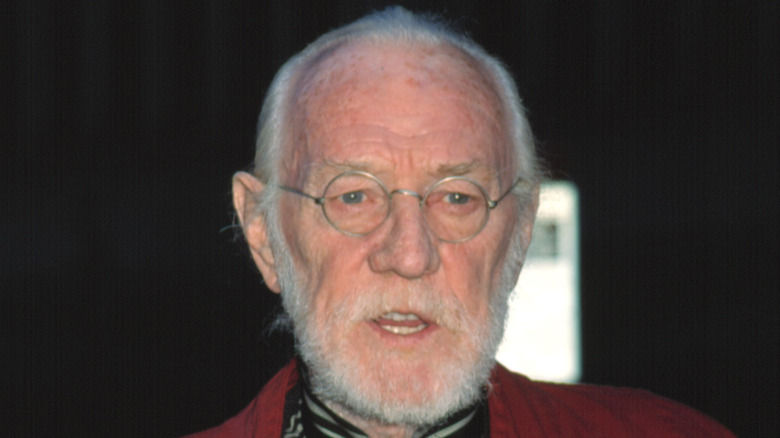 Before Sir Michael Gambon joined the "Harry Potter" cast, the iconic role of Albus Dumbledore belonged to the Irish actor Richard Harris. Harris played the Hogwarts Headmaster in the first two "Harry Potter" films. However, Harris actually turned down the role three times before accepting it. "My granddaughter called me and said 'Papa,' she said, 'if you don't play Dumbledore, I will never speak to you again,'" per Raremedia.
Shortly after he finished filming "Harry Potter and the Chamber of Secrets," Harris was admitted to the hospital with pneumonia and was later diagnosed with Hodgkin's disease, a form of cancer. However, the 72-year-old had committed to playing Albus Dumbledore for the duration of the film franchise and didn't plan to let his diagnosis stop him. "He threatened to kill me if I recast him," director Chris Columbus joked. But sadly, Harris died on October 25, 2002, less than ten days before the film was released, per The Guardian.
Richard Griffiths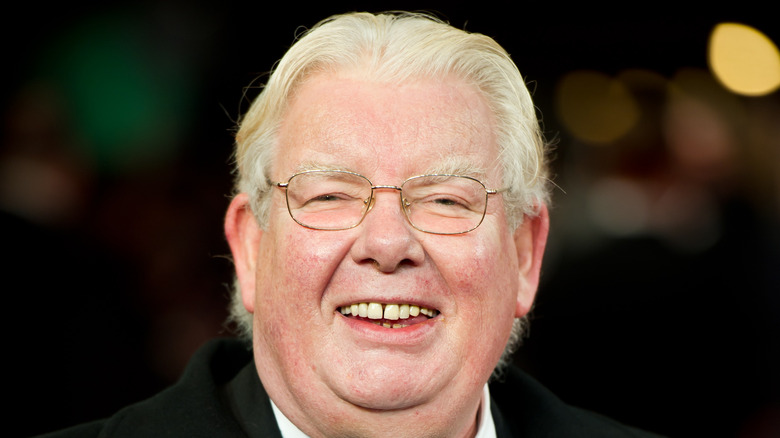 Celebrated British actor Richard Griffiths played Harry's magic-hating muggle uncle, Vernon Dursley, in five of the "Harry Potter" films. In a 2008 interview, Griffiths said being part of the "Harry Potter" films was a "fantastic" experience and that perhaps his character was more misunderstood than people thought. "He's a guy who doesn't understand anything, Vernon. And he's not cruel, he means well, but it just comes out bad," the actor explained (via Sniffle.net).
On March 28, 2013, Griffiths died from heart surgery complications at age 65, The Guardian reported. He is survived by his wife of 33 years, Heather Gibson. The Tony Award-winning actor was recognized for his vast film, television, and stage work, including "The History Boys," "Sleepy Hollow," "Withnail and I," and the 2007 stage production of "Equus" which he starred in alongside his "Harry Potter" co-star Daniel Radcliffe.
Radcliffe shared a heartwarming tribute to his on-screen uncle: "any room he walked into was made twice as funny and twice as clever just by his presence. I am proud to say I knew him" (via ITV News).
Derek Deadman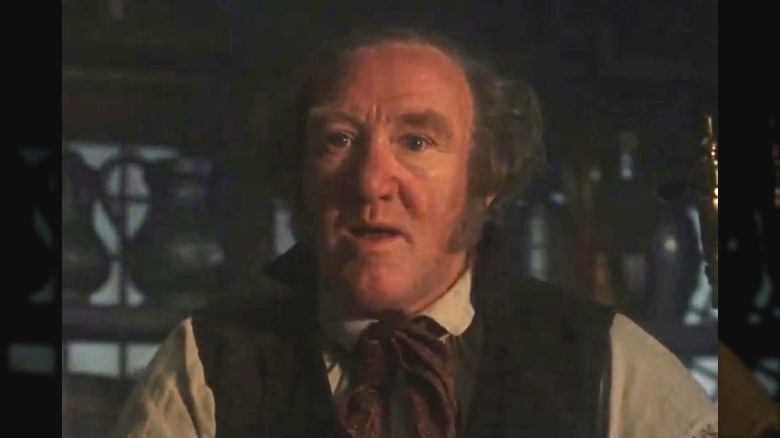 Derek Deadman played Tom the barman at the Leaky Cauldron in "Harry Potter and the Sorcerer's Stone." Initially, Tom asks Hagrid if he wants the "usual" but the latter explains he's "on official Hogwarts business" — which is taking Harry to Diagon Alley through the magical entrance at the back of the pub. "Just helping young Harry here buy his school supplies," Hagrid explains to the barman, who becomes awestruck by the young celebrity. "Bless my soul, it's Harry Potter," the barman exclaims.
Tom reappears in the third "Harry Potter" movie, but Deadman was inexplicably absent from the screen. Instead, he'd been replaced by British actor and comedian Jim Tavaré. It's not clear why Deadman stepped away from the franchise but seems to have been for health reasons. Deadman left the screen (bar an appearance in "A Goldfish in a Flame" in 2010) after "Harry Potter". He previously had supporting roles in "Never Say Never Again," "Robin Hood: Prince of Thieves," and "Doctor Who."
Deadman retired to France, where he died from Diabetes-related complications in 2014, per Seventeen.
Verne Troyer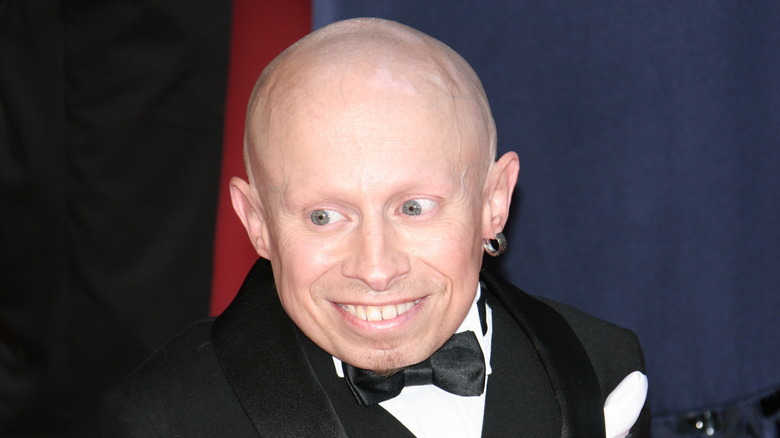 Verne Troyer was the actor behind the goblin Griphook who showed Harry to his Gringotts vault in "Harry Potter and the Sorcerer's Stone."
Casting for the "Harry Potter" franchise was limited by an all-British rule, though Michigan-born Troyer was one of the few exceptions. However, British actor and fellow "Harry Potter" star Warwick Davis (who played Professor Flitwick) voiced Troyer's character. Troyer did not reprise his role as Griphook after the first movie, though, and when the character reappeared in the "Deathly Hallows" films, Davis had taken over the role completely.
Troyer had a long list of acting credits which included playing Mini-Me in the "Austin Powers" series. However, off-screen, the actor had issues with addiction. Troyer died from multiple organ failure on April 21, 2018, after being hospitalized for alcoholism earlier that month. After his death, his family shared a tribute to the actor on his social media page, saying he was "a fighter when it came to his own battles" but that "this time was too much." Troyer had been open about his addiction in the past. "I'm willing to continue my fight day by day," he said (via The Washington Post).
If you or anyone you know is struggling with addiction issues, help is available. Visit the Substance Abuse and Mental Health Services Administration website or contact SAMHSA's National Helpline at 1-800-662-HELP (4357).
John Hurt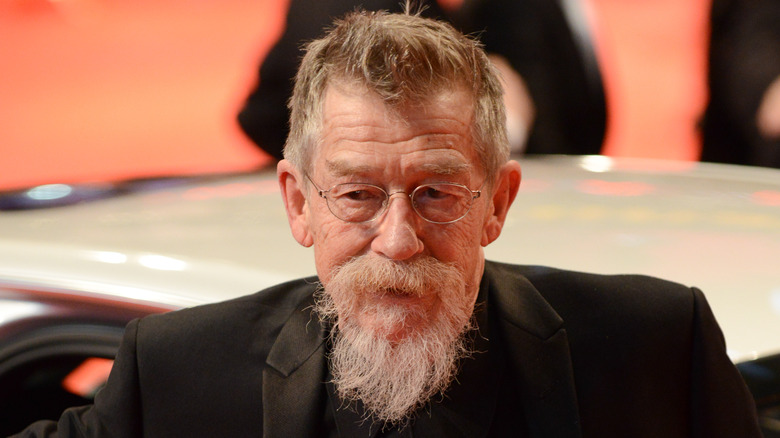 Sir John Hurt played magical wandmaker Garrick Ollivander in the "Harry Potter" franchise, appearing in three out of the eight films. We first meet Ollivander in "Harry Potter and the Sorcerer's Stone" when Hagrid sends Harry along to his shop to buy his wand. "Ain't no place better," he tells the young wizard. Ollivander later reappears in both installments of the "Deathly Hallows." In a nice full-circle moment, Ollivander repeats a line from the first film. "The wand chooses the wizard, Mr. Potter," he reminds Harry, who later uses this piece of information to defeat Voldemort.
To "Harry Potter" fans, Hurt will always be remembered as the Diagon Alley wandmaker, though he had an extensive film and television career spanning half a century. During that time, Hurt amassed over 150 acting credits, including in the Guillermo del Toro film "Hellboy" and the long-running television series "Doctor Who." The BAFTA-winning actor also bagged major voice roles in "The Gruffalo" and the BBC series "Merlin."
Hurt died on January 25, 2017. He was survived by his wife who said he brought "joy and magic" to the world, per BBC.
Terence Bayler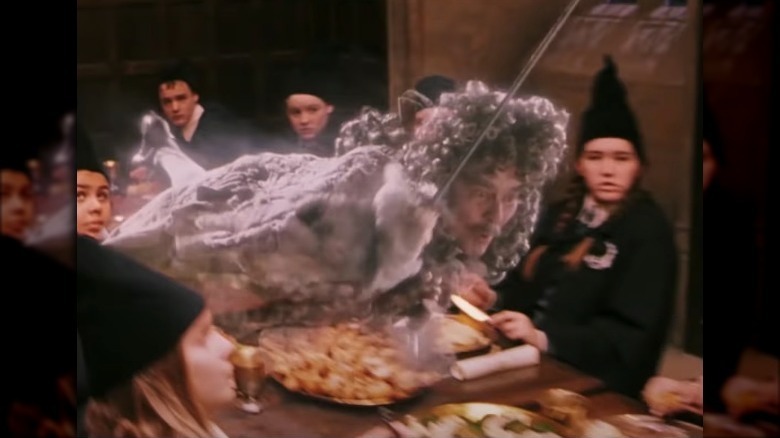 New Zealand-born actor Terence Bayler was another exception to the all-British cast rule. Baylor played Slytherin's ghost the Bloody Baron in "Harry Potter and the Sorcerer's Stone." The Bloody Baron had a bigger role in the "Harry Potter" books — he was the only one who could keep Hogwarts poltergeist Peeves in line. The Bloody Baron's role didn't fully translate to the screen, and he only appears in the first movie, however, we learn more about his life in "Harry Potter and the Deathly Hallows: Part 2" when Helena Ravenclaw reveals he murdered her in the eleventh century.
This appearance in "Harry Potter" was just a stop along the way for Bayler, who had a career that spanned six decades. The actor was known for "Monty Python," "Doctor Who" and Shakespeare stage productions. Bayler died on August 2, 2016, at the age of 86, per The Hollywood Reporter.
"I think the thing I loved most about Terence Bayler was his gentle loving considerate humor," wrote fellow actor Eric Idle (via EricIdle.com). "It was a privilege and a pleasure to know him. He enriched my life and I loved him," his friend added.
Rik Mayall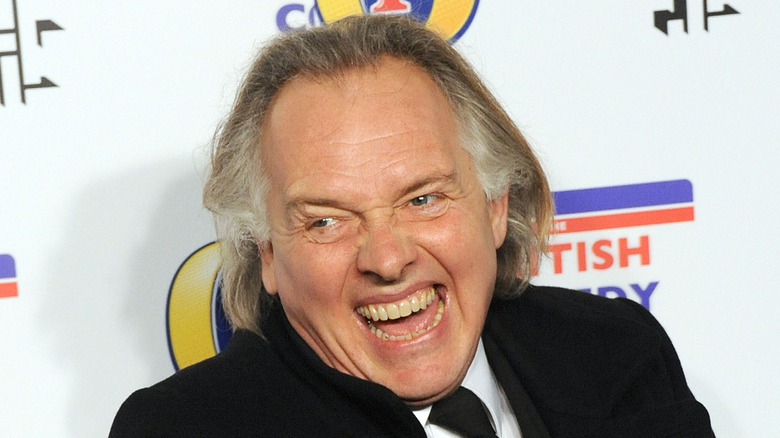 British actor and comedian Rik Mayall was cast to play the Hogwarts poltergeist Peeves in "Harry Potter and the Sorcerer's Stone." Peeves was a big part of the "Harry Potter" books, but fans will know that the character didn't make it into the film franchise. Mayall filmed his scenes, though. "I was in the film for three weeks and then they cut me out … that is the most exciting film I've ever been in," he revealed in an interview.
Mayall died on June 9, 2014, from a heart attack after his "morning run" at the age of 56, The Guardian confirmed. The actor's wife Barbara Mayall said she and her family received "thousands and thousands of messages of condolence" which came from fans all over the world. "We always knew that Rik was well loved but we are all overwhelmed by so many joining us in our grief."
Before his death, Mayall also appeared in series such as "The Young Ones" and "Blackadder."
Alan Rickman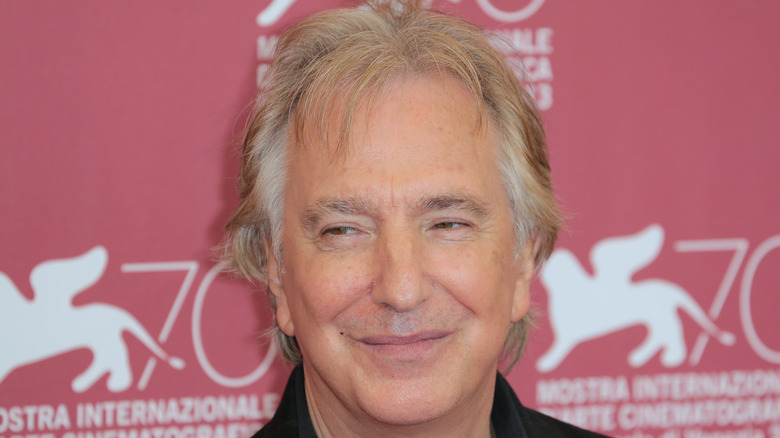 Beloved British actor Alan Rickman portrayed Severus Snape in all eight of the "Harry Potter" films. "I was asked to do it," Rickman explained (via The New York Times). "I went and had dinner with Chris Columbus and David Heyman and the three of us sort of corporately said, "okay then, let's"." While Rickman was perfectly cast, he explained the role wasn't without its challenges initially. The "difficulty … when we started it, Jo Rowling had only written three [books] and I was playing the character where you had no idea where it was going," he said. "Clearly [Snape] had an agenda, you just had no idea what it was."
Rickman's career extended far beyond "Harry Potter," too. The famed actor had a prominent stage career, along with starring roles in films such as "Love Actually," "Robin Hood: Prince of Thieves," and "Die Hard."
Rickman died on January 14, 2016, from pancreatic cancer at the age of 69, per BBC. His death was met with heartfelt tributes from his "Harry Potter" castmates. "Alan Rickman is undoubtedly one of the greatest actors I will ever work with. He is also one of the loyalest and most supportable people I've ever met in the film industry," wrote Daniel Radcliffe (via Elite Daily). "I will carry the lessons he taught me for the rest of my life and career."
Elizabeth Spriggs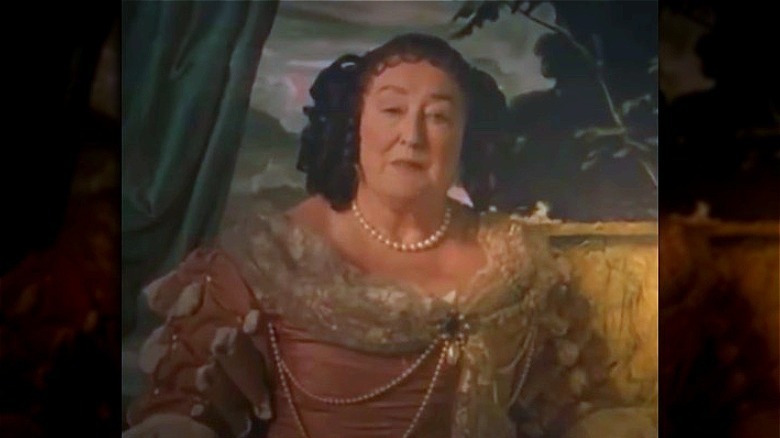 Elizabeth Spriggs played the "Fat Lady" in the portrait which led to the Gryffindor common room. Spriggs only appeared in "Harry Potter and the Sorcerer's Stone" though, and in the third film, the "Fat Lady" was played by Dawn French, who put more of a comedic spin on Spriggs' serious performance.
"Harry Potter" may not have been a career-defining performance for Spriggs, but her work on stage was legendary. For over four decades, Spriggs performed classics like "Romeo and Juliet," "Much Ado About Nothing," and "Macbeth" on West End stages. "Elizabeth was one of the great unsung actresses of our time," her "Hamlet" co-star David Warner told Coventry Live.
Spriggs died on July 2, 2008, at the age of 78, per The Guardian. She was survived by her daughter, Wendy Spriggs, and her third husband, Murray Manson. Fellow Harry Potter actor Robert Hardy attended Spriggs' funeral and paid tribute to his friend. The pair acted on stage together many times and Hardy said their partnerships were always full of "laughter, joy, kindness and fun" (via Thame.Net).
Alfred Burke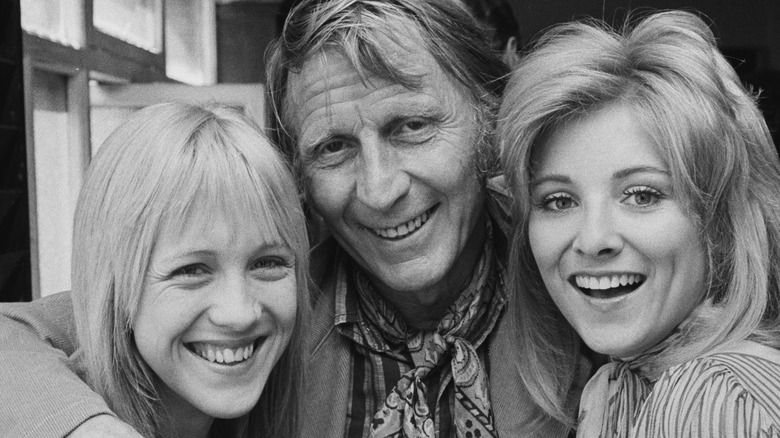 There were a host of historical or deceased "Harry Potter" characters that the film franchise was forced to omit, but thanks to a flashback in "Harry Potter and the Chamber of Secrets" fans got to meet one of them — Professor Armando Dippet. Alfred Burke played the former Hogwarts Headmaster and Dumbledore's predecessor in a flashback scene orchestrated by Tom Riddle.
Burke's appearance in the "Harry Potter" was his last acting role, but it was by no means his biggest acting credit. The actor had an affinity for the theater and appeared in many productions by the Royal Shakespeare Company, such as "Macbeth," "A Midsummer Night's Dream," and "Antony and Cleopatra." He also had a main role in the popular television series "Public Eye." "I'm one of life's pessimists," he once said. "I never expected my career to take off," he once said (via Independent). "I never expected 'Public Eye' to last more than one series. Fame, if that's what you call it, did not come to me until I was 50. When you have such low expectations as I do, anything nice that happens is a marvelous bonus!"
Burke died on February 16, 2011, at the age of 92, per The Guardian.
Robert Hardy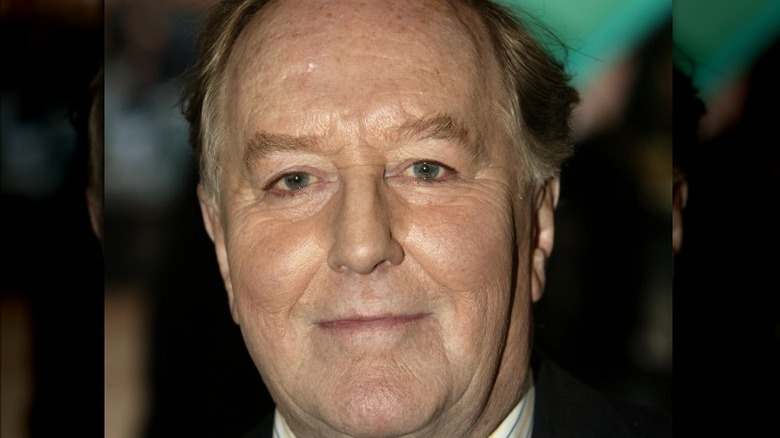 Robert Hardy played Minister for Magic Cornelius Fudge in four of the eight "Harry Potter" films. Fudge first appeared in "Harry Potter and the Chamber of Secrets," followed by "Harry Potter and the Prisoner of Azkaban," where he tried to befriend Harry, appearing as an ally — but later came to Hogwarts to see the execution of Hagrid's hippogriff Buckbeak. As the films went on, Fudge became more power-hungry and became an antagonist to Harry and Dumbledore when he denied the return of Voldemort.
Hardy died on August 3, 2017, at age 91, The Guardian confirmed. "Harry Potter" alum Chris Rankin who played Fudge's assistant Percy Weasley paid tribute to the actor on Twitter: "BBC news tells me Robert Hardy, the Minister of Magic, has died. Terribly sad. He was a very kind man who told wonderful stories."
The classically trained British actor had a career spanning over 70 years and was known for a variety of stage, film, and television roles such as the BBC series "All Creatures Great and Small." He was also proud to have portrayed Winston Churchill on screen nine times in nine different productions (via Daily Express).
Jimmy Gardner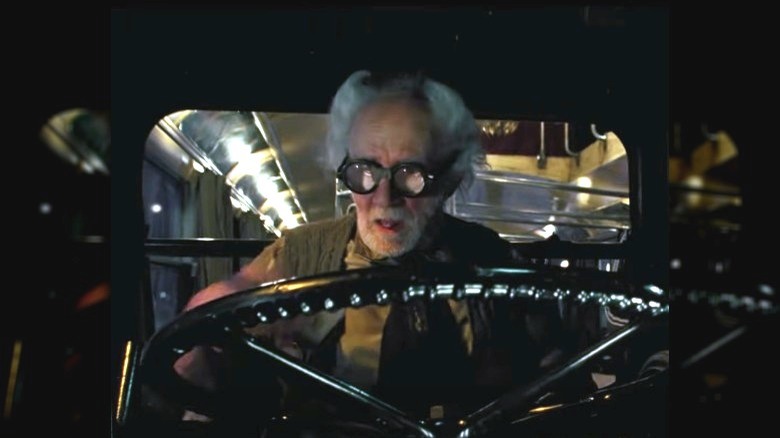 After serving in the RAF during World War II, Edward Charles James "Jimmy" Gardner pursued his childhood dream of becoming an actor. During his fifty-year career, Gardner starred in television series like "Doctor Who" and feature films such as "Finding Neverland." His most notable roles include performing "Hamlet" with the Royal Shakespeare Company and joining the "Harry Potter" cast as the Knight Bus driver Ernie Prang.
Earnie Prang is introduced in the "Prisoner of Azkaban" and with the help of a shrunken head (voiced by Lenny Henry), he drives the Knight Bus in an erratic fashion picking up stranded witches and wizards — which includes central character, Harry Potter.
Gardner died on May 3, 2010, at the age of 85, and sadly didn't live to see the release of the "Deathly Hallows" films, per the Independent. His friend and fellow actor Mark Rylance dedicated a plaque to Gardner: "I don't know if it was his experiences in the second world war, but I've never met a man who loved life more," per BBC.
Eric Sykes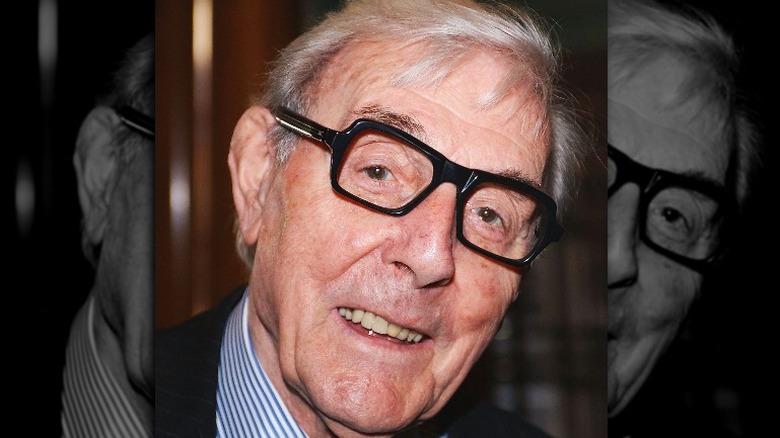 British actor and comedian Eric Sykes played Frank Bryce in "Harry Potter and the Goblet of Fire." Frank Bryce was the caretaker of the Riddle house and the first face you see in the movie. "It was so enjoyable. I thought it was all going to be shot in half a day and it went on for a couple of weeks," Sykes said of his experience on the "Harry Potter" set to Manchester Evening News, (via HPANA). "They kept adding little bits until it's my scene coming down the stairs, and that's the opening of the picture. They wanted him to be so well known so that when he dies after the first five minutes, all the audience would go, "Ahhh"."
Alongside his role in "Harry Potter," Sykes was a versatile actor and had a supporting role in "The Others" alongside Nicole Kidman, and has credits in several Alan Bennett plays.
On July 4, 2012 Sykes died peacefully at home with his family after "a short illness," his manager Norma Farnes told BBC.
Margery Mason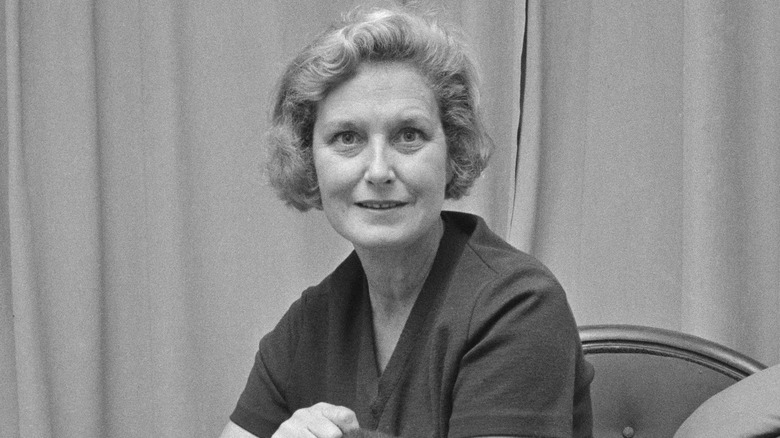 Margery Mason appeared in "Harry Potter and the Goblet of Fire" as the trolly witch on the Hogwarts Express. The actor took over the character from Jean Southern, who decided not to reprise her role after the first "Harry Potter" film for health reasons.
During World War II, Mason served as an army lieutenant for the Entertainments National Service Association and "claimed to enjoy the luxury of service life," per The Guardian. She had briefly worked in the theater before joining the army and continued to pursue this career path when the war ended, working for the Royal Shakespeare Company. At the age of 55, she bagged her first television role, which was in "Charlie Bubbles." In her later years, she had a cameo in "Love Actually," which starred fellow "Harry Potter" actor Alan Rickman.
Mason died on January 26, 2014, at 100 years of age, the Guardian confirmed. The actor had a full life and was not afraid to try new things, like scuba diving, for which she received a certificate at the age of 81, per The Times.
Roger Lloyd-Pack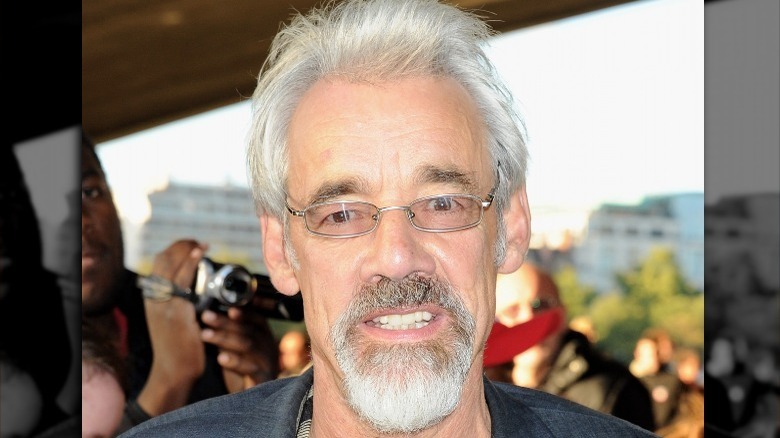 Roger Lloyd-Pack played Barty Crouch Senior in "Harry Potter and the Goblet of Fire." He appeared at Hogwarts several times as the Ministry representative for the Triwizard Tournament.
Lloyd-Pack was best known for his roles in British comedies where he played Trigger in "Only Fools and Horses" and Owen Newitt in "The Vicar of Dibley" alongside "Harry Potter" alum Dawn French. However, it was thanks to his appearance in "Harry Potter" that the actor developed a global fan base. Lloyd-Pack then starred in the British sitcom "The Old Guys" and had a two-episode guest appearance in "Doctor Who" in 2006. This was the second time the actor worked with David Tennant, who played his estranged son Barty Crouch Junior in the "Goblet of Fire."
On January 15, 2014, Lloyd-Pack, 69, died from cancer-related complications, per BBC. "The nation bids a fond and sad farewell to one of the most popular television sitcom actors of his generation," said Shane Allen, the former director of comedy at the BBC (via Channel 4 News).
Peter Cartwright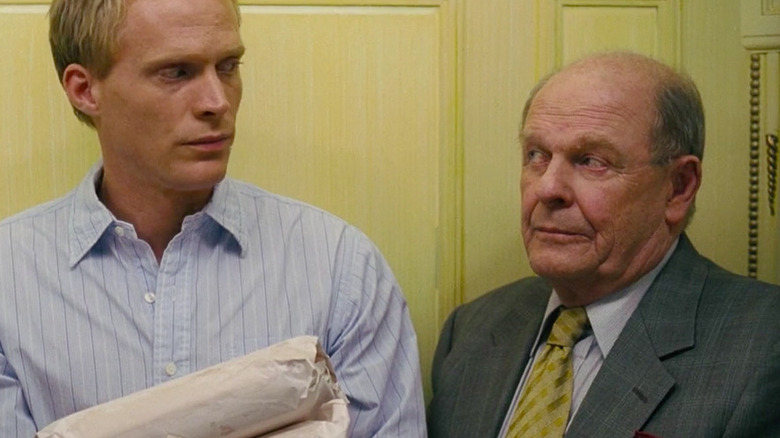 Elphias Doge is a recurring character in the "Harry Potter" franchise. He is a member of the Order of the Phoenix and a longstanding friend of Albus Dumbledore. Doge is first introduced in the fifth "Harry Potter" film as part of the guard transporting Harry from Privet Drive to Grimmauld Place. Though he doesn't say anything in the film, in the "Order of the Phoenix" book, Doge points out that Harry has "Lily's eyes."
The character is played by South African-born actor Peter Cartwright. However, Cartwright did not reprise the role of Doge, and "Harry Potter and the Order of the Phoenix" was his last big-screen acting credit before he died on November 18, 2013 (via IMDb).
Prior to joining the cast of "Harry Potter," Cartwright began acting in the late 50s and appeared in a wide range of films from "Gandhi" to "Wimbledon" (above, right). He also had a guest appearance in "Casualty" as well as in "Doctor Who" in 2012.
Timothy Bateson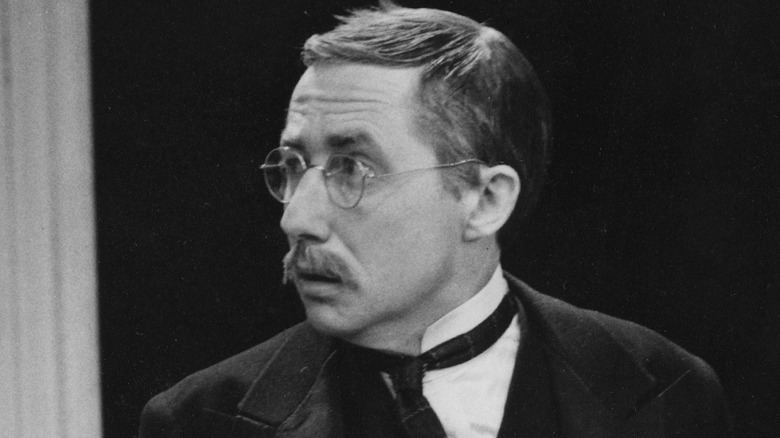 Timothy Bateson voiced Sirius Black's house-elf Kreacher in the fifth film, "Harry Potter and the Order of the Phoenix." Kreacher's backstory is cut short in the film, but his character can be summed up with a line from Dumbledore: "Kreacher is what he has been made by wizards, Harry." Sirius' poor treatment of the house-elf leads him to betray his family, but his loyalty to his former master Regulus Black persuades him to join Harry's fight against Voldemort in the "Deathly Hallows."
Bateson died on September 15, 2009, at the age of 83, per The Guardian. Simon McBurney voiced the house-elf in the "Deathly Hallows" films." The actor is survived by his wife Sheila, their three children, and his sister Ann. His family has chosen not to publicly reveal his cause of death.
Prior to joining the "Harry Potter" cast, the actor enjoyed a 50-plus-year career in film, television, and the theater thanks to the success of his early career role in Samuel Beckett's play "Waiting For Godot." His notable credits include "Oliver Twist," "A Christmas Carol," and "Tango at the End of Winter" which he starred in alongside "Harry Potter" actor Alan Rickman.
Helen McCrory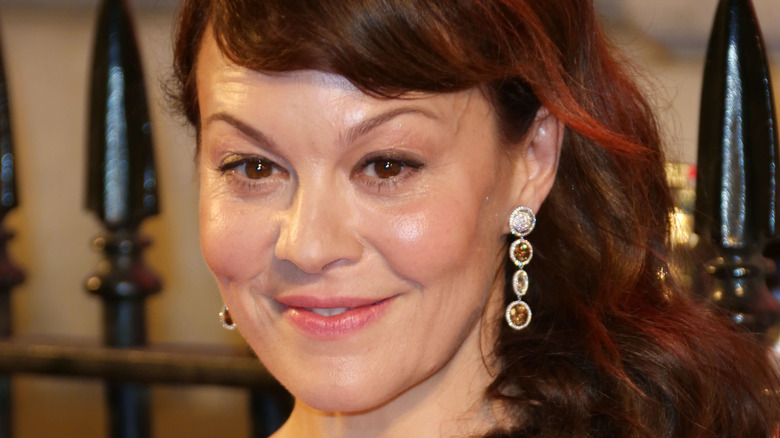 Helen McCrory played Narcissa Malfoy in the final three installments of the "Harry Potter" franchise. Narcissa is known for her iconic look in each of the films, so at the "Harry Potter and the Deathly Hallows: Part 2" premiere, McCrory was asked if she would transport any of her character's style into the real world. "The blonde hair is a hell to upkeep, so no, I'm happy to leave her on the screen," the actor joked.
McCrory sadly died of cancer-related complications on April 16, 2021, at the age of 52. The actor, who was also known for playing Aunt Polly in "Peaky Blinders," was married to fellow actor Damian Lewis. Lewis announced his wife's death on Twitter: "She died as she lived. Fearlessly. God we love her and know how lucky we are to have had her in our lives," he wrote.
Tom Felton, who played McCrory's on-screen son Draco Malfoy, also shared a beautiful tribute to the actor. "So sad to say farewell so suddenly — I never took the chance to tell her, but she helped shape me as a person so much … thank you for lighting the way forward & holding my hand when I needed it," Felton wrote on Instagram alongside a picture of their on-screen family.
Rob Knox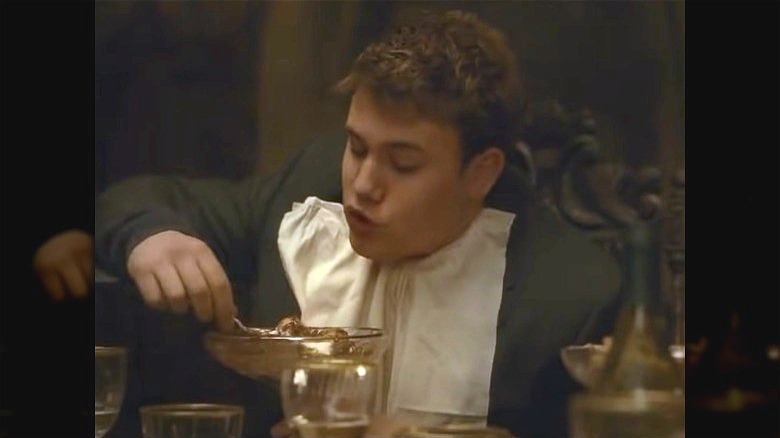 Robert "Rob" Knox played Hogwarts seventh-year Marcus Belby in "Harry Potter and the Half-Blood Prince." The Ravenclaw student was a regular guest at Professor Slughorn's (Jim Broadbent) "Slug Club" dinner parties, which were for notable or gifted students. Belby's uncle "invented the wolfsbane potion" which made him a treasured guest to Slughorn.
Knox was due to reprise his role in the "Deathly Hallows" films, but he tragically died on May 24, 2008, at the age of 18, just days after filming for "Harry Potter and the Half-Blood Prince" ended. The actor was stabbed outside of a bar in London when he stepped into a fight to protect his brother. "Rob had a great acting career ahead of him. He wasn't violent, he wasn't in any gang. This wasn't about gangs, this was about stupid people carrying knives," Knox's cousin Vicky May said after his death, per Daily Mail. His attacker, Karl Bishop, 22, was sentenced to life in prison, the Independent reported.
Paul Ritter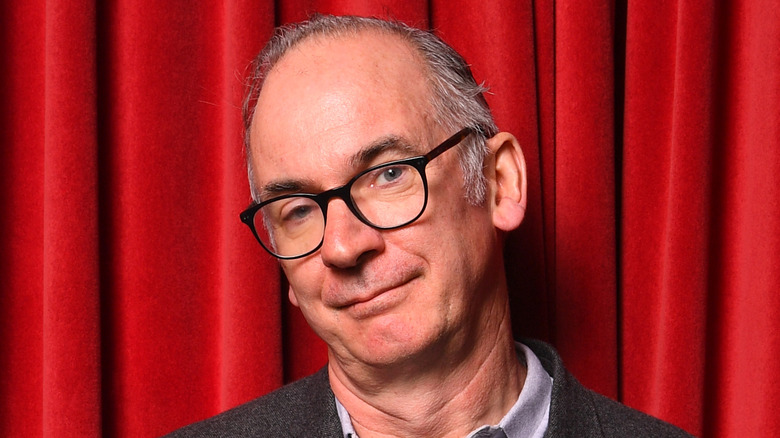 Paul Ritter also appeared at a "Slug Club" event in "Harry Potter and the Half-Blood Prince." He cameo'd as the reporter Eldred Worple who was a guest at Slughorn's Christmas party. In the film, he can be spotted speaking to Luna Lovegood (Evanna Lynch), although in the "Half-Blood Prince" book, Worple introduces himself to the famous Harry Potter and offers to pen his life story.
Ritter died on April 5, 2021, at the age of 54, shortly after he was diagnosed with a brain tumor, the BBC confirmed. He was "a deeply clever, funny, intelligent, kind man," said "Friday Night Dinner" creator Robert Popper (via BBC), adding, "He also had that rare thing, he had the common touch, so people could just relate to him."
Alongside his role in the "Harry Potter" franchise, Ritter was known for "Friday Dinner," "Quantum of Solace," "Hannibal Rising," and "Chernobyl."
Dave Legeno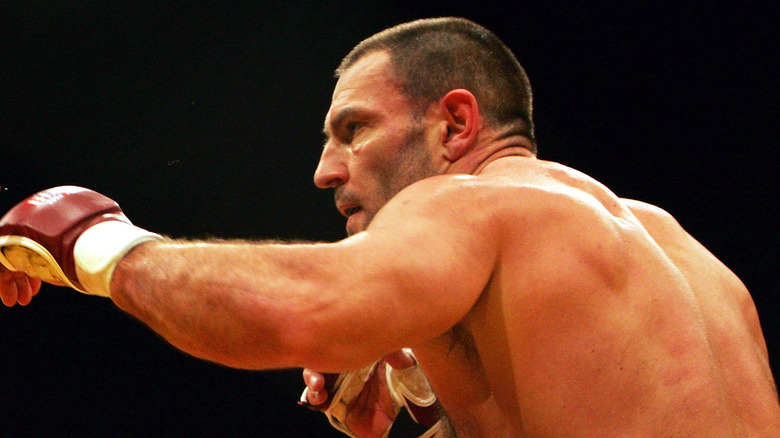 Dave Legeno played the werewolf Fenrir Greyback in "Harry Potter and the Half-Blood Prince" and in both "Deathly Hallows" films. Greyback was one of the more ruthless and infamous Voldemort supporters, though he had not officially gained "Death Eater" status. The werewolf is known for turning Remus Lupin into a werewolf when he was a child, attacking Bill Weasley in the sixth film, and killing Lavender Brown in the final battle.
Legeno was nothing like his vicious character in real life, though. "He was such a lovely man," wrote Emma Watson in a tribute to the actor on Twitter. In 2013, Legeno shared how he loved being part of the "Harry Potter" cast and explained that they treated him like "one of the family immediately," per Flicks And The City.
Off-screen, the "Batman Begins" actor was also an MMA fighter and boxer. Legeno tragically died on July 6, 2014, from "heat-related issues" while hiking in California, The Hollywood Reporter confirmed.
Hazel Douglas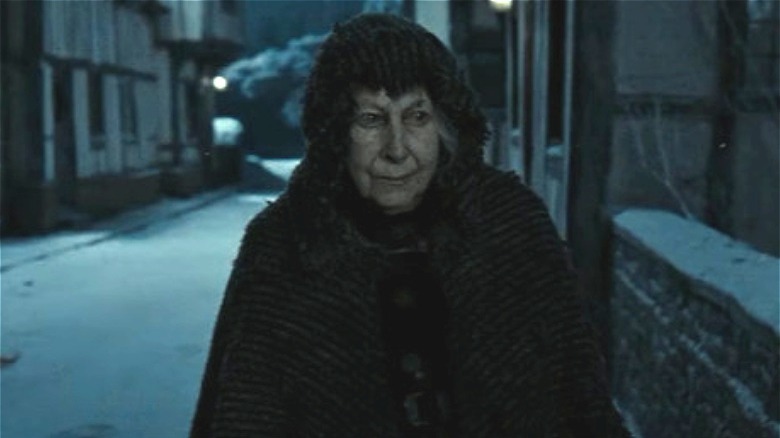 The wizarding world's legendary historian, Bathilda Bagshot, is mentioned early in "Harry Potter and the Sorcerer's Stone" by Hermione when she and the other first years are all about to be sorted into the Hogwarts houses. Since then, Bagshot is mentioned sporadically throughout the film series. Viewers finally get to meet her in the penultimate installment, "Harry Potter and the Deathly Hallows: Part 1" — although it's not really her because she's being possessed by Lord Voldemort's snake Nagini.
The character was played by Hazel Douglas, who was in her late eighties at the time. Douglas found acting success after serving in the Royal Navy and kept busy in theater and television roles, including "Vicious" and "At Home With the Braithwaites." Later in life, Douglas became known for playing elderly and matriarchal characters like Granny in "Albatross."
Douglas died on September 8, 2016, at the age of 92, per The Guardian.
David Ryall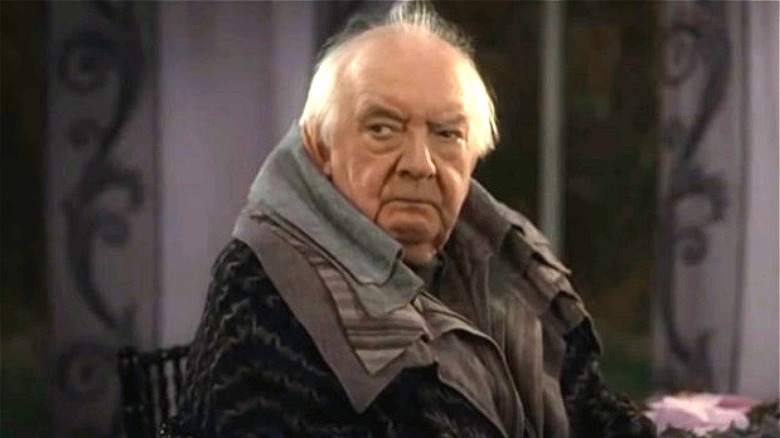 "Outnumbered" actor David Ryall took over the role of Elphias Doge following Peter Cartwright's departure from the franchise. Ryall appeared in "Harry Potter and the Deathly Hallows: Part 1," and had a bigger part than Cartwright's iteration of the character. He was a guest at Bill and Fleur's wedding — and with the help of Ron's great aunt Muriel (Matyelok Gibbs) — Doge revealed some home truths about Dumbledore to Harry. 
Ryall sadly died on Christmas Day in 2014, at the age of 79, per Deadline. The actor is survived by his son Jonathan and daughters Charlie and Imogen. After her father's death, Charlie, who is also an actor, wrote on Twitter: "Please take a moment to remember his huge five-decade-spanning career outside of the more well-known TV & film. Not just Harry Potter."
Ryall had a range of acting credits under his belt, including a spell with the Royal Shakespeare Company and most recently in "Quartet" where he reunited with "Harry Potter" alums Maggie Smith and Michael Gambon.
Source: Read Full Article