These Style Secrets from 'The Bachelorette' Are About to Blow Your Mind
After watching recent seasons of The Bachelorette, you might have some questions. Questions like: WHOMST is providing this show with so many glittery dresses, what is the wardrobe budget, do the Bachelorettes pick their own clothes, is there a Bachelorette dress code, and—most importantly—good lord, who is styling these people? Answer: that'd be Bachelor Nation's longtime stylist Cary Fetman! Cary has been working on The Bachelor and The Bachelorette for literal years, and the time has come to find out more about him and alllll of the show's style secrets.
The Bachelorette Has Access to a Stylist

It's the one and only, Cary Fetman, duh! And throughout the season, our dear Bachelorette has her pick of over 100 outfits—146, to be exact. All these looks have to be fitted and styled before the show starts, which sounds equal parts fun and exhausting. "I think for a girl, we go through 146 outfits and for a guy it's like a 130 something," Cary told Style Mag Daily, also explaining to the Hollywood Reporter that the first fitting takes two full days and "is literally 18 or 19 racks of clothes."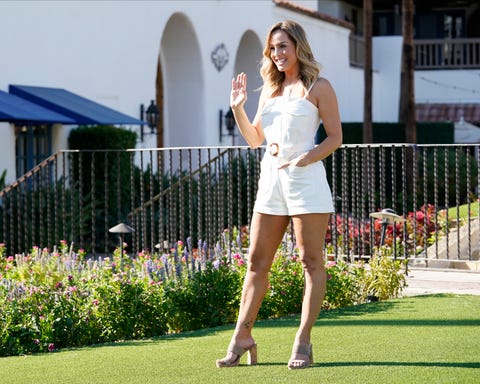 Cary Fetman Has a Huge Wardrobe Budget

Cary says he buys clothes from Net-a-Porter, Saks, Neiman Marcus, Bloomingdales, and Nordstrom, and the budget is MASSIVE. At $350,000, it was especially huge for Emily Maynard's season, which Carey told the Hollywood Reporter was "bigger than any previous season—and we still went over."
Of course, nary a season goes by without a dress by Randi Rahm:
https://www.instagram.com/p/CP18wx-l3e-
Katie Thurston actually got a custom Randi Rahm dress for her first night, telling Bachelor Nation, "What I loved most about this dress is that we tweaked it to be unique to me. The outside layer was actually on the inside. We redesigned the dress to match what I wanted. It's this one-of-a-kind look that's bright and fiery. It's different than what you typically see on the first night. I'm not a neutral girl. That's not my personality. I can be a firecracker sometimes!"
Opening Night Dresses Are Sequined for a Reason
Cary told Bachelor Nation why, and my mind is officially blown: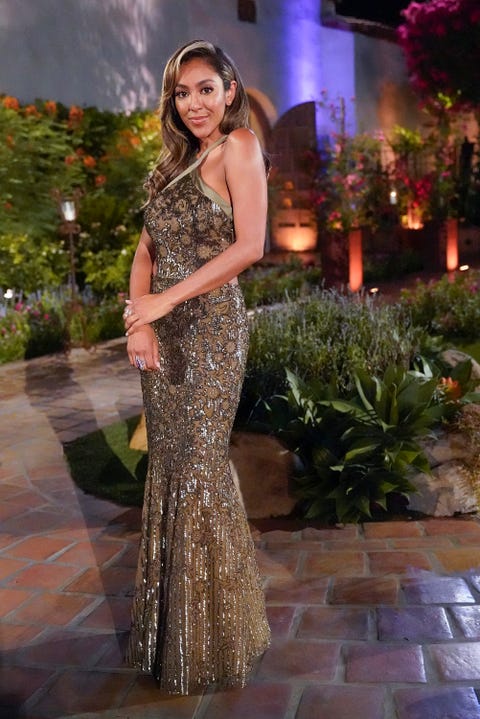 If you're still like "wait, wha?" lemme break it down: Apparently the dress gets ruined because producers drench the driveway of Bachelor Mansion to make it shiny, which means Cary and his co-stylist Krystine Couch have to find dresses that are "not soaking up all the water." Yuck.
The Bachelorette Doesn't Even Pick Her Own Lingerie
Being Bachelorette and Bachelor is a stressful job, but one thing you don't have to worry about? Your underwear, a detail that Cary let spill while chatting about Colton Underwood's season with Entertainment Weekly:
Cary Got a Lot of Heat for Katie Thurston's Styling
Katie wore a lot of skinny jeans and basic tees during her season of The Bachelorette, and the internet was truly not okay. Especially when it came to this look:
https://www.instagram.com/p/CRgud91L2qn
Comments on the post included, "this is the bachelorette, i expect better styling cmon now," "Someone get this girl a stylist," and "Fire Cary. Put this girl in some better outfits."
Like, even Hanes had something to say:
FYI, Contestants *Don't* Have a Stylist
While The Bachelor and Bachelorette leads get to work with Cary, contestants have to pay for their own clothes. Bachelorette Jillian Harris said she took out a second mortgage on her house to buy $8,000 worth of cute outfits when she was a contestant on The Bachelor.
"The girls do have to bring all of their own clothing and of course, they want to be wearing the best clothes EVER to be seen on TV in!!!" she revealed on her blog. "I had re-mortgaged my house and I spent something like $8,000 on clothing."
Things have definitely changed now that the cast are destined to be influencers, and by that I mean they can usually negotiate free stuff from brands. Reality Steve also confirmed this to Vox, saying, "There are some women who already work in the fashion industry and go to shops and say, 'Hey, lend me a dress, I'll wear it on the show, and once it airs, I'll put it on my Instagram [and say] where I got it from.' I don't think they get paid to actually wear it, but the company lends it to them for advertisement on the show."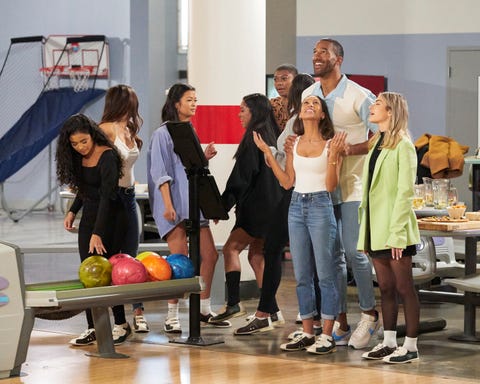 Despite contestants having to handle their own styling, Cary does occasionally check in. Former contestant Jaclyn Swartz told Fashionista that he's especially involved in limo arrival dresses, explaining, "You're by yourself in a hotel room and you come with a dress and probably a backup dress. The stylist Cary Fetman and a producer will come around to [your] room and they'll approve the dress for the first night. That's usually to make sure no two girls are wearing the same dress."
And if you make it to the final two, you get a little help from Cary and his team. Ali Fedotowsky told E!, "I don't know for sure if the final two girls get their makeup done (I didn't make it that far on The Bachelor), but I do know that they are given dresses for the last rose ceremony. So I assume they get hair and makeup as well."
Yep, Cary Styled Michelle Young's Season
And she looks STUNNING:
Source: Read Full Article