The Truth About Robert Downey Jr.s Relationship With His Father
"Iron Man" actor Robert Downey Jr.'s father — filmmaker Robert Downey, Sr. — has died as a result of complications of Parkinson's disease. He was 85. Downey Jr. posted about his father's death on his Instagram account, writing, "RIP Bob D. Sr. 1936-2021…Last night, dad passed peacefully in his sleep after years of enduring the ravages of Parkinson's ..he was a true maverick filmmaker and remained remarkably optimistic throughout … According to my stepmom's calculations, they were happily married for just over 2000 years. Rosemary Rogers-Downey, you are a saint, and our thoughts and prayers are with you."
Downey Sr. who enlisted in the Army at 15, played minor league baseball, wrote an off-off-Broadway play, and was a Golden Gloves boxing champion, all before he turned 22, per IMDb. He was also an actor, writer, and director, and father to Downey Jr. and actor Allyson Downey. He is best known for directing 1969's "Putney Swope," a film about a Black activist taking over an advertising agency.
Downey Jr. and his father used to bond in a tragically unique way. Keep reading to find out the truth about Robert Downey Jr.'s relationship with his father.
This is how Robert Downey Jr. bonded with his father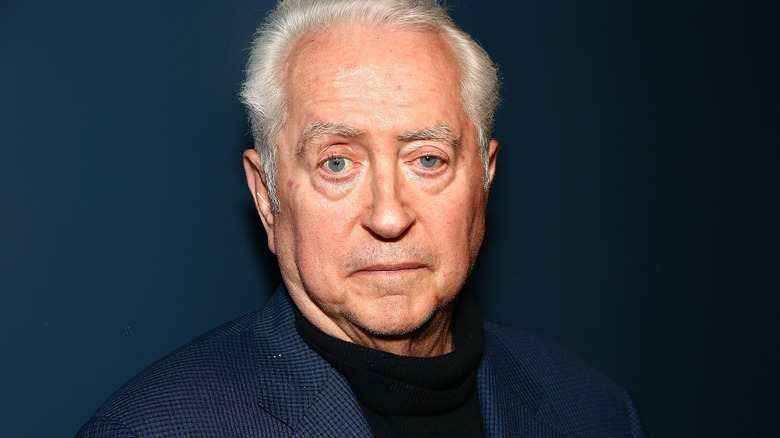 These days, Robert Downey Jr. is a respected actor. But back in the '90s and early 2000s, he had a much-publicized battle with drug and alcohol addiction. Downey Jr. was found to be in possession of heroin, cocaine, crack cocaine, and a .357 Magnum when he was pulled over for speeding in 1996, per ABC News. He also quit rehab twice and was sentenced to 36 months in jail. He's been sober since 2003.
Downey Jr. had been getting high on marijuana since he was a kid and did it with his father. Downey Jr. was just 6 years old when he was sipping white wine with his father. Robert Downey Sr., who was reportedly an alcoholic and drug addict, said, "And I go, 'You ought to try a little of this instead of drinking.' I passed him a joint. And suddenly I knew I had made a terrible, stupid mistake … giving a little kid a toke of grass just to be funny," per The Guardian.
Downey Jr. said his father introduced him to alcohol and drugs as a child. In a 1988 interview, he said of his childhood (per People), "There was always a lot of pot and coke around … When my dad and I would do drugs together, it was like him trying to express his love for me in the only way he knew how."
If you or anyone you know is struggling with addiction issues, help is available. Visit the Substance Abuse and Mental Health Services Administration website or contact SAMHSA's National Helpline at 1-800-662-HELP (4357).
Source: Read Full Article