The Transformation Of Denise Richards From Childhood To 49 Years Old
Denise Richards grew up in a small town in the midwest only to later become one of the biggest bombshells in Hollywood's entertainment industry, snagging roles as Kelly Van Ryan in the seductive 1998 hit, "Wild Things" and as Bond girl in "The World Is Not Enough." 
Although Richards has undoubtedly enjoyed a lot of career highlights throughout the years, she's also had plenty of heartache, drama, and scandals that she's dealt with, too. But that hasn't stopped the now mother-of-three from thriving in the entertainment industry, securing roles on reality TV, soap operas, and Lifetime Christmas movies. In fact, some fans would even say that Richards is only getting started. Being in the industry for well over three decades now, Richards has seen it all, done it all, and heard it all — and is still around to tell her side of the story.
So without further ado, let's take a look at the compelling transformation of Denise Richards.
Denise Richard's childhood was wonderfully ordinary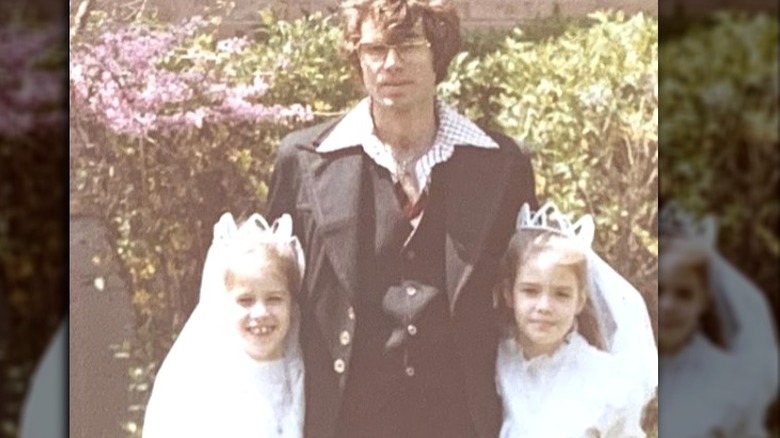 Denise Richards was born in Illinois to her mother Joni, a coffee shop owner, and her father Irv, a telephone engineer. "My mom had dinner on the table every night at 6 o'clock," she told Erica Diamond about her traditional upbringing. "Everything was about family growing up." 
When Richards was a teenager, her family moved to Oceanside, California, where she graduated from El Camino High School. Richards was voted as the best looking in her high school yearbook which doesn't surprise her fans considering that she went on to become a fashion model before turning to Hollywood. After Richards graduated high school, her modeling career took her all around the world and to places like Paris, New York, and Tokyo, where she worked on photo shoots and commercials. Before her career breakthrough role in "Wild Things," Richards also starred as the bubbly, "hot" looking girlfriend in "Saved By The Bell," "Married With Children," "Beverly Hills, 90210," and "Melrose Place."
But it was her villainess role as Kelly Van Ryan and that kiss with her co-star Neve Campbell that helped put Denise Richards on the map, despite her not relating to the character. "I am who I am," Richards told The Washington Post in 2020. "People can believe whatever they want, but 'Wild Things' was not a documentary."
Denise Richards made a splash with this iconic role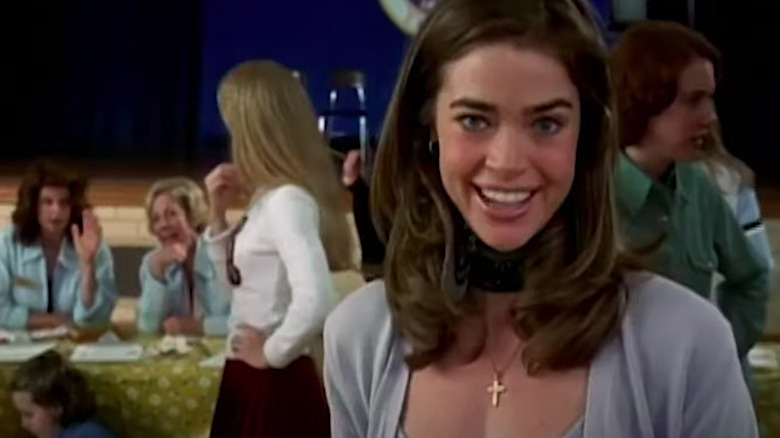 After the success of "Wild Things," Denise Richards landed her next big role — Becky in the dark comedy, "Drop Dead Gorgeous." The film which celebrated its 20th anniversary in July 2019, also starred Kirsten Dunst, Amy Adams, and Brittany Murphy. "I remember shooting this like it was yesterday," she captioned an iconic scene of her character dancing on the pageant stage with
Richards continued to land notable roles, including stints on "Spin City," "30 Rock," "Friends," and "Love Actually," although she struggled with being typecast. There were definitely parts I couldn't get. I couldn't get cast as "the girl next door" even though that was how I always saw myself. I didn't see myself as a sex symbol," she told Smashing Interviews Magazine. "I was a girl from Illinois."
During this time, in 2000, Richards met Hollywood bad boy Charlie Sheen when she guest-starred on his sitcom, "Spin City" They married in 2002, and she told The New York Times of the union, "When I married Charlie, he had been sober for four years, he was in a very different place in his life." So what went wrong?
Inside Denise Richards' tumultuous marriage to Charlie Sheen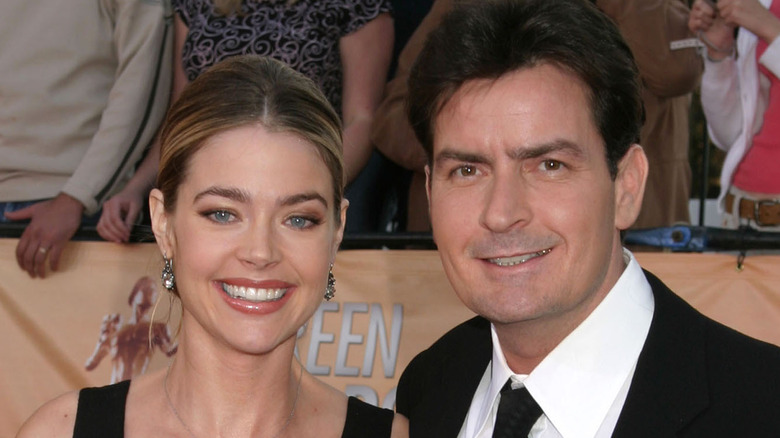 After welcoming daughter Sam in 2004, Denise Richards filed for divorce in 2005, when she was six months pregnant with the couple's second daughter, Lola. By the time she had given birth, things had gotten quite messy as she accused Sheen of prescription medication abuse, violent mood swings, and compulsive gambling among other things, according to People. She described the situation as a "very dark time," according to She Knows.
Despite the trouble with Sheen, Richards tried to maintain a co-parenting relationship for the sake of their two daughters. "I don't want them ever to feel torn between the two of us," she told Redbook. The actor even organized fun trips for the family, some of which ended in disaster, like when in 2010 Sheen got hospitalized following an outburst at New York's Plaza Hotel. Richards was in the room across the hall with her daughters when the incident happened, and she told TODAY (via Entertainment Weekly) her goal was to keep the girls "protected."  Still, Richards continued to support Sheen, even when his public struggles unfolded in 2012 and he got divorced from Brooke Mueller. The star even had temporary custody of his twin sons, Bob and Max, at one point.
Somehow during all of the turmoil, Richards found the time in 2011 to adopt her daughter, Eloise, who has a rare disorder called Chromosome 8, which can cause growth and speech delays, per Rare Diseases. Of course, Eloise's arrival was a bright spot in Richards' life, and things continued to go up from there.
Denise Richards found new love and a spot on 'RHOBH'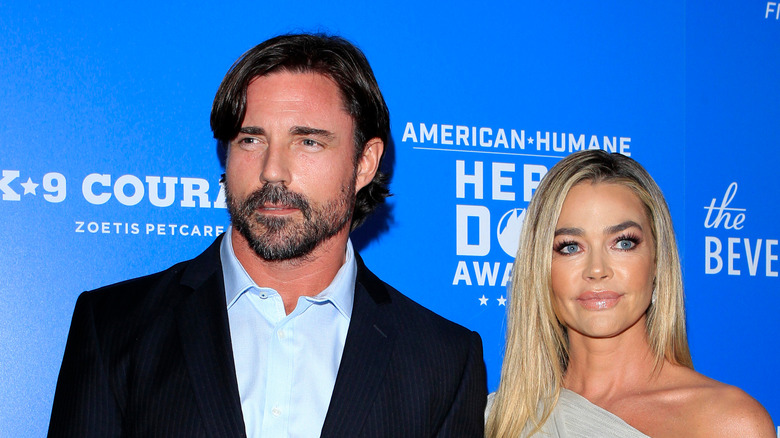 After staying under the radar for a few years, Denise Richards married Aaron Phypers in 2018. "So blessed & grateful to have you as my soul mate, twin flame, partner in crime, confidant, best friend, lover, best daddy to Eloise," she gushed about Phypers two years later.
Richards also made the jump from films to reality television, starring in "The Real Housewives of Beverly Hills." And although fans loved seeing an actor with the kind of name recognition that Richards has on the show, her experience on "RHOBH" was not one that she remembers fondly. During her second season on the show, Richards' alleged affair with former Housewife Brandi Glanville became the main storyline to her dismay. Richards spent the majority of her time on the season defending herself against the rumor as well as digs from her co-stars, like when Kyle Richards called her a "ragamuffin." That's when Richards had to remind everyone of who she is. Richards retorted to the confessional camera, "I am f***ing Denise Richards, Kyle. I don't think these b****es know I've been on every f***ing magazine cover you can possibly imagine that they would want to be on," she quipped, according to The Washington Post.
Although Richards found a friend in her co-star Garcelle Beauvais, it wasn't enough to stay on the show, and she quit in 2020. But there's always a chance she might return…
What's next for Denise Richards?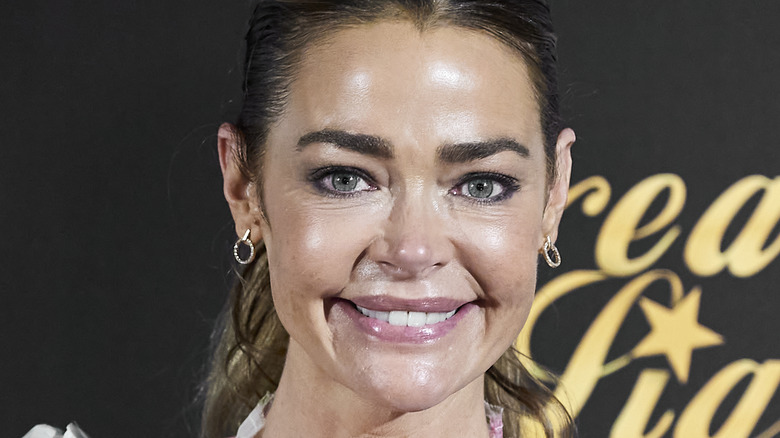 So what's next for Denise Richards? in a May interview with Entertainment Tonight, Richards revealed she runs the Quantum Reach Foundation alongside Aaron Phypers. "We're very excited," she shared.
Then there's the possibility Richards will return to "RHOBH." During a July appearance on Watch What Happens Live, Richards' bestie, Garcelle Beauvais, teased, "I think she wants to come back." Now that would be interesting! If she doesn't end up returning, though, she won't be hard up for work. The star had a starring role on "The Bold and the Beautiful" and is well-versed in the soap circuit. "It is a very well-oiled machine, and they shoot pretty much two episodes a day," she explained to USA TODAY about working on the show. "There are a lot of pages of dialogue, so you just have to know your stuff and be ready."
Clearly, Richards has plenty going on, and her past is just as impressive as her future. 
Source: Read Full Article