The Real Life Partners Of The Cast Of The Goldbergs
ABC's "The Goldbergs" has been making us laugh since it premiered in 2013. And there's good news for fans of the sitcom — it's been renewed for a ninth season, per Variety. "The Goldbergs" is based on the childhood of series creator Adam Goldberg. The show is set in the Reagan-era "1980-something" and follows the Goldberg family, made up of mom Beverly, dad Murray, kids Erica, Adam, and Barry, and their ragtag group of friends and family members, per ABC. Set in Jenkinstown, Pennsylvania, a suburb of Philadelphia, the show is full of '80s memorabilia and Philadelphia sports icons, per ABC.
The show suffered a big loss during its eighth season when George Segal, who played Albert "Pops" Sullivan, the father of Beverly Goldberg died at age 87 in March 2021 due to complications from bypass surgery, per Deadline.
The real-life partners of the cast of "The Goldbergs" hold down the fort while their partners are busy shooting the popular sitcom. Let's take a look at who those people are in the lives of Wendi McLendon-Covey, Jeff Garlin, AJ Michalka, Patton Oswalt, and the late George Segal.
Wendi McLendon-Covey has been married to her husband since 1996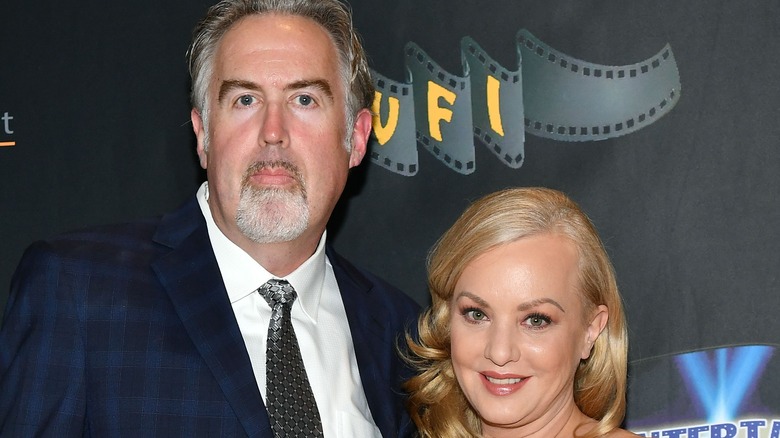 As Beverly, the mother of the Goldberg crew, Wendi McLendon-Covey makes us laugh every week. She credits her husband of 25 years with her success. She said that it took a long time for her to find success in her acting career and she credits her husband Greg Covey and his faith in her. "I am so lucky that I have him in my corner," she said to ABC 7 in 2019. "I really am. And I'm not letting go. I've got my claws in that man."
Wendi and Greg met when they were students at a community college in the Los Angeles area in the late 1980s/early 1990s. Her parents were not supportive of her dreams of becoming an actor, and for the literal decades she spent trying to make it, her husband was the only one who believed in her. She said to ABC 7, "He was really there and the only one who was encouraging me for a time. So that meant the world to me because sometimes you only need one person to encourage you, but it has to be the right person."
Wendi was in her 40s when she was cast as Beverly Goldberg and finally found success as an actor.
Jeff Garlin was married for 24 years and recently found love again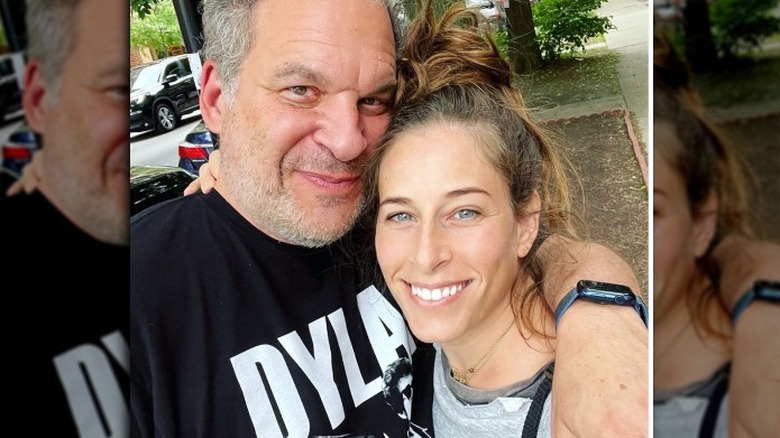 Jeff Garlin is perfectly cast as Murray Goldberg, but the sitcom is far from his first big success. He's had long-running roles on "Arrested Development," "Curb Your Enthusiasm," and "Mad About You," per IMDb. Garlin has also appeared in "ParaNorman," "WALL-E," "Toy Story 3," and "Safety Not Guaranteed," among other films.
He married Marla Cahan on July 24, 1994. They welcomed sons James in 1996 and Duke in 2000. The couple divorced in 2018, per Entertainment Tonight.
In May 2021, Garlin went public with his relationship with Sari Tracht on Instagram. He posted a picture of the couple and captioned it, "I dig this woman. More surprising is that she digs me." Tracht is an editor who has worked on "It's Always Sunny in Philadelphia," "Lopez," "Black-ish," "Drunk History," "Liza on Demand," and "Takei's Take," among others, per IMDb.
AJ Michalka is dating actor Josh Pence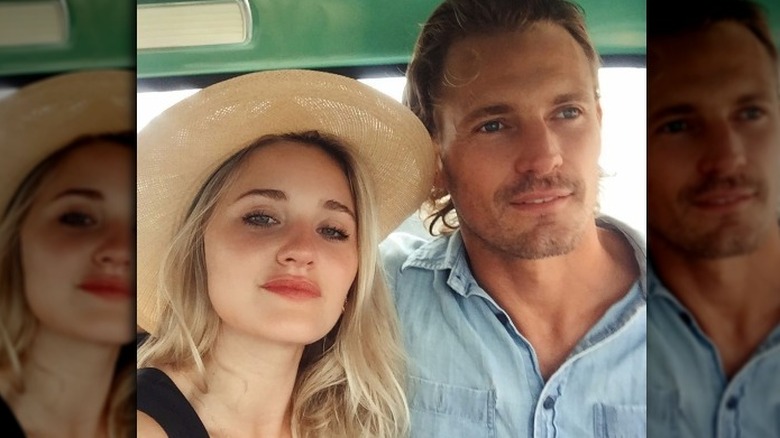 AJ Michalka plays Lainey Lewis on "The Goldbergs." She's also appeared in "The Lovely Bones," "Secretariat," "Super 8," "Grace Unplugged," "Weepah Way for Now," and "Support the Girls," among other films and television shows, per IMDb. She is also a singer, songwriter, and musician and one half of the duo Aly & AJ with her sister Aly Michalka.
AJ Michalka appears to have been dating actor Josh Pence since sometime in 2018 and has recent photos of the two of them all over her Instagram. Pence is an actor who plays Dennis Cooper on "Good Trouble," per IMDb. He's also appeared in "The Man in the High Castle," "La La Land," "The Sweet Life," "Revenge," "The Social Network," among other credits.
Like Michalka, Pence is musical. He played the clarinet for eight years and was the top-ranked 14-year-old clarinetist in Southern California in 1996, per IMDb. In high school, he played the drums and was the captain of the Santa Monica High School drumline. Pence also plays the piano, some guitar, and some harmonica. In college at Dartmouth, he sang with the acapella group.
After a tragedy, Patton Oswalt found love again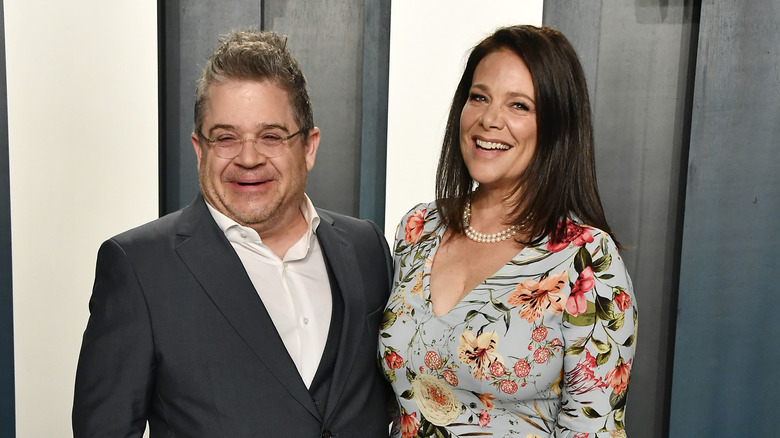 Comedian and actor Patton Oswalt is the narrator of "The Goldbergs," who is actually supposed to be the adult Adam Goldberg, per IMDb. Oswalt has a long list of credits including "Young Adults," "Agents of S.H.I.E.L.D.," "A.P. Bio," and a string of comedy specials.
Oswalt and true-crime writer and journalist Michelle McNamara married on September 24, 2005. Their daughter Alice was born in April 2009. On April 21, 2016, 46-year-old McNamara, died in her sleep. Her cause of death was an undiagnosed heart condition combined with the effect of the Adderall, Xanax, and Fentanyl she had taken. Oswalt penned a heartbreaking obituary of his wife for Time and said, "She steered her life with joyous, wicked curiosity."
In July 2017, Oswalt and actor Meredith Sanger got engaged just a month after going public with their relationship, per People. They reportedly met through their mutual friend, actor Martha Plimpton. They married on November 4, 2017, per Oswalt's Twitter.
The late George Segal was married three times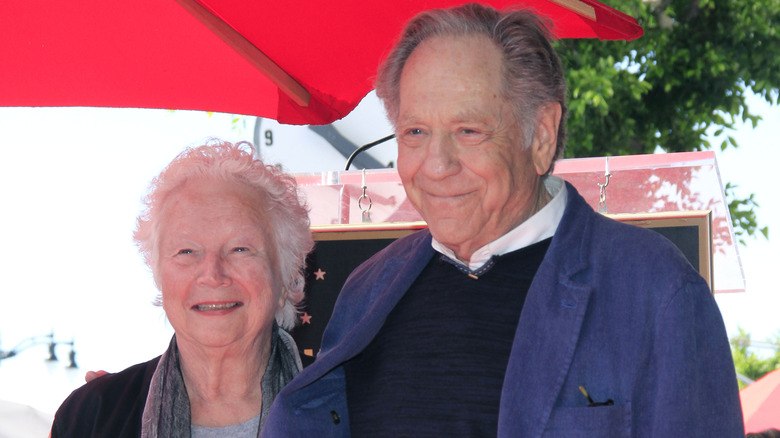 The late, Oscar-nominated actor George Segal played Albert "Pops" Solomon on "The Goldbergs." He died during Season 8 of the ABC sitcom on March 23, 2021, after complications of bypass surgery, per The New York Times.
Segal was married three times. In 1956, he married Marion Segal Freed. She was a producer and editor who worked on three of his films, per the Hollywood Reporter. They had two daughters. They divorced in 1983. He married Linda Rogoff, the former manager of The Pointer Sisters, in 1983. The two met at Carnegie Hall when he played the banjo there with his band, The Beverly Hills Unlisted Jazz Band, per People. Linda died in 1996. For his final marriage, Segal married his former boarding school classmate Sonia Schultz Greenbaum in 1996, per The Guardian.
Segal is survived by his third wife, Sonia; his daughters, Elizabeth and Polly Segal; and three stepchildren: David, Matthew, and Samantha Greenbaum.
Source: Read Full Article