'The Office': 1 Cast Member Got Hit in the Face 14 Times During 1 Episode
It's no secret that The Office is thought of by many as one of the best TV comedies of all time. Perhaps one of the reasons that it is so funny is because it is packed with different forms of comedy. The talented writers provided the show with situational comedy by ensuring that their characters were placed in the most unorthodox scenarios. Meanwhile, the cast was able to deliver comedy through improvisation, behavior, facial expressions, and more. Another thing that takes the humor within The Office to the next level is the amount of physical comedy present within the hit show.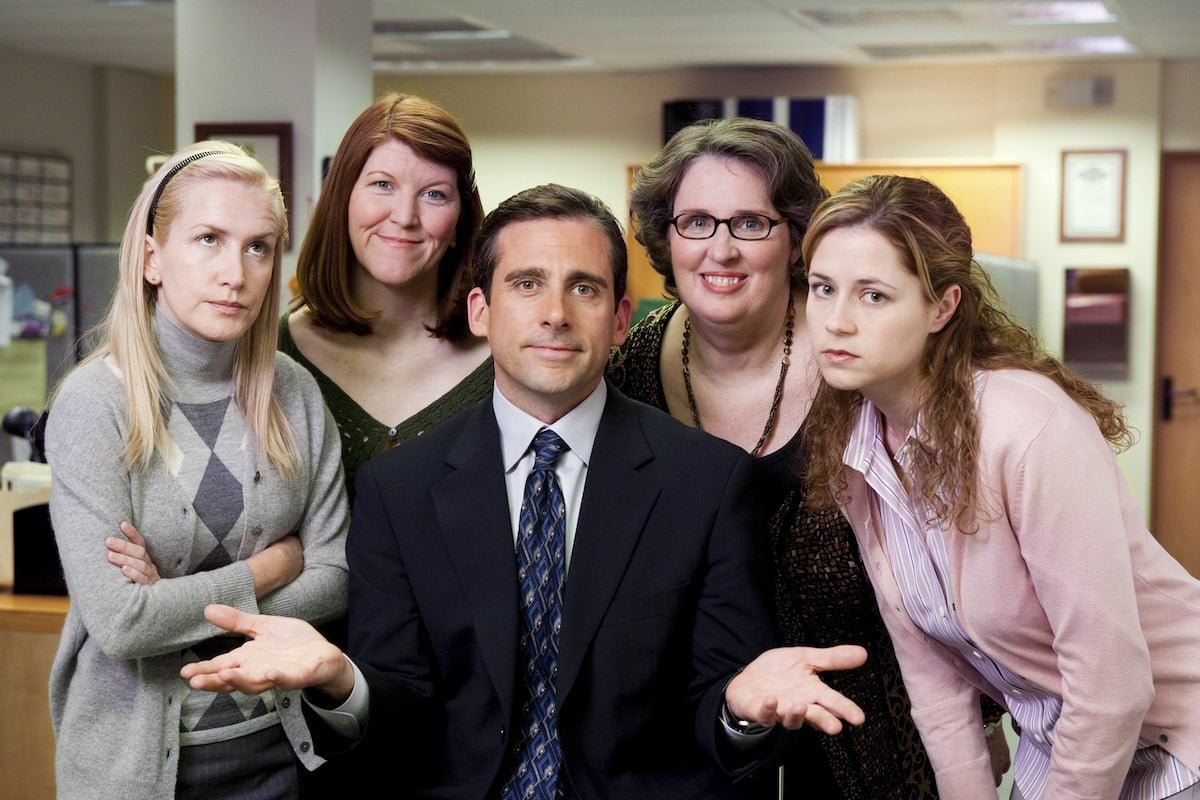 From Michael limping around the office on crutches because he grilled his foot, to Jim slapping Dwight in the face, there is no shortage of hysterical physical moments within the show. But while these stunts are hilarious for viewers to watch, they were not always so fun for the actors to film. In fact, they could be quite painful. And while stunt doubles were used on The Office, some cast members chose to perform their own stunts.
Some members of 'The Office' cast liked doing their own stunts
One cast member who was pretty insistent on doing most of her own stunts was Kate Flannery. Flannery, of course, played Meredith Palmer on The Office and had plenty of physical stunts throughout the show's nine seasons. One stunt that she insisted on doing came in an episode called "Night Out." Fans of the show will recall that the employees of Dunder Mifflin choose to work late one night (at Jim's suggestion) so they didn't have to come in on a Saturday. Unfortunately, Jim forgot to explain this to security, and thus the Dunder Mifflin employees couldn't get out of the parking lot because they were locked in.
In order to pass the time, Toby and Pam chose to toss a football around. Pam insists that she knows how to throw a football, but that is proven false when she accidentally hits Meredith in the face with a football. For whatever reason, Flannery was insistent on doing that stunt herself, rather than utilizing her stunt double. And, because scenes have to be shot multiple times for film and TV, Flannery ended up taking a football to the face a grand total of 14 times. In an interview with Office Tally, the actor joked about the pain she experienced while doing the stunt.
Kate Flanney got hit in the fact with a football 14 times during the 'Night Out' episode
"Doing my own stunt was fine," The Office cast member shared. "I can no longer read, but I'm fine. At first, it seemed like a good idea. I thought I owed it to the fans to take one for the team, Then after the first four takes, I was like, 'That was cool. That's it, right?' 10 takes later I was ready for an Advil and a session with a good therapist to examine why I said yes in the first place. My stunt double got paid to sit and watch. Yes, I had a stunt
double and I still did it myself. That doesn't add up. My math skills are obviously dwindling as well."
Though Flannery revealed that it was a challenging episode for her to film, she assured fans of The Office that she wasn't physically injured even though hair and makeup did a great job of making her look swollen and bruised after she was hit. "The makeup was sort of trumped up each time thanks to Lavern Caracuzzi, the head of the makeup department," the actor shared. "She even gave me that 'Marlon Brando cotton in the mouth. Please don't worry. I didn't get a scratch in all the 14 takes we shot."
'The Office' cast were good sports about doing some painful stunts
Clearly, being an actor isn't always as glamorous as some people may think. But, despite the pain Flannery had to endure, it seems that she, and the rest of The Office cast, truly enjoyed making the show.
Source: Read Full Article