Sorry, Netflix's New Limited Horror Series 'Brand New Cherry Flavor' Probs Won't Have a Season 2
Horror lovers, rejoice! A brand new series just debuted on Netflix today in time for your Friday the 13th called Brand New Cherry Flavor. If you love dark magic and revenge thrillers, this bad boy is for you.
Based of the 1996 book of the same name by Todd Grishom, the TV show is an eight-episode limited series that follows aspiring filmmaker Lisa Nova (Rosa Salazar) in Los Angeles during the early '90s. When Lisa meets with a producer who screws her over, she is ready to make. him. hurt. So ofc she enlists the help of a witch named Boro, played by Catherine Keener (still shook from her teacup scene in Get Out), to put a curse on Lou Burke (Eric Lange) and his family.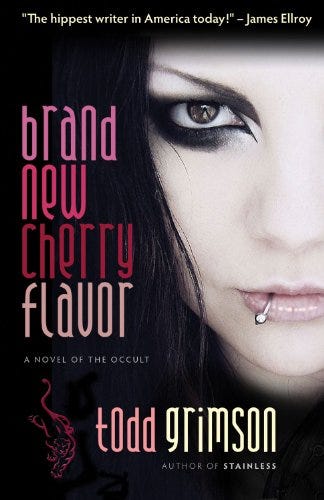 Before you jump in and binge Brand New Cherry Flavor all in one night, savor it…and don't go getting married to the likelihood of a season two. The show is a limited series, and those usually don't get a continued storyline.
"We planned it as a contained story," said show co-creator Nick Antosca to ScreenRant in an interview with his co-creator Lenore Zion. "Never say never if all the stars align, but we felt we wanted to take this journey with this character. So, we took elements of what Todd created to tell a contained story."
It was Nick and Lenore's goal to keep the series to one season, according to iHorror.com, which means if you're asking "Will there be a Brand New Cherry Flavor season 2??" the answer is almost certainly a firm no.
"We kind of mixed and matched," said Nick. "We took the stuff that Todd created. We used some of that. We sent him the scripts as we worked. He was involved in the creative process. Then we brought some of our own stuff to it. I mean like the kittens were not in the book. That was Lenore's idea. We just kind of fell in love with it. You could take it as a metaphor if you want. There's a lot of that stuff that came from our own nightmares."
All is fair in love and television, so don't give up all your hope just yet. If the series were ever to continue into a second season, it likely wouldn't follow the same storyline (think Bridgerton seasons one and two) since so many creative liberties were taken. Stay tuned here though! If news ever drops that Brand New Cherry Flavor season 2 is a go, we'll let you know ASAP.
Source: Read Full Article