Robbie Robertson Documentary 'Once Were Brothers' to Open 2019 Toronto Film Festival
The film from director Daniel Roher will be the first Canadian-made documentary to open the festival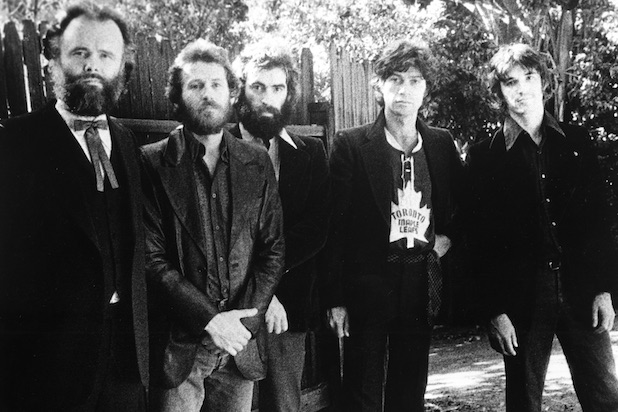 The Band, left to right: Garth Hudson, Levon Helm, Richard Manuel, Robbie Robertson, Rick Danko / Getty Images
The music documentary "Once Were Brothers: Robbie Robertson and the Band" will be the opening-night film at the 2019 Toronto International Film Festival, TIFF organizers announced on Thursday.
The film will premiere on Thursday, September 5 at Roy Thomson Hall to kick off the annual 11-day showcase for more than 200 films. It will be the first Canadian-made documentary to open the festival, and the first music-related film since Davis Guggenheim's U2 doc "From the Sky Down" premiered on opening night in 2011.
"Once Were Brothers" was directed by Daniel Roher and was inspired by Robertson's 2016 memoir "Testimony." It will focus on the years in which the Canadian-born musician got together with fellow Canadians Garth Hudson, Richard Manuel and Rick Danko and Arkansas native Levon Helm to form a group that would back Ronnie Hawkins and Bob Dylan and then go on to an acclaimed career as The Band, one of the most influential groups in rock history.
The film will include archival footage and interviews with Hawkins, Van Morrison, Peter Gabriel, Eric Clapton, Bruce Springsteen and Martin Scorsese, who directed a concert film, "The Last Waltz," that captured The Band's farewell concert in 1976.
(The other members, estranged from Robertson, went on to reunite and tour without him in subsequent years.)
"This is one of Toronto's great stories of a hometown hero," said TIFF Artistic Director and Co-Head Cameron Bailey in a statement. "From his early years in this city, to the inspiration he took from life on the Six Nations reserve, to the impact he's had on generations of music lovers, Robertson emerges in Roher's film as a truly Canadian-made superstar."
Executive producers on "Once Were Brothers" include Scorsese and Imagine Entertainment chairs Brian Grazer and Ron Howard.
While Toronto is one of the prime festivals for unveiling awards movies, its opening-night films have typically not made much noise either on the awards circuit or at the box office. Last year's opening film, David Mackenzie's "Outlaw King," was released by Netflix, while 2017's "Borg McEnroe" grossed less than $250,000 in theaters.
Other opening-night films in recent years have included Antoine Fuqua's "The Magnificent Seven," Jean-Marc Vallee's "Demolition," Bill Condon's "The Fifth Estate," Rian Johnson's "Looper" and Davis Guggenheim's U2 documentary "From the Sky Down."
Gala and special screenings for the 2019 festival will be announced on Tuesday, July 23, with additional programming announcements each week into late August.
The 44th Toronto International Film Festival will run from September 5 through September 15.
Source: Read Full Article