'OutDaughtered': Danielle Busby and Her Twin Sisters Have a Special Bond
The TLC show OutDaughtered follows Adam and Danielle Busby and their seven little girls. Viewers of the show enjoy watching the busy family interact, as well as catching glimpses of the extended family. Some of those family members include Danielle Busby's twin sisters and their mom. But a few of her posts on social media have left fans wondering if she has more than the two sisters we've already met. on the show.
Meet the Busby family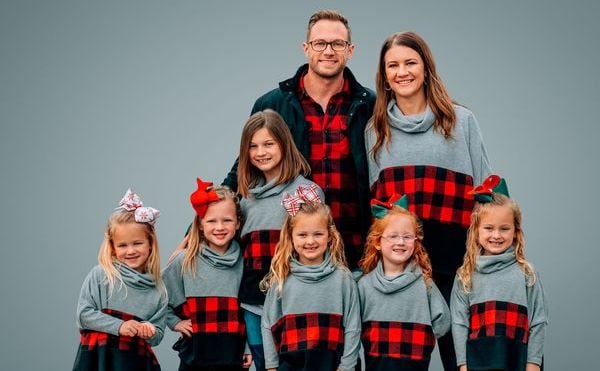 Adam and Danielle didn't always live such an attention-getting life. According to The List, the couple met when they worked together at Target. After dating for three years, they got married. They wanted to start having kids right away, but after a year of trying, they realized they'd need help to conceive. Ultimately, they sought the help of fertility specialists so they could find out what the best options were for them.
After six cycles of intrauterine insemination (IUI), Danielle was able to carry and give birth to their oldest daughter, Blayke. Years later, when the couple was ready to add to their family, they tried the same procedure. But this time, they ended up with more than they expected.
During fertility treatment, Busby conceived quintuplets. Against the advice of her doctors, she decided not to selectively reduce the pregnancy. Instead, she carried all five of the babies as long as she could. After 28 weeks and two days, Olivia, Ava, Riley, Parker, and Hazel were born. And after spending a few months in the hospital, they were all able to come home.
These days, the Busby family and their six daughters can be seen on the TLC reality TV show OutDaughtered. The series shows the chaos, fun, stress, and love that the Busbys experience in life with so many kids.
Who are Danielle Busby's sisters?
Two of the faces you might see occasionally on Outdaughtered are Ashley and Crystal. According to In Touch Weekly, the women are Busby's sisters. They're also twins, which means that the quints aren't the only multiples in the family. The siblings' close bond began in their childhood. They grew up in Louisiana, and they were raised by a single mom, Michelle, who goes by Mimi and also appears on the show occasionally.
The three sisters are very close; they not only appear together on the show, but they also pop up frequently on each others' social media accounts. Danielle, Ashley, and Crystal also started a fitness apparel business together, and even the name hints at how much they mean to each other. The name of the business is CADi, which comes from the initial letters of the sisters' names.
Considering how tight-knit the sisters are, it surprised fans when Busby referred to two other women as her "sisters" via Instagram. So did she grow up with more family members than people realized?
The mysterious extra 'sisters' are Danielle's in-laws
An October 2021 Instagram post confused Danielle's followers when she mentioned two other women on social media as her sisters. One of the women hasn't been named, but the other one is Clarissa Evers. Where did these extra sisters come from?
It seems that the two mystery women aren't Busby's biological sisters; they appear to be related to her husband, and are probably his sisters — making them her in-laws. That side of the family has chosen to protect their privacy as much as possible, so it makes sense that people wouldn't be sure exactly where the women fit into the family.
Busby would have a much more difficult time handling her busy life if she didn't have the love and support of her family. That affection clearly extends to her sisters-in-law as well.
Source: Read Full Article