Janet Jackson, Justin Timberlake's Super Bowl Scandal Explored in New Documentary
Nearly 18 years after Janet Jackson and Justin Timberlake sparked a Super Bowl controversy, the story gets the documentary treatment. Jackson's breast was exposed in what was deemed a wardrobe malfunction, aka "Nipplegate." The infamous 2004 halftime show led to a barrage of complaints aimed at MTV, CBS, and Jackson, but the effects lasted for years. In the vein of Controlling Britney Spears, the new film examines the event and its aftermath.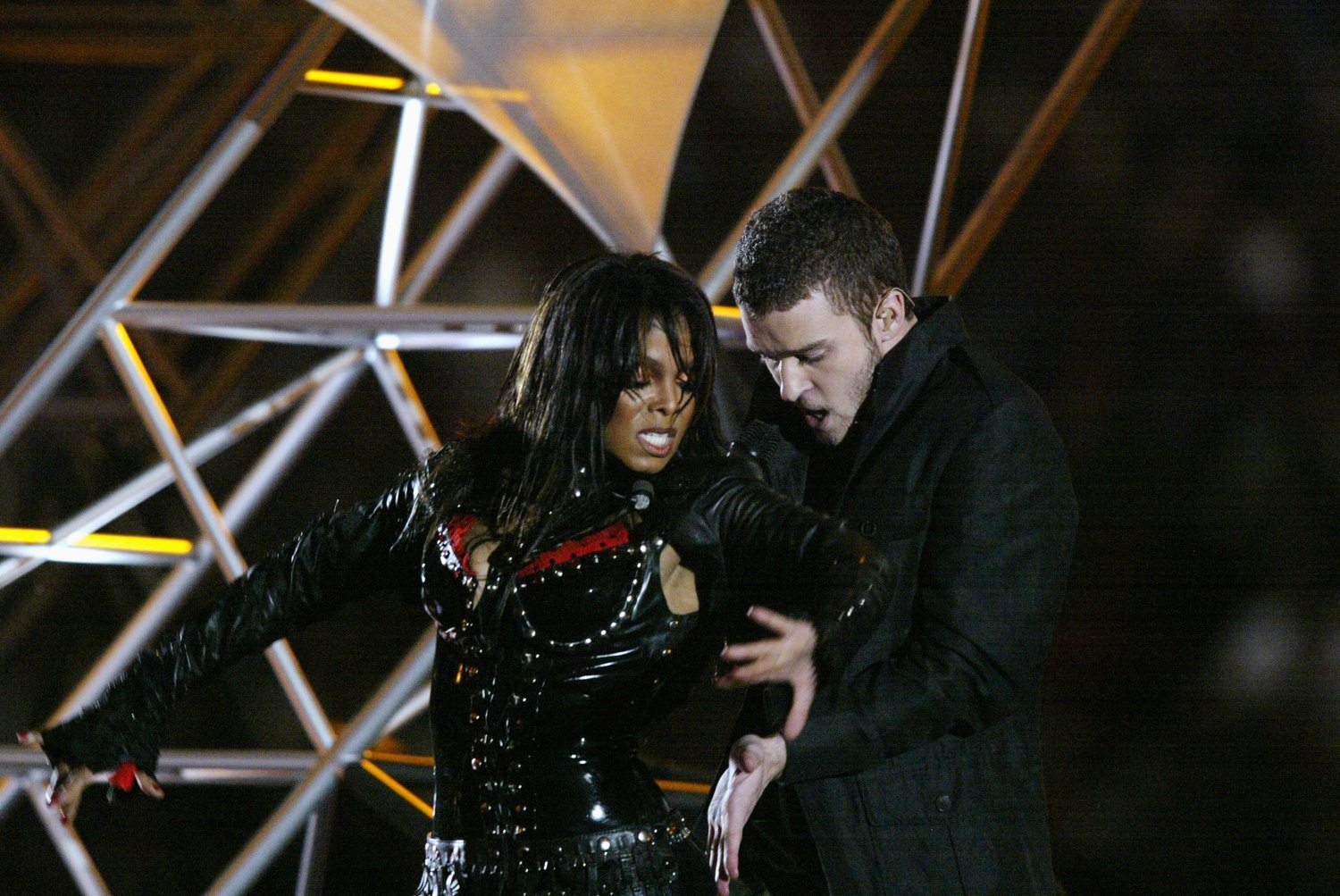 Hulu and FX partner to release 'Malfunction: The Dressing Down of Janet Jackson'
According to Deadline, Malfunction: The Dressing Down of Janet Jackson will air on FX and Hulu as part of their "The New York Times Presents" series. Previous documentary episodes focused on Britney Spears, Breonna Taylor, and coronavirus.
Featuring in-depth reporting from the NYT, the new doc highlights commentary from the Jackson family, as well as input from the NFL, MTV, and music industry people. And the show won't shy away from the racial and cultural implications that came with the incident's fallout. It drops on Nov. 19.
Janet Jackson received the bulk of the Super Bowl blame
Back in 2004, Houston hosted Super Bowl XXXVIII with MTV in charge of the halftime show. Janet Jackson invited Justin Timberlake as a surprise guest to perform their collaboration, "Rock Your Body." At the end of their routine, Timberlake undid a small piece on Jackson's corset, exposing part of her breast.
It turned into a full-blown media crisis. CBS fielded an abundance of complaints, and the FCC slapped the network with hefty fines. The NFL severed its relationship with MTV for the halftime show, and MTV essentially banned Jackson from its events and programming. Though she apologized for the gaffe, some radio stations banned her music, and she could not perform at the Grammys or other major events.
Timberlake came out virtually unscathed and received criticism for not coming to her defense. Not only did it negatively affect Jackson's career, but the friendship between the singers imploded. Additionally, the former FCC chairman later admitted to ESPN that Jackson was treated poorly.
Timberlake claims he made amends with Jackson
Many fans always wondered whether Timberlake ever addressed the issue with Jackson. During a 2018 sit-down with Zane Lowe, he discussed the Super Bowl incident and Jackson. "I stumbled through it. To be honest, I had my wires crossed," he said. "You can't change what's happened, but you can move forward and learn."
Timberlake stated that he spoke with Jackson to make things right. "I don't think that a lot of people know that. I don't think it's my job to do that because you value the relationships that you do have with people." After receiving backlash when the Britney Spears documentary dropped in 2021, he issued another apology to both women.
There's no word on whether Jackson will appear in the upcoming NYT doc. However, she's launching her own two-part project on Lifetime and A+E in January. Titled Janet, the documentary celebrates her musical career and chronicles her life. Jackson emphasized that it's her story, told by her. It's taken five years to reach the screen and will include home video footage and interviews with her family and friends.
Source: Read Full Article