Inside Hugh Jackmans Cancer Struggle
Hugh Jackman is opening up about his experiences with cancer and getting very candid about his journey after he had fans a little worried while appearing in interviews with a small, circular band-aid on his nose. The Australian actor made one such appearance on the British evening show "The One Show" on August 6 when he urged viewers to always get checked.
"I had a biopsy on my nose about three days ago," he shared via video call on the BBC show, revealing that he was expecting the results of the tests imminently. "If it is anything, which it may not be, it's a Basal Cell Carcinoma, so that's kind of the least dangerous form of cancer, but anyway, it's good, I'll let you know," he continued, promising to share the results on his social media when he knew more.
The actor was his usual laid-back self during the interview and didn't seem too worried about the results of the biopsy. "It's certainly not my first, I've had about five of six of them now," he shared, admitting it was "pretty common" for him because he has British parents who moved to Australia when he was very young and he's played a lot of sport in the sun without sunscreen.
Well, Jackman has now shared those results of that test on social media.
Hugh Jackman's cancer biopsy came back 'inconclusive'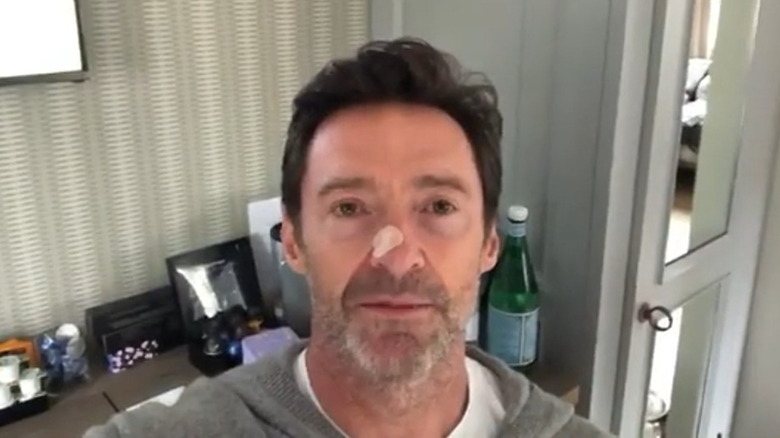 Hugh Jackman took to Instagram on August 8 to share the results of his biopsy with fans, confirming that they had come back "inconclusive" because "they didn't take enough" as he's currently filming and didn't want to take too much of a sample from his nose. Jackman reiterated in the caption that "the worst it can be is a Basel Cell Carcinoma (BCC)," which is "the most common form of skin cancer and the most frequently occurring form of all cancers" according to SkinCancer.org.
He once again urged his followers to get checked and wear sun protection as he revealed his plans to get himself checked once again when he's finished work on his latest project. "Thank you all for so much support. I'm seeing your comments and stories. If by posting about this I remind one person to go see their dermatologist, I'm happy," he added.
In the video, which was filmed as a selfie from what appeared to be his hotel room, Jackman shared that his "amazing" dermatologists had seen something he described as "irregular" on his nose, which is why he decided to get a test. "They are not worried. What did come back made them not worried," he added.
Hugh Jackman was first diagnosed with skin cancer in 2013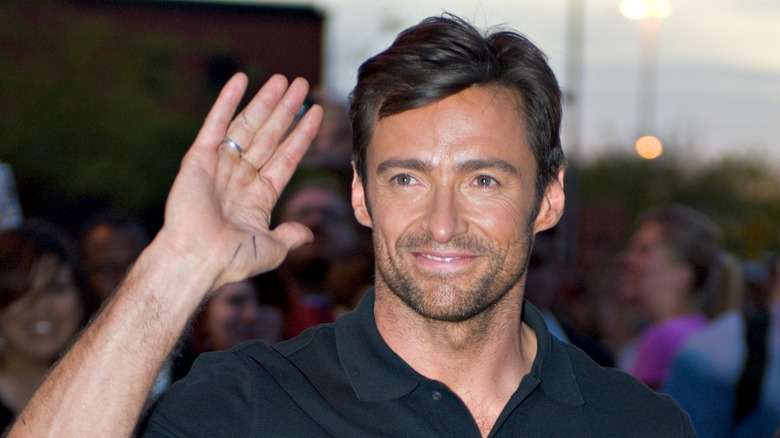 Hugh Jackman unfortunately has a long relationship with skin cancer after first being diagnosed in 2013 (via BBC) and has undergone at least six procedures since then. In 2015, he opened up about his experiences with cancer in an interview with People, revealing he decided to get checked the first time after a makeup artist noticed a mark on his nose and urged him to get it looked at. Jackman's wife, Deborra-Lee Furness, also urged him to do the same multiple times until he went to a doctor.
"It's always a bit of a shock just hearing the word 'cancer.' Being an Australian it's a very common thing. I never wore sunscreen growing up so I was a prime candidate for it," he shared. "Basal Cell Carcinoma is just something you have to deal with. It's cancerous. It will grow. You just have to get it out."
Jackman also shared at the time that he'd had four skin cancers removed over an 18-month period, including three on his nose and another on his shoulder. He claimed that he'd started to get checked every three months, saying, "It's the new normal for me. My doctor says I'll likely have more and if that's your cross to bear in life, you should be so lucky."
We're wishing Jackman all the best as he undergoes his next round of tests.
Source: Read Full Article