If Kevin and Sophie End Up Together on 'This Is Us,' We Riot at Dawn
After what felt like the longest winter hiatus ever, This Is Us is back. Per usual, the drama is giving fans a lot to think about: Rebecca's dementia, the state of Kate and Toby's relationship, and the fact that Sophia Bush and John Legend both guest starred in not only the same episode, but the same scene. But the drama that hit the hardest was Sophie calling Kevin at the end of the episode.
Kevin has finally had a breakthrough, realizing that he definitely wants a wife and family. When we left him in the midseason finale, we found out that in less than a year, he'll have a pregnant, mystery fiancé. Apparently, he got his sh*t together (found a matchmaker, started dating, and hung out with Sophia Bush Lizzie, even though she turned out to be married). But then, just when he decides to let destiny take the wheel, he misses a call from Sophie. Sorry, but…if this is going to bring these two back together, it's a really, really bad idea.
A lot of people love Sophie and Kevin together, and I get it. They're a cute couple, and it's super sweet that they fell in love in high school and got married. But in practice, it just doesn't work. They've tried and failed to get back together after their divorce, and it's just not meant to be! It really seemed like they were finally moving on…which was a good thing. Like, just keep going, y'all!
The Sophie storyline is tired and played out, and it's time to bury it for good. If Sophie and Kevin were meant to be together, they would have been together a long time ago. These two would have made it work the first five times. Come on, This Is Us. We can do better than that!
It also makes me nervous that Kevin will be engaged and expecting a kid so soon in the future, because that implies that the woman he's with could be someone he already knows (or meets very soon), and Sophie definitely qualifies. But honestly, Kevin and Sophie both deserve better than that, especially since this show is supposedly about the legacy of Jack and Rebecca's love story. Sophie and Kevin can't really follow that up, can they?
Basically, I'm going to go ahead and give Kevin the same advice I'd give a friend about to reunite with their ex for the 100th time: don't do it! Relationships are definitely complicated, and it takes work to make them last. But it doesn't take this much work. It's not meant to be this hard!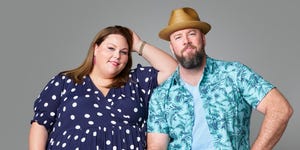 Source: Read Full Article