'Grey's Anatomy' Fans Have a LOT to Say About Amelia's Announcement Last Night
[There are spoilers below for last night's episode of Grey's Anatomy, "Reunited." If you haven't watched it yet, feel free to come back to this post another time!]
Amelia Shepherd made a huge decision on Grey's Anatomy last night. After shocking basically everyone by finding out she was pregnant, she decided to keep the baby and raise it with Link. They also started telling their friends about it, which is adorable.
Not only is this, like, the best thing to happen to Amelia in a very long time, but her decision to keep the baby is low-key surprising. Quick reminder: Amelia was pregnant once before. Her son, Christopher, was born without a brain due to a genetic birth defect. It was absolutely devastating, and Amelia doesn't talk about it that much on the show. She couldn't even tell Owen until they'd been married and then separated.
Naturally, Amelia stans are really pumped about her second chance at being a mom. Here's what they have to say about it.
#GreysAnatomy @EllenPompeo
Amelia: Link & I are going to have a baby
Meredith: pic.twitter.com/fau1mmTkCh
AMELIA IS HAVING THE BABY AND SHE IS 90% IN LOVE WITH LINK IM EMOTIONAL #greysanatomy pic.twitter.com/BeoOEHi5IR
This pregnancy better be uneventful. You hear me?UNEVENTFUL. A boring birth and a healthy ass baby! #GreysAnatomy pic.twitter.com/QLhIsDePZR
Amelia and Link's relationship is the most wholesome thing to happen on Grey's Anatomy by far.
honestly only watching grey's because of link and amelia (and some meredith scenes where deluca is not around), i don't care about the rest
Who else can't breath because all they know and love lies with Amelia's happiness … #greysanatomy @caterinatweets @GreysABC WE ARE HAVING A BABY 🤰 pic.twitter.com/0xR3ACYQaR
eu vivi para ver a amelia ser feliz com alguém que respeita as decisões dela e apoia ela não importa o que ela decida ♥️ pic.twitter.com/B1RU8i7Ny6
amelia & link are everything and one of the best greys storyline in years. a non toxic relationship that is actually beautiful & interesting to watch unfold. ily for this @KristaVernoff @GreysABC
Not only are they excited for Amelia, but a lot of people are out here shading Owen in the process. Like, saying they were never a good couple. She had a brain tumor, people! It was complicated!!
Amelia and Link are sooooooooo much better than Amelia and Owen ever were wow #greysanatomy
Amelia really upgraded from Owen to Link 🥰🥰 #GreysAnatomy pic.twitter.com/F5CThB1Yh1
Caterina Scorsone, the actress who plays Amelia, spoke with Refinery29 about why she's excited for her character.
"She is now thriving and forming bonds and relationships and moving into her identity as a leader in her profession and as a loving and generous mother," Caterina said. "She has lived a hero's journey, and even though I'm sure there are bumps and loop de loops ahead, she continues to rise to each new challenge and keep her heart soft and brave and open."
I'm not crying, YOU'RE crying.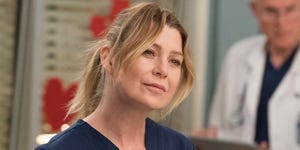 Source: Read Full Article