Film Duos Who Are Best Friends In Real Life
The following article references suicide.
People, let us tell you about some best friends (who star in movies together). Navigating the Hollywood landscape is not for the faint of heart and one of the best ways to survive in showbiz is by forming bonds with other people in the same occupation. Finding a workplace friend is important in any industry, but if your line of work happens to be in the movies? Well, every now and again you get a very cool video to commemorate your time together.
Hollywood is filled with friends who are always there for each other, whether they met in childhood and now share an Oscar, caught the bouquet at each other's wedding, or are going for the world record of most films made together. Some have played adversaries, some romantic partners, and some even took a break from sharing the screen to let one friend play director for a film (that George Clooney, he really is dreamy and talented). From Ben and Matt to Ben and Owen, these are some of our favorite film duos who are best friends in real life.
Amy Poehler and Tina Fey are hardly mean girls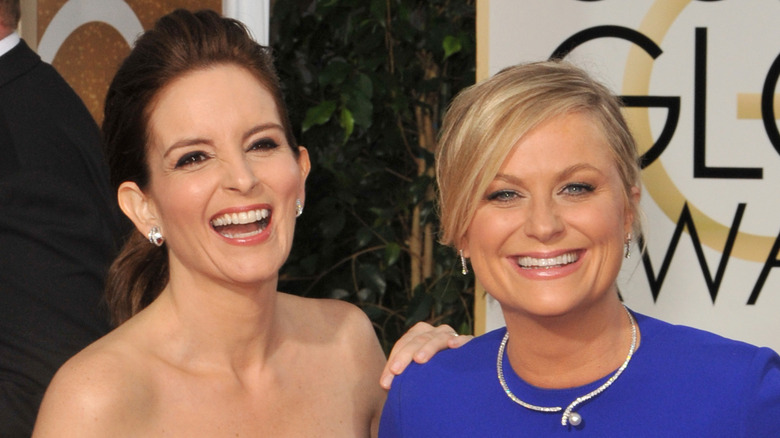 Pals Tina Fey and Amy Poehler are known for becoming the first female Weekend Update duo on "Saturday Night Live" and for their several successful stints as hosts of the Golden Globes, but the pair goes way back. Before starring in 2004's "Mean Girls," 2008's "Baby Mama," 2015's "Sisters," and 2019's "Wine Country" together, the women became buds in 1993 at the ImprovOlympic in Chicago, per Vulture. They stayed in touch when Fey moved to New York to write for "Saturday Night Live," and as the "30 Rock" star told Blackfilm.com, she regularly implored Poehler to join the cast.
Poehler did eventually oblige and had a memorable seven-year run on the show. In her 2011 memoir "Bossypants," Fey wrote that she was happy when Poehler eventually made the move to the venerated sketch series. "Weirdly, I remember thinking, 'My friend is here! My friend is here!' Even though things had been going great for me at the show, with Amy there, I felt less alone."
Poehler dedicated an entire chapter in her book "Yes, Please" to Fey, calling her "the fiercest and most talented voice in the comedy world" (via Vulture). Poehler later told The New York Times that Fey has remained the same steadfast friend she was back during their improv days, joking about one big difference: "She's the same way back then as she is now, which is really, really funny and incredibly hard-working and a very supportive and loyal friend. But she was a lot less rich."
There's goodwill between Matt Damon and Ben Affleck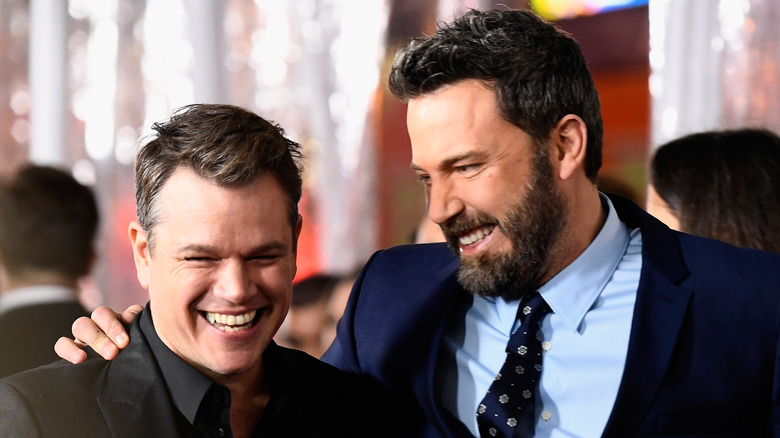 Anyone who knows who Matt Damon and Ben Affleck are knows about their friendship. They won their first Oscar together back in the 1990s after starring in and writing "Good Will Hunting." Years later, they started a production company together. Their bromance even inspired a play by fellow Massachusettsan Mindy Kaling.
The pair have been pals since childhood, and in a 2007 interview with Parade, Affleck credited meeting Damon, a fellow aspiring actor, with making his younger years less lonely. "All of a sudden I had this friend, Matt, and he gets it and wants to do it and thinks it's interesting and wants to talk about it," said Affleck. Speaking to "Off Camera" in 2018, Damon said having Affleck to talk to after every failed audition helped keep him sane and motivated to continue. "I certainly wouldn't be here if not for Ben Affleck."
In a 2015 interview with The Hollywood Reporter, Damon recounted a time during the early 2000s when Affleck was in the tabloids for dating Jennifer Lopez (the first time) and was typecast as a "talentless kind of meathead … It was just really painful. It was painful to be his friend, because it wasn't fair, you know? To my mind, nobody really got him at all. And through his work, he climbed from the bottom of the mountain all the way back up to the top and past where either of us had ever been."
Melissa McCarthy tossed the bouquet to Octavia Spencer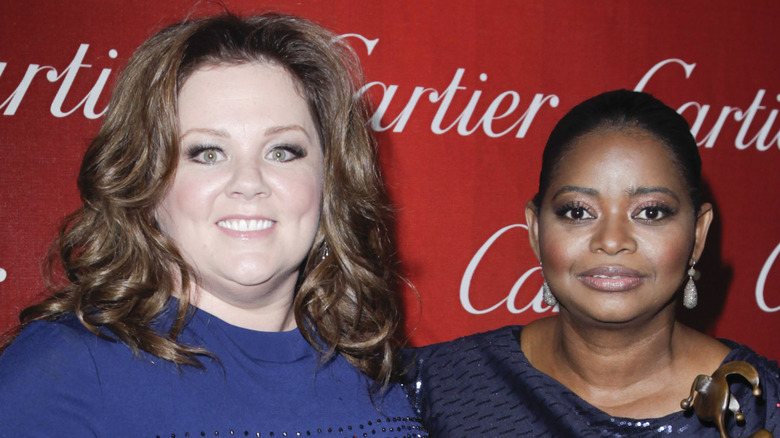 When Octavia Spencer won Best Supporting Actress at the Golden Globes in 2012, the camera cut to a visibly emotional Melissa McCarthy in the crowd. It was a heartwarming moment between two friends who first met many years prior at a Los Angeles comedy theater. 
"When I first moved to town, I used to go to The Groundlings to watch [McCarthy and Ben Falcone]," Spencer recalled to People. And on a 2017 episode of "Jimmy Kimmel Live!", they waxed nostalgic about the early years of their friendship. "I knew you pre-anything, pre-before we were working," guest-host McCarthy said to Spencer. The segment also included McCarthy's parents, and Spencer lamented that she has yet to beat McCarthy's mom in a game of Rummy in 20 years.
And in 2021, the two acted opposite each other in Falcone's "Thunder Force." Calling McCarthy "one of the most gifted actresses in the world," Spencer told Screen Rant that working with the "Bridesmaids" star on "Thunder Force" was a "gift" because it gave her the opportunity to spend months with her "dearest friend."
The pair have posted #stillbestfriend tributes to each other on Instagram, sharing pictures from their early days in comedy and confirming that Spencer caught the bouquet at McCarthy's wedding. In the aforementioned People interview, Spencer called McCarthy a good role model, and McCarthy remarked that Spencer "uses her talents and resources for good."
Traveling pant-sharing friends Amber Tamblyn and America Ferrera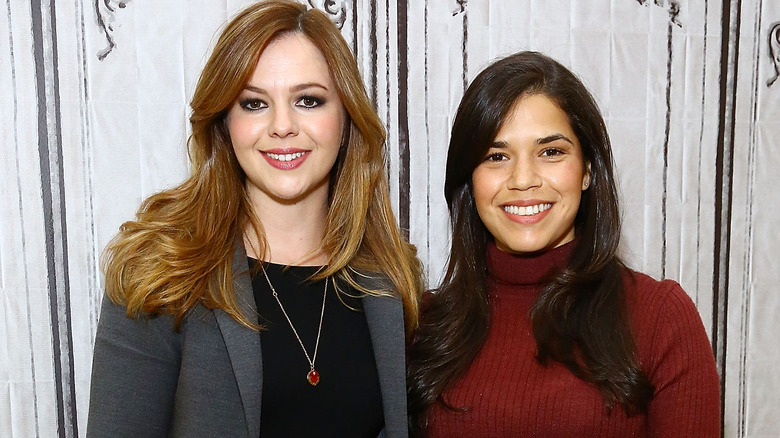 The four stars of the "Sisterhood of the Traveling Pants" films have all remained close since filming the beloved 2005 and 2008 films. Blake Lively, Alexis Bledel, America Ferrera, and Amber Tamblyn often post pictures together on Instagram to celebrate milestones, including the announcement of Ferrera's first pregnancy, and their roles as mothers have helped keep their bond strong. "They're really there for me as a source of support and advice, and we're very much leaning on each other through motherhood," Ferrera told Us Weekly in 2019.
Thanks to their shared home state of New York, Ferrera and Tamblyn have been able to spend the most time together. The pair took a break from isolating during the pandemic in 2020 to celebrate the US election results together and shared a picture of their reunion. Tamblyn and Ferrera even made their own pod together in January 2021, ringing in the new year together and hashtagging their celebration as #SisterhoodOfTheTravelingPod.
Jane Fonda and Lily Tomlin keep it frank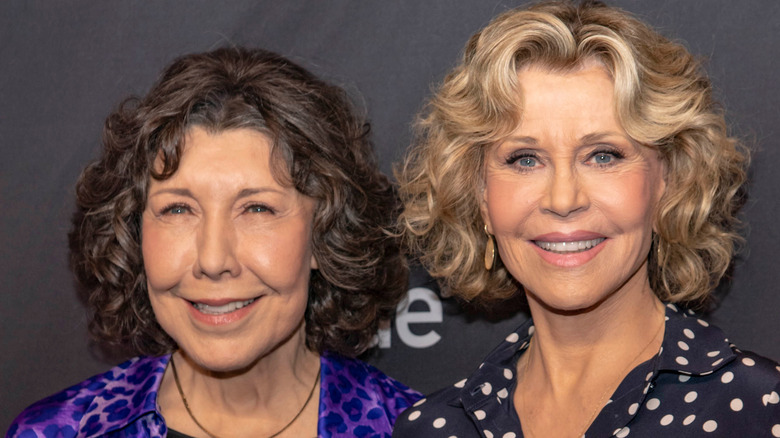 Younger audiences may have fallen in love with the dynamic duo of Jane Fonda and Lily Tomlin on Netflix's "Grace and Frankie," but older viewers likely remember the pair from their 1980 trailblazing comedy "9 to 5," which also starred Dolly Parton. While Fonda and Tomlin play best friends on "Grace and Frankie," the two have enjoyed a similar closeness in real life for several decades.
In a 2017 interview with The Washington Post's Solo-ish about Season 3 of "Grace and Frankie," Tomlin said that they hit it off in the late 1970s when Fonda asked her to sign on to "9 to 5." "We've been friends ever since," said Tomlin. "We're friends because I just love her. I know Jane has my back whenever she can."
In 2019, Fonda spoke to Jimmy Kimmel about her love of her longtime friend and co-star, saying she's fascinated by Tomlin. "She always says something really funny," the "Klute" actor said. "I cannot believe the funny bone that she has and I have loved her from the moment I saw her."
A true test of a friendship? Tomlin can credit Fonda with helping her get her first arrest while participating in a Fire Drill Friday demonstration for climate control.
Steve Martin says Martin Short is a 'perfect person'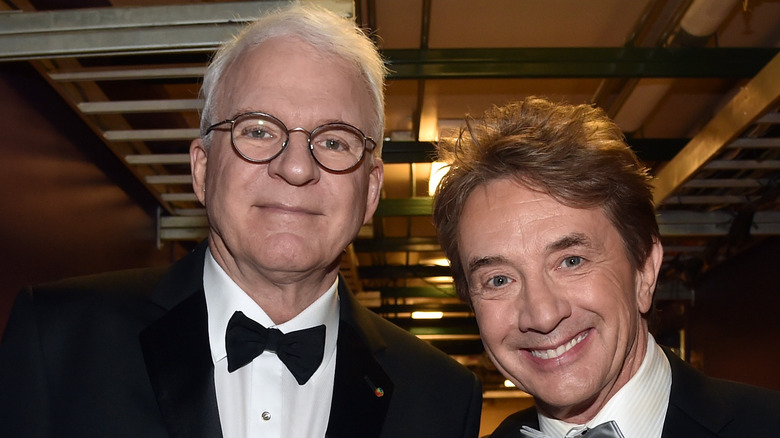 Steve Martin and Martin Short's friendship was meant to be — and not just because they share a name. The comedy duo have delighted fans for decades on-screen, first in 1986's "Three Amigos," twice again in the early 1990s with "Father of the Bride" and "Father of the Bride II," and most recently in the 21st century with Hulu's comedy series "Only Murderers In The Building." The pair also hit the road for a comedy tour that was eventually turned into the Netflix special "Steve Martin and Martin Short: An Evening You Will Forget for the Rest of Your Life." Off-screen, they've maintained a close friendship with several decades of history, which also includes vacationing with their families. Or, as Martin joked on NewsHour's "That Moment When" in 2020, "Not ours, just a family."
In the same PBS special, Short said that he immediately felt a different connection to Martin on-set. "Sometimes, you say, I don't want to lose that person. And, certainly, that was the case with Steve and myself."
In a 2019 chat with People, the two heaped praise on each other, with Martin calling Short the "perfect person. He's smart, he's funny." Martin went on to say that if Short can't make it to your party, you cancel the event. For his part, Short was just as full of praise for his longtime amigo. "Steve's best quality is who he is as a man," the "Clifford" star said. "He's very moral, he's very loyal, very, very ethical. And this is beyond all that talent."
Friendship huevos with Salma Hayek and Penélope Cruz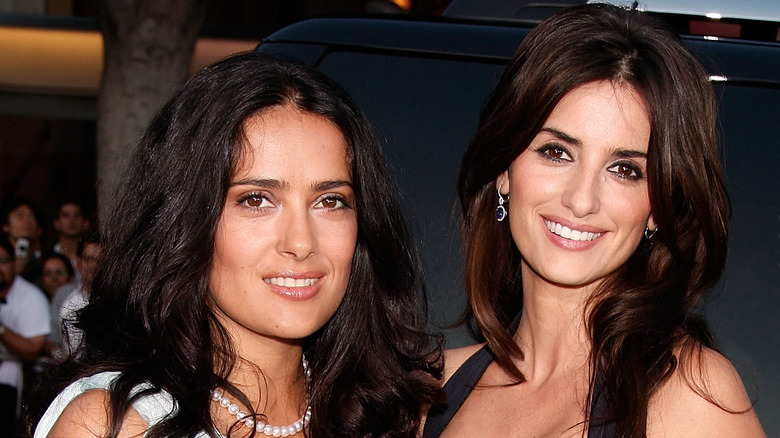 "Huevos" may be our favorite friendship duo name. In a 2013 interview with Allure (via HuffPost), Penélope Cruz, who met Salma Hayek when they co-starred in 2006's "Bandidas," said the pair gave each other a protein-rich nickname back when they were not yet mothers. "We call each other huevos [eggs]. It was because when we were working together, we didn't have children yet, so we used to sleep much more than now," joked Cruz. "So it was a way to call each other lazy." Cruz also called the "Frida" star "one of my best friends."
Cruz and Hayek may sleep less now that they're moms, but their friendship is never tired. Thanks to social media, we get little glimpses of their bond, such as Hayek's bikini-tastic birthday message to Cruz and lovely selfies. 
Cruz and Hayek have supported each other off-screen, including when Hayek came forward as one of Harvey Weinstein's accusers. In a 2018 Town & Country interview with Ashley Judd, Hayek admitted that Cruz was upset that her friend had not confided in her over fear of burdening Cruz. "Penélope [Cruz] was really angry at me, because I didn't tell her what was going on while it was happening," said Hayek. "I thought, Why dump your stuff on someone and take away from their professional relationship with him?" Hayek quickly learned good pals are around for ups and downs.
Does Dwayne Johnson smell what the Kevin Hart is cooking?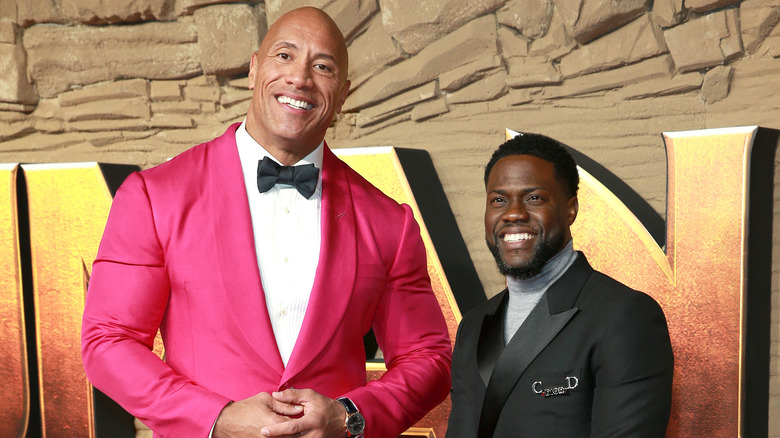 Few friendships are more fun to watch play out in interviews than Dwayne Johnson and Kevin Hart's. The pair, who first starred together in 2016's "Central Intelligence" and teamed up again in 2017 and 2019 for "Jumanji: Welcome To The Jungle" and "Jumanji: The Next Level" are notorious for teasing each other at every opportunity, which included Johnson's appearance on "Jimmy Kimmel Live!" in 2019.
Johnson stopped by the late-night TV show only hours after speaking at Hart's ceremony where he imprinted his hands and feet outside the iconic TCL Chinese Theater. After teasing Hart about his height, Johnson got serious and shared that the actor happens to be one of his best buds. "It's a real friendship, it was one that I didn't anticipate," Johnson told Kimmel. "Especially as you kind of get older in life, it's not like in high school or college where you just have a lot of best friends. No, he has become truly a great, great friend."
Being a great friend for Johnson and Hart also means taking any opportunity to publicly tease the other. Case in point, Hart tried to FaceTime Johnson while on "The Tonight Show." Johnson declined the call, but quickly picked up when host Jimmy Fallon rang him moments later.
Origins of a troll-ship with Ryan Reynolds and Hugh Jackman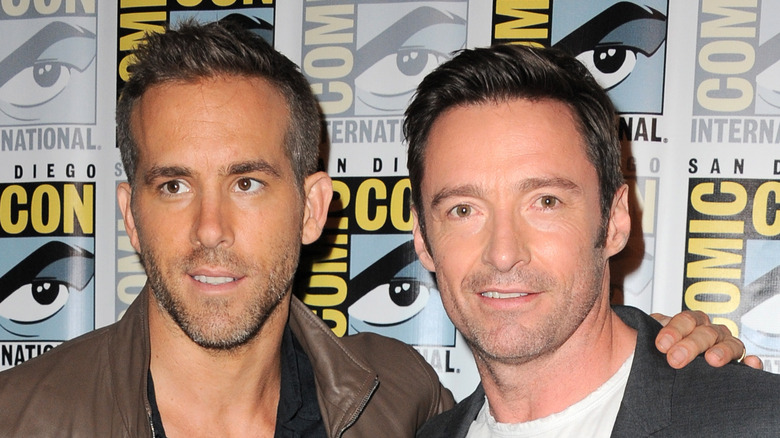 Fans may be surprised to learn that Hugh Jackman and Ryan Reynolds have only starred in one film together — 2009's "X-Men Origins: Wolverine" — but that was all it took for the pair to form a bond that has survived years of public teasing. The two often poke fun at each other on their social media accounts and sometimes use their public trolling for a good cause, including teaming up for Laughing Man Foundation and Sick Kids.
Even with their penchant for pranking, Jackman and Reynold's relationship has also included several public declarations of love. Or at least like. While appearing on the podcast "SmartLess," Reynolds shared that Jackman is incredibly kind. "I mean he really is just the nicest guy you'd ever meet. And it drives me nuts sometimes," said Reynolds, adding that Jackman is a great friend to go to for advice. "But in reality, he's like my life sherpa. He's one of the best guys I know."
Reynolds also praised Jackman in 2019 when he received the prestigious Order of Australia. "Despite what I tell anyone who'll listen, Hugh Jackman is one of the finest, kindest, hardest working, generous and most talented people I've had the privilege to call my friend," wrote Reynolds on Instagram. "There's nobody better." Is it finally time for a Wolverine and Deadpool crossover film?
Adam Sandler wants to grow old with Drew Barrymore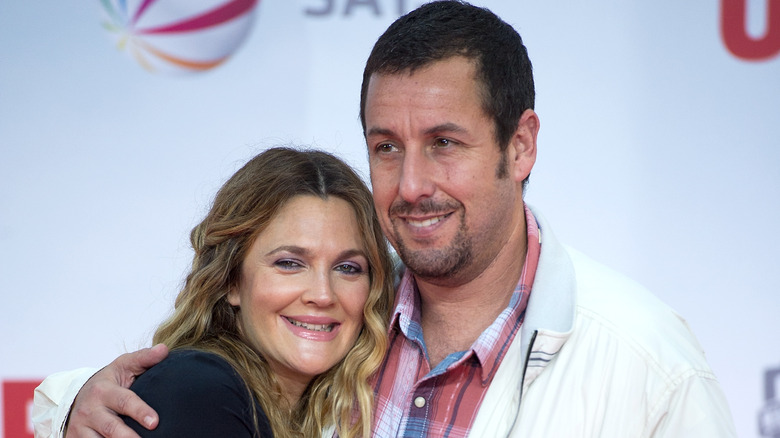 Audiences have fallen in love with Drew Barrymore and Adam Sandler time and time again as they've starred in sweet rom-coms like "The Wedding Singer," "50 First Dates," and "Blended." It's safe to say the pair have fallen in friendship love off-screen.
Barrymore attended the 2020 National Board of Review Annual Awards Gala to honor her friend and co-star, who won Best Actor that year for his role in "Uncut Gems." Telling the audience that she loved and always believed in Sandler, Barrymore added (via People), "This moment could honestly could not be more deserved. I know that everyone is rooting for you because you have earned everyone's respect. You deserve the best, you give the best and you are the best."
The two have starred in three films together and are open to a fourth. Barrymore told Andy Cohen on "Watch What Happens Live" that the friends are always on the lookout for their next project. "We just haven't figured it out yet… We're so fat. We're so old," joked Barrymore. "Like literally, the last thing I suggested to him was a remake of 'On Golden Pond'."
Thankfully, Barrymore and Sandler have had mini-reunions for fans eagerly awaiting their next film. Sandler helped Barrymore kick off her daytime talk show by spoofing "50 First Dates" and sang his friend a sweet remix of a song from "The Wedding Singer" on "The Tonight Show."
The spectacular friendship of Shailene Woodley and Miles Teller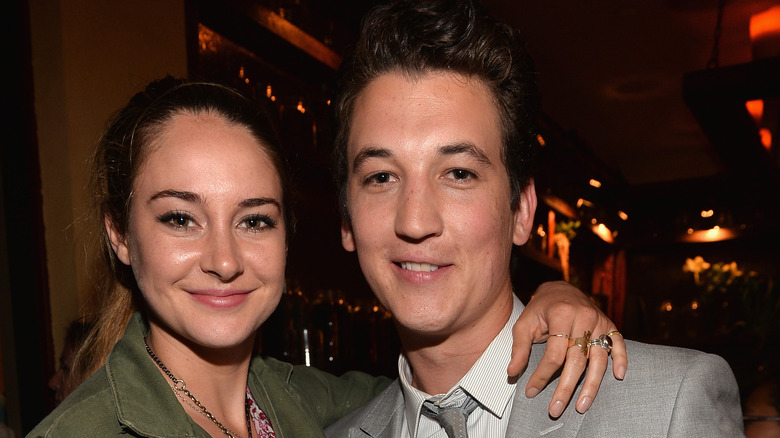 Shailene Woodley and Miles Teller know when signing on to a film franchise, it's important to like the people that you're going to spend years working next to on set. They starred together in the romantic YA film "The Spectacular Now" in 2013 and liked each other enough to team up three more times for the "Divergent" trilogy.
In a 2013 interview with IndieWire, Teller said working opposite Woodley in front of the camera feels natural. "As actors, Shailene and I match up well together because we have similar styles in that we do everything very honestly. We're not very showy actors, and I think our technique is just to be very present," he shared.
Woodley told MTV News she and Teller hit it off filming the "Spectacular Now" back in 2013 and praised her friend for creating a safe and fun environment on-set. "He helps me, I think, have more fun when I get caught up in being serious. And I think I help ground himself in a way that's perhaps more natural than his other choices."
The pair, who have since been cast in "The Fence" (yes, that's their fifth film together), have stayed close. In 2021, Teller's wife, Keleigh Sperry, posted several pictures from their Kentucky Derby party and Hawaiian vacation, which included Woodley and fiancé Aaron Rodgers.
Julia Roberts and George Clooney's connection runs deep like an ocean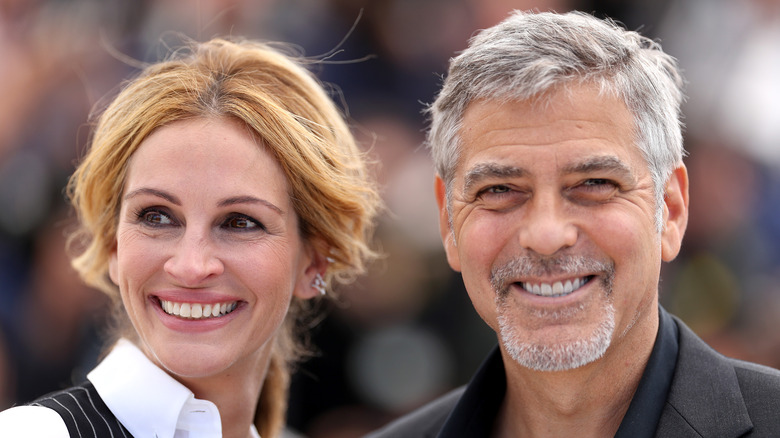 George Clooney and Julia Roberts have enjoyed A-lister status in Hollywood for decades, but the pair didn't actually meet until they were both firmly established in their careers. When they sat down with People for a joint interview in 2016, Clooney shared that he and Roberts first came face to beautiful face in 2000 when "Ocean's 11" director Steven Soderbergh introduced them at a meeting. The two signed on to star in the heist film together and reunited again the following year when Clooney directed Roberts in 2002's "Confessions of a Dangerous Mind."
And their real-deal bond has lasted all these years later. "What a relief we're not Hollywood friends," Roberts said in the aforementioned chat with People. "I just said to him an hour ago, 'Thank God we really do like each other, or we'd be in hell.'"
Roberts and Clooney told People they've "stitched their lives together," which included Roberts staying in Clooney's home while pregnant and again years later when her three children were older. Their friendship is so strong that the actors have now worked together on four films, including "Ocean's 12" and "Money Monster," and they are very much a part of each other's personal lives. "Danny [Moder] and I are great friends and love each other," Clooney said in People. "What's fun is it's really like a family."
500 days and counting of friendship for Zooey Deschanel and Joseph Gordon-Levitt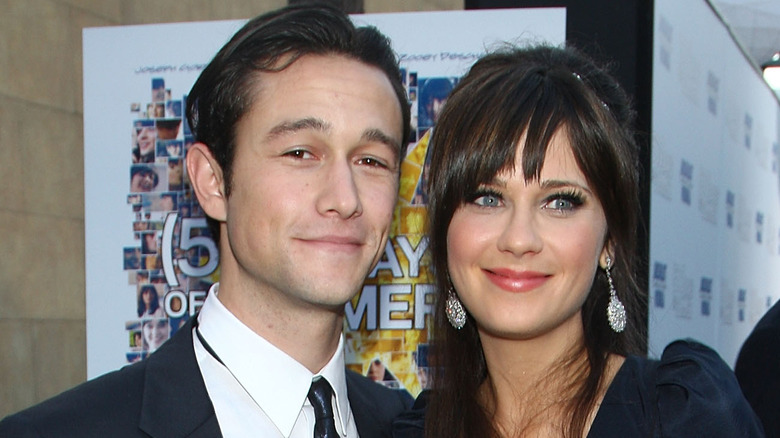 Moviegoers may be split on who is the villain in the romantic comedy "500 Days Of Summer," but one thing that isn't up for debate is whether the film's stars are friends off-screen. Joseph Gordon-Levitt and Zooey Deschanel had palpable chemistry as co-workers turned lovers in the 2009 film and that was largely thanks to their pre-existing bond.
The pair first worked together on the 2001 film "Manic" and as they told NPR, they quickly found "relief" in each other's calmness on a set that was anything but. This friendship led to several hangouts in karaoke bars and eventually a co-starring opportunity in "500 Days of Summer."
In 2012, Gordon-Levitt spoke to Playboy (via People) and said that their years-long relationship has become one of his best sources for finding his next favorite thing. "We've been friends for 10 years. She [Zooey] loves movies, music and art, and she's incredibly knowledgeable about that stuff," said Gordon-Levitt. "It's fun just to have conversations, watch movies with her."
Since sharing the bill in "500 Days of Summer," the two have reunited on screen thanks to their shared love of music. Deschanel and Gordon-Levitt also revisited their beloved romance for its 10-year anniversary in 2019. Speaking to EW, the duo agreed that their friendship helped make the movie a success. "I think that's a big part of why it turned out so well, because we were like, really comfy," said Gordon-Levitt.
The ridiculously good-looking friendship duo of Ben Still and Owen Wilson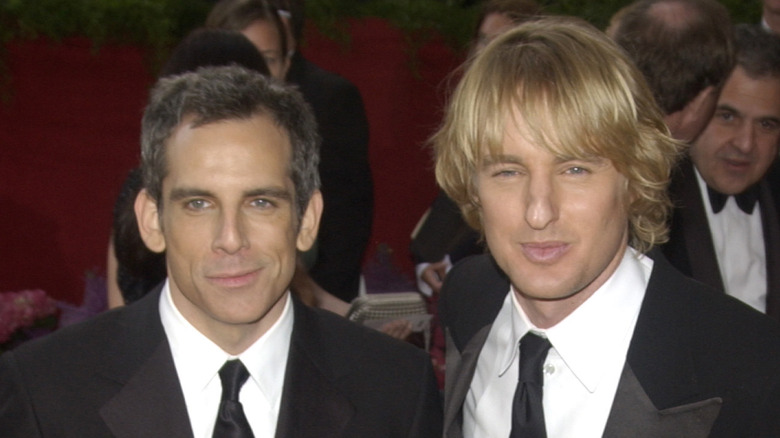 The award for IRL friends with the highest movie count together likely goes to Ben Stiller and Owen Wilson: The buddies have shared the big screen over a dozen times. First appearing together in 1996's "The Cable Guy," the actors had only small roles in the dark comedy but stepped up to co-star status in films like "Zoolander," "Starsky and Hutch," "The Royal Tenenbaums" and "Permanent Midnight." As Wilson recalled to The Independent, their first film was predated by a letter he received from Stiller complimenting his sleeper film "Bottle Rocket," and the two met soon after.
Wilson told the outlet that his bond with Stiller doesn't have any showy Hollywood hang-ups. "From when we first became friends, walking around New York, I think that we are still sort of laughing at the same things and our dynamic is still pretty similar," said Wilson.
Part of the pair's friendship includes protecting the other as much as possible from headline-grabbing stories. In October 2007, Wilson was hospitalized after an apparent suicide attempt. Stiller appeared on "The Ellen DeGeneres Show" soon after and confirmed his friend was showing improvements. "He's doing really well. I sort of like to protect his privacy, 'cause I feel like it's his own thing," said Stiller (via People). "But he's a really good friend of mine. He's an incredible guy and I wish him as everybody does, all the best."
If you or anyone you know is having suicidal thoughts, please call the National Suicide Prevention Lifeline​ at​ 1-800-273-TALK (8255)​.
Source: Read Full Article