Confused About Kim Cattrall and SJP's 'Sex and the City' Drama? I've Got You.
Sex and the City hit your parents' HBO subscription in 1998 and it's been straight-up d-r-a-m-a ever since. Like, there's even been drama about how there is "no drama." And while no one but the cast knows what actually went down behind the scenes, at some point, the internet decided that Kim Cattrall and Sarah Jessica Parker were feuding. And thanks to HBO Max's Sex and the City spin-off called And Just Like That… premiering this week, the actors' alleged "feud" has once again become a talking point.
By way of a little background, it's important to note that there was a pretty major pay disparity among the Sex and the City cast: Sarah Jessica Parker earned a much larger salary than her costars due to being the show's lead (as well as a producer). Kim wanted more money as the show became more successful, and negotiations between her and the producers took a turn for the very public—and the very yikes. Which brings us to our timeline, ahem!
September 19, 2004
After SATC ends its run on HBO, the cast heads to the Emmys and everyone is quick to notice that Kim doesn't sit with her costars.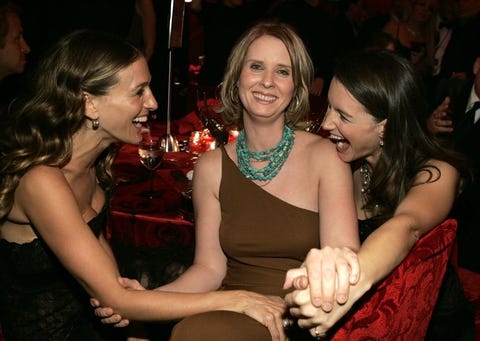 November 12, 2004
During an interview on Friday Night With Jonathan Ross, Kim says that salary discrepancies did, indeed, impact the show ending when it did. "I felt after six years, it was time for all of us to participate in the financial windfall of Sex and the City. When they didn't seem keen on that, I thought it was time to move on."
May 19, 2008
Four years after the series finale, the SATC movie starts filming—after allegedly being delayed due to Kim's salary negotiations. Sucks for fans, but seems fair, IMO. Sarah Jessica Parker even supports Kim, telling The Telegraph, "She mentioned money and no one should vilify her for it. People made a decision that we had vilified her."
In the same interview, Kim talks about the filming holdup and says, "I was going through a divorce and my job of seven years was coming to an end. Then my dad was diagnosed with dementia. So I took a step back and returned to Canada, where my family is—that's the reason behind it. It wasn't all about the money."
November 5, 2009
While filming SATC 2, Sarah Jessica Parker covers Elle and says, "I don't think anybody wants to believe that I love Kim. I adore her. I wouldn't have done the movie without her. Didn't and wouldn't."
January 8, 2010
Kim denies feud rumors in an interview with the Daily Mail:
May 5, 2010
The cast covers Marie Claire ahead of Sex and the City 2 and continues to shut down feud rumors. SJP put it this way: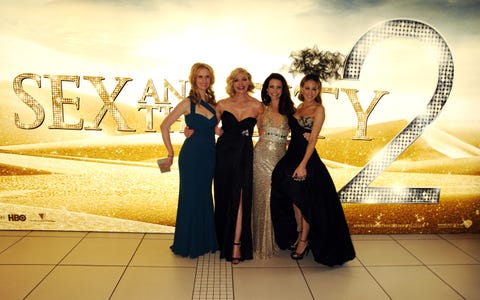 August 21, 2016
SJP wishes Kim a happy birthday with a giant photo of her face:
https://www.instagram.com/p/BJX9Y_zjBZO/?utm_source=ig_embed&utm_campaign=loading
A post shared by SJP (@sarahjessicaparker)
September 28, 2016
SJP tells Time, "It was always so heartbreaking to me that there was this narrative about Kim and myself because it just didn't reflect anything that happened on that set. They just didn't do it to the Sopranos guys. It was so strange to me and upsetting. I posted something on Kim's birthday and people were like, 'Oh my god, I didn't know you liked her!' What? We were all at liberty to walk away at any time! But nobody asked those questions of shows with men. Isn't that interesting?"
October 18, 2016
SJP opens up to Howard Stern, saying, "This sort of narrative, this ongoing catfight, it really used to upset me. It was usually about bad behavior on the set and I take very seriously my reputation. I work really hard and I treat people well. I have a work ethic that's very meaningful to me and it's based on the affection I feel for the people I get to work with. To suggest that I'm behaving poorly or not treating somebody well…it would drive me bananas."
September 29, 2017
As news breaks that Sex and the City 3 isn't happening, Kim shuts down speculation that she was somehow responsible for it:
Source: Read Full Article