The Incredible Transformation Of Lily Allen
Since making her debut on the music scene, Lily Allen has made quite the name for herself. The British singer-songwriter may have famous parents, but that didn't stop her from creating her own identity and becoming a worldwide star. The London-born talent quickly captivated fans with her witty and honest lyrics and candid personality and soon became a household name.
Allen is considered a pop icon and has gone on to influence a whole range of musicians. As previously reported by Contact Music, Allen inspired music star Lady Gaga to write her song "So Happy I Could Die" while Australian hitmaker Troye Sivan told the "Hard Out Here" chart-topper on Twitter that her track "Chinese" also influenced Sivan to create his track "for him." Allen has quite an impressive CV and has worked alongside some huge superstars. In 2007, she collaborated with Common on the Kanye West-produced single "Drivin' Me Wild" and featured on Pink's 2012 album, "The Truth About Love," on "True Love." In recent years, she has appeared on songs with Kehlani, Flo Milli, and Burna Boy, to name a few. To date, Allen has sold more than 5 million albums worldwide.
While Allen's main occupation is singing, her career continues to evolve and has seen her venture into other industries. Keep reading to learn more about her interesting transformation over the years.
Singing at a school concert at age 11 was a 'big turning point'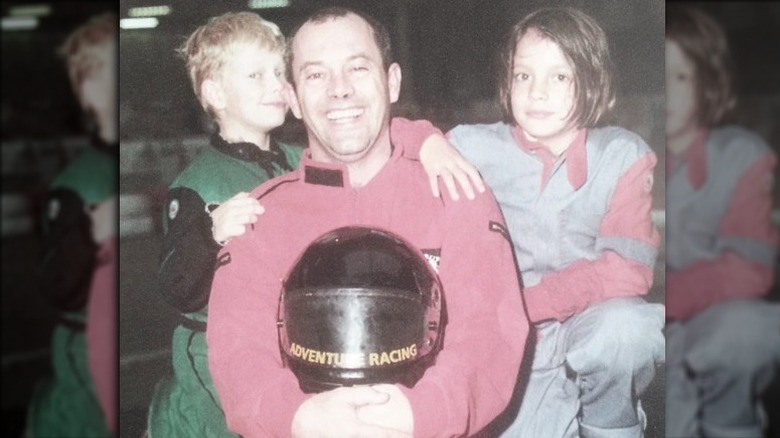 It's safe to say that school wasn't for Lily Allen. After all, she did attend 13 different schools from the age of 5 and 15. However, one thing that did come out of her education is her finding out she had the ability to sing and move people. As previously reported by Urb, she was asked to sing at a school concert after a music teacher heard her hum "Wonderwall" by Oasis. "Not a big fan of school at all," Allen said. "I was just terrible at school and smoked and drank and had sex with boys and did terrible things. Especially when I should have been learning chemistry."
In an interview with The Guardian, Allen's music teacher Rachel Santesso reminisced over her first-ever performance from when she was 11-years-old. 'I'll never forget the spell she cast on an audience," Santesso recalled. "Her performance was unforgettable. It was a powerful moment, and I swear to God I knew then, without a doubt, that Lily would be a singer."
Allen sang "Baby Mine," taken from Disney's "Dumbo" movie. "My mum didn't turn up to the concert, but all the other parents did. They knew me as angry little Lily and everyone just cried, but in a good way," she told The Guardian. "They were like, 'Oh my God, she's finally got something.' My singing had a really good effect on people and I loved that feeling. It was a big turning point for me."
Lily Allen appeared in an award-winning film at age 13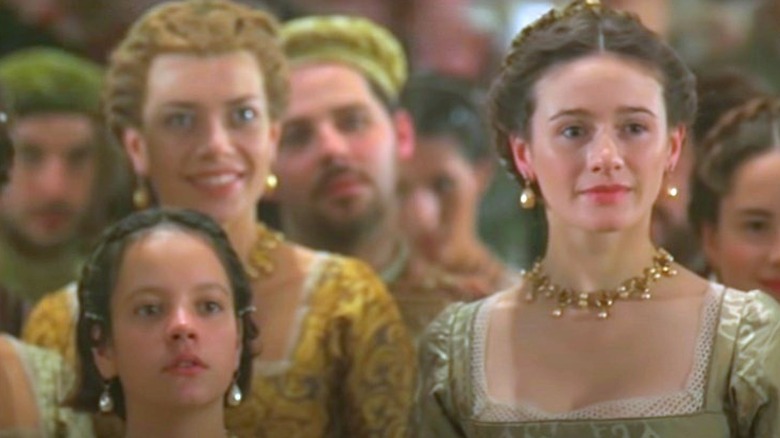 Before she was setting the charts alive, Lily Allen had already starred in a huge blockbuster big-screen movie. At just age 13, a somewhat unknown star in the making already had worked alongside Cate Blanchett in the 1998 film "Elizabeth." The successful film was produced by Allen's mom, Alison Owen, and went on to gross a whopping $82 million worldwide at the box office, according to Box Office Mojo.
Allen may have had the small role of Lady-in-Waiting but as seen in the snapshot above, she managed to feature in the forefront in some scenes. As noted on his IMDb page, Lily's younger brother, Alfie Allen, also appeared in the movie as Arundel's Son. 
"Elizabeth" won some major awards. At the Oscars, the film took home Best Makeup while sweeping the BAFTAs with five wins for Best British Film, Film Music, Best Performance by an Actress in a Leading Role, Best Cinematography, and Best Makeup/Hair, per IMDb.
Lily Allen provided backing vocals for a football anthem at 17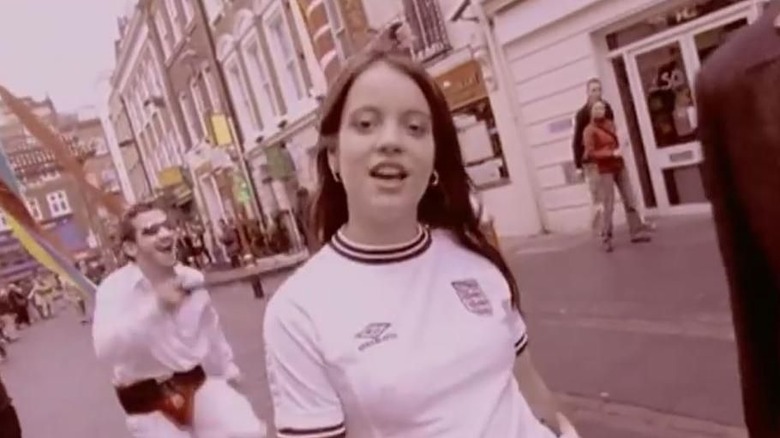 The same year Lily Allen made her big-screen debut in "Elizabeth," she also appeared in the music video for Fat Les' "Vindaloo" music video. The British band consisted of Lily's dad Keith Allen, Blur bassist Alex James, and artist Damien Hirst. The football anthem peaked at No. 2 in the U.K., according to The Official Charts, and featured a music video that was a parody of The Verve's "Bitter Sweet Symphony." 
Four years later, Fat Les dropped another football-themed song, "Who Invented Fish and Chips?" This time around, Lily featured on backing vocals and heavily appeared in the music video with her father and brother Alfie Allen. A young, then 17-year-old Lily was captured around the streets of London in an England football shirt, chanting for her country. The song didn't make much noise on the U.K. charts and reached No. 86. However, this was just the beginning of Lily's history with the charts.
Lily Allen signed her first record deal in 2002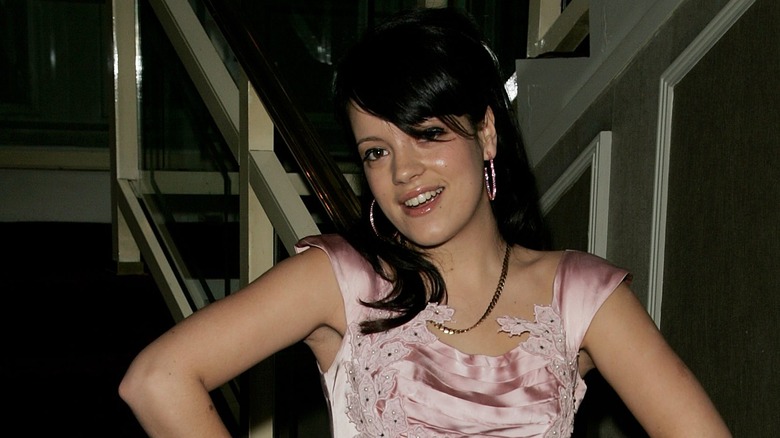 We know Lily Allen today as one of Britain's most prolific and honest songwriters. However, once upon a time, that wasn't the case. According to Urb, her father, Keith Allen, helped get her foot in the door in the early 2000s. Due to his connections in the industry, he gave Allen the chance to work with some producers where she started off providing back vocals for people. Allen was suggested to record her own music soon after and landed herself her first record deal with Warner in 2002, per The Guardian.
Allen's time with Warner was short-lived as she wasn't interested in the material she was singing. She was forced to record folk songs that were written by men and she just wasn't into it. After the executive who signed Allen left the label, everyone lost interest. The aspiring singer would be set free from her label and she would go on to study to become a florist in the following years. None of the music she recorded with Warner ever got released and has never seen the light of day, which she is likely happy about.
Queen of MySpace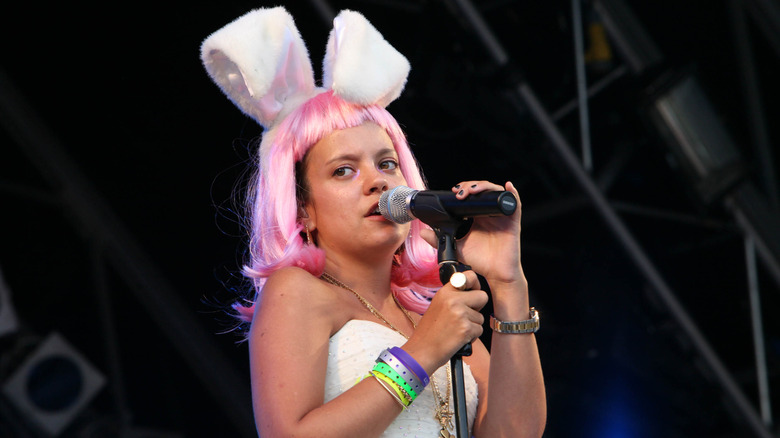 A couple of years after signing her first record deal, Lily Allen signed another deal with Regal Recordings in 2005. Before the singer released her debut single or album, she was busy recording demos in the studio and putting them on MySpace for people to hear. Allen quickly generated buzz via the social media platform and made a name for herself before dominating the charts.
In an interview with Pitchfork, she explained how she went about promoting her songs. "Over the past two years I had been doing demos and I probably had, like, seven or eight that I was confident enough to put on the page for people to hear. I started putting them up in November [2005], two months after I signed," Allen said, adding, "I just kind of swapped them around. When we did "Nan, You're a Window Shopper", literally five minutes after we finished, it was on MySpace."
"By February or March it was obvious that something was going on, because there were so many subscribers to the blog and so many people listening to the music — the plays were just going up and up and up," she continued. On a podcast episode with "Unfiltered with James O'Brien" in 2017, Allen recalled getting 2 and a half million plays per song in a day. As noted by Digital Spy, Allen's popularity rapidly grew and she started to get played on the radio before her label put her in the studio with big producers.
She became a chart-topping star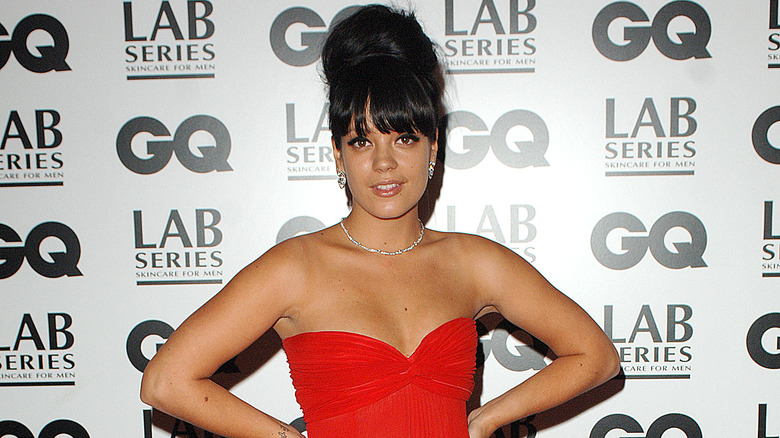 Lily Allen's debut single, "Smile," was no subtle introduction. The tongue-in-cheek carefree pop song showcased Allen's songwriting ability and instantly resonated with her audience. Released in July of 2006, the single reached the top spot in the U.K. and stayed there for two weeks straight, per The Official Charts. In the U.S., the song has been certified gold by RIAA after selling over 500,000 copies. 
Allen's album, "Alright, Still," debuted and peaked at No. 2 in the U.K. and remained in the top 100 for an impressive 98 weeks. Its long-run in the charts helped the star go triple platinum, per BPI. At the 2007 BRIT Awards, the entertainer made quite the impression on critics and earned herself four nominations, including Best British Album. In the U.S., Allen scored herself a Grammy award nomination for Best Alternative Music Album and also received a gold plaque by RIAA for half a million sales. As of this writing, "Alright, Still" remains her highest-scored album on Metacritic.
Lily Allen and Friends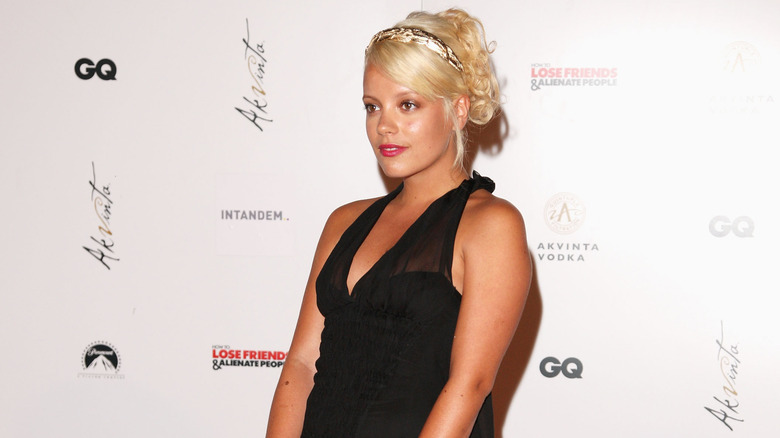 By 2008, Lily Allen was an online sensation who had sold millions of records around the world. After releasing her debut album, the "Littlest Things" singer had become a household name and a tabloid favorite.
In February 2008, Allen took her career to the next level and launched her own TV chat show, "Lily Allen and Friends," on BBC Three in the U.K. Along with interviews with celebrities, viewers were able to participate in an online poll that would allow them to choose a new band to close each episode of the show. "Lily Allen and Friends" was short-lived and only stayed on the air for one season. However, Allen was able to bag herself some huge guests, some of which included James Corden, Mark Ronson, and Adele, to name a few. 
As previously reported by The Sun (via Pitchfork), BBC Three's executive Danny Cohen explained the reason for canceling Allen's show was due to her being "too busy" to do another.
Lily Allen's second album earned her some major awards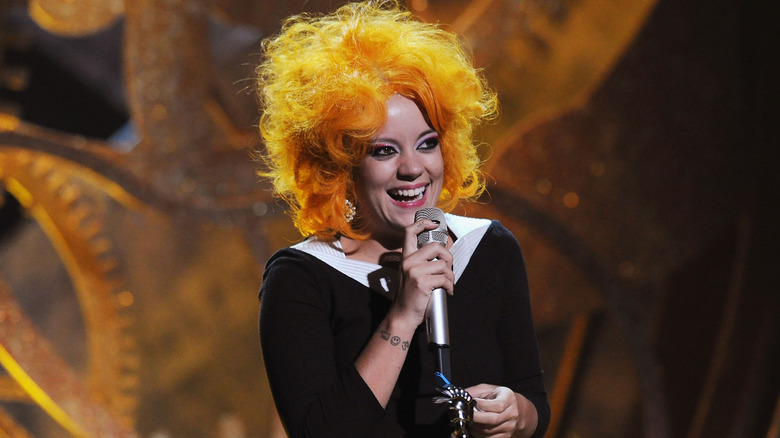 When it came down to releasing Lily Allen's second album, it was highly anticipated by both fans and critics. Three years after dropping "Alright, Still," Allen delivered her sophomore LP, "It's Not Me, It's You" in February 2009, which topped the charts in the U.K. and Canada. The lead single, "The Fear," became her second No. 1 single in her home country and stayed there for four consecutive weeks. 
At the 2010 BRIT Awards, Allen won her first award for Best British Female. At the Ivor Novello Awards later that year, she won three trophies with her co-writer Greg Kurstin for her single "The Fear," as noted by Billboard. "This song is so much about feeling so lost," Allen said on the night. "It has made me feel quite found all of a sudden." According to Metro, "The Fear" also earned her a Q Award for Best Track in 2009 while the following year at the Glamour Women of the Year Awards, she took home Solo Artist of the Year.
Lily Allen, the face of Chanel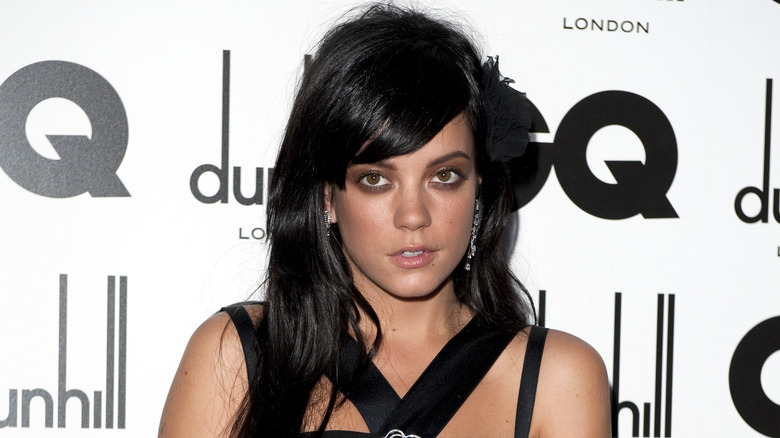 Since day one, fashion has always been a big part of Lily Allen's career. When she first made her mark on the industry, she was known for her signature style that consisted of sneakers, dresses, and gold jewelry. With that being said, Allen has had her fair share of looks over the years and has constantly evolved with her music. Whether it's pink or blond hair or elegant gowns or prom dresses, she knows how to switch it up and transform like a chameleon.
In July 2009, it was announced that Allen was the face of Chanel's Coco Cocoon bag collection that launched in October of that same year, according to Marie Claire. The singer looked very glam for the campaign and posed in chic black and white attire from the same designer for a couple of classic black-and-white images. 
Allen continues to express her love for Chanel as she is regularly seen at their fashion shows in Paris during fashion week. When Karl Lagerfeld, the creative director of the brand, died in February 2019, Allen took to Twitter to honor him. "You made me feel like a princess. I never quite understood what you saw in me but I am forever grateful for the support that you and Chanel have given me over the last 15 years," she wrote.
Lily Allen started a family during her hiatus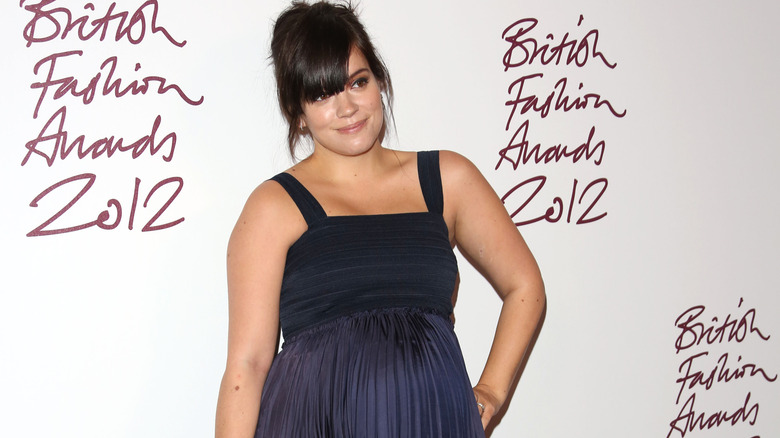 In September 2009, Lily Allen gave fans the announcement they weren't expecting or asking for. As reported by NME, she stated she had no plans of making another album and won't be renewing her record contract. "Just so you know, I have not renegotiated my record contract and have no plans to make another record. I do however remain a fan of new music, so this is not some selfish crusade," she said in a deleted blog post.
In 2010, Allen announced she had lost her son, George, six months into her pregnancy. During a discussion with Dame Jenni Murray on Radio 4's Woman's Hour in 2018, she opened up about the traumatic experience, per Hello Magazine. "The hardest thing about that was losing a child, but there were complications with the actual delivery. He was so small he actually got stuck halfway in and halfway out, so to speak, during the delivery," Allen said. "I went into trauma and I don't think I'll ever really recover from that."
During her time away from the entertainment industry, Allen got married to her first husband Sam Cooper at their Cotswold mansion in June 2011 while expecting their first daughter Ethel, per People. According to NME, she gave birth in November of that year and welcomed their second daughter, Marnie, in January 2013, per Standard. After seven years of marriage, Allen and Cooper called it quits in 2018.
Sheezus saw Lily Allen return to the top of the charts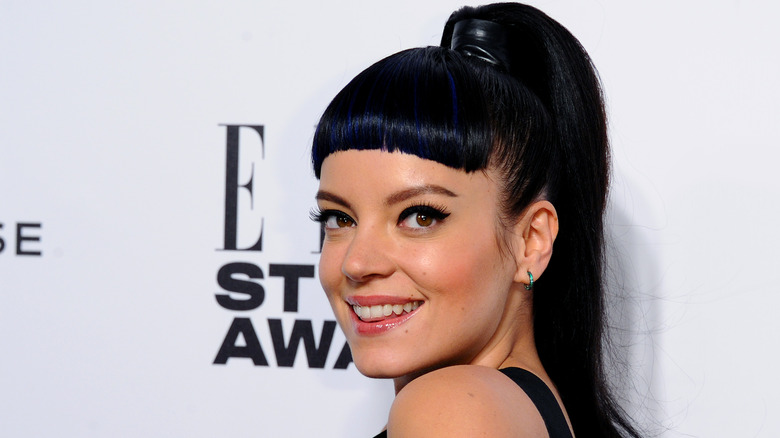 After spending some time away, Lily Allen returned in late 2013 with a cover of Keane's song "Somewhere Only We Know." The single served as the John Lewis Christmas advert for that year and became Allen's third No. 1 single in the U.K. As of this writing, "Somewhere Only We Know" is listed as her second best-selling single in Britain, according to The Official Charts.
The following year in May, Allen delivered her third studio album, "Sheezus," which saw her return to the top of the U.K. charts during its first week. While embarking on her own tour, she also opened up for Miley Cyrus during her iconic "Bangerz" tour in North America. Despite the commercial success, Allen admitted that "Sheezus" is not her favorite album. "I think that the idea going into 'Sheezus' was really well-intentioned. I think I was suffering from postnatal depression when I started writing it, and I think I was having an identity crisis, that I did not know I was a new mum," she told Stereogum in 2018. "I felt like I needed to be a pop star to pay my bills, and I didn't feel like that, so I did what I thought pop stars should do, and it was very wrong."
"I didn't like the single choices. It was bad from the beginning," Allen expressed after the LP received mixed reviews. 
No Shame became Lily Allen's most honest album to date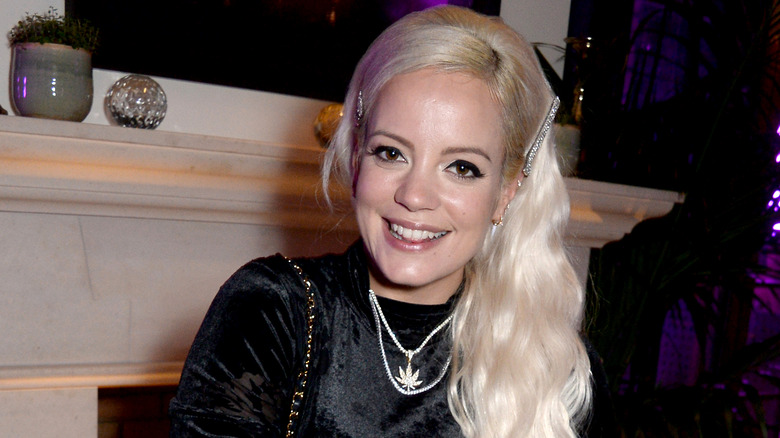 After "Sheezus," Lily Allen took her sweet time making her follow-up record and explained to Stereogum the reason why it took several years to create 2018's "No Shame." "I wanted it to be really good, but I also wanted to A&R it myself and I wanted to make it myself. Like, I didn't wanna do the traditional way of doing things. I didn't wanna make a record with singles for radio," the "Trigger Bang" hitmaker stated.
Sonically and lyrically, "No Shame" was more stripped-back than her previous albums. In a review from Exclaim!, they described the LP as "raw and honest, while still providing catchy pop beats with hints of grime woven through." NME believed "No Shame" featured Allen's most "candid songwriting," which they saw as "consistently gripping and very affecting" while The Independent stated, "'No Shame' is a return to form in every sense: a confident, well-produced and deeply personal work."
In the U.K., "No Shame" became Allen's fourth consecutive top 10 album, and was shortlisted for the 2018 Mercury Prize Award, per BBC.
Lily Allen's memoir became a No. 1 best-seller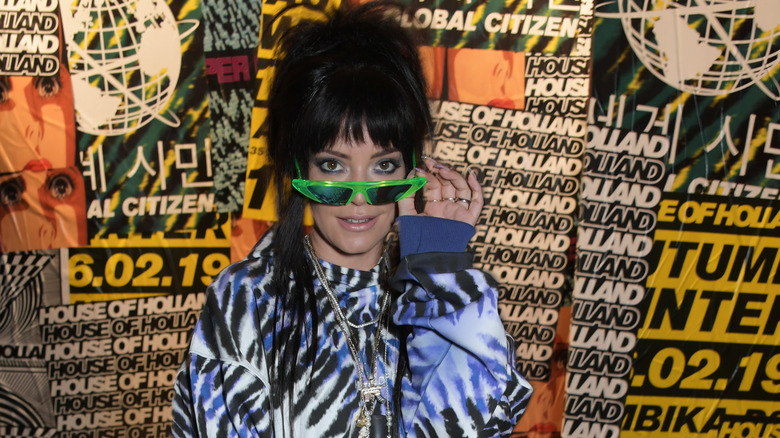 With so much of her life documented in the press, it was time for Lily Allen to tell her side of the story. As previously reported by NME, she announced her first memoir, "My Thoughts Exactly," in 2018. Some of the many topics the book covered include feminism, the tabloids, money, fame, mental health, stalking, and motherhood.
"Some of it I think might be uncomfortable and shocking and brutal. There will be good stuff in there too, happy times. I will try and make it funny," she said ahead of the release of the book. "I know it's about me but I hope that a lot of it will ring true with anyone who reads it," she continued, adding, "It won't be written with shame. It will be true."
Allen's memoir was released in September 2018 and proved to be a success, becoming a No. 1 best-seller a month after it hit the shelves. In a positive review from New Statesman, the book was described as "uniquely candid" while The Times praised Allen for being "admirably open."
Lily Allen found love in David Harbour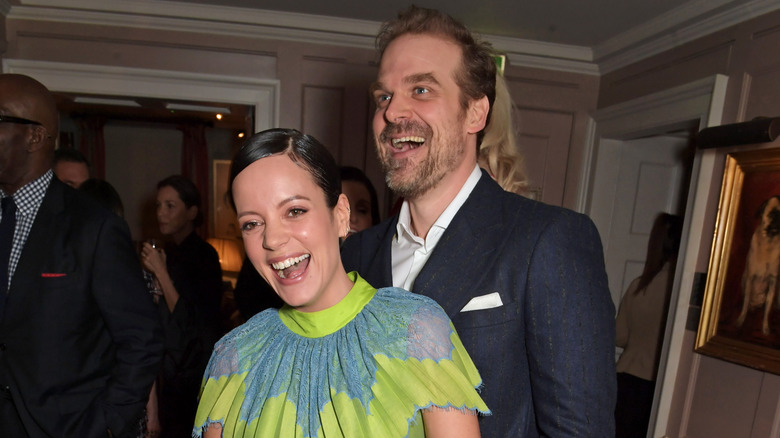 Rumors had been circling around in the press that Lily Allen was dating actor David Harbour of "Stranger Things" fame, but it was made official to fans in October 2019 after they were spotted kissing each other in public, per Cosmopolitan. Days later, the duo made their red carpet debut at the Champions for Change Gala in New York City and was captured again the following day at a basketball game.
Throughout 2020, the couple grew closer together and went on vacation to Croatia with Allen's two daughters in August — Ethel and Marnie. The following month, it had been announced that the pair tied the knot in Las Vegas with a small ceremony that was led by an Elvis impersonator at the Graceland Wedding Chapel.
In 2021, Harbour opened up about his marriage to Allen to People. "I'm so grateful that I'm not alone anymore, and that I have someone that I can tell everything to and who can tell me everything," he said. "We can share this experience of walking through life together," he continued, adding, "I'm always so overcome with gratitude for that, because I've been alone for most of my life."
Lily Allen will make her theater debut in a new play
In a 2020 interview with The Times (via NME), Lily Allen revealed she had been working on three musicals and her fifth album. As of this writing, none of the three projects have been announced or released. Allen is no longer signed to a major label and stated she has no interest in ever signing to another. "I'd never sign a record deal with a major label again. I don't want to work within that corporate structure, don't want somebody telling me I have to be talking into my cameraphone all day, for 'engagement'," she said.
While fans patiently wait for new music, Allen has announced she will be making her theater debut in London this summer in August. The "Hard Out Here" hitmaker took to Twitter to inform her 5.2 million followers that she is scheduled to star in a new play titled "2:22 – A Ghost Story." Allen will play the role of Jenny and will be joined by Julia Chan, Hadley Fraser, and Jake Wood.
Source: Read Full Article