Rico Nasty Fiercely Hits Back at Playboi Cartis Fans for Booing Her During Performance
In a video that circulates online, the 'P***y Poppin' raptress launches into a rant, slamming the audience, whom she calls 'anti black a** crowd' for the disrespect.
AceShowbiz –Rico Nasty clearly wasn't happy with how Playboi Carti's fans treated her during a performance for Playboi Carti's "King Vamp" tour at Los Angeles' The Forum over the weekend. When she took the stage, instead of warm welcoming, fans were booing her.
In a video that circulated online, Rico launched into a rant, slamming them for the disrespect. "This is what the f**k we gon' do for you disrespectful muthaf**kers out there," she told the audience. "B***h, we gon' sit in muthaf**kin silence! Don't you f**king play! What you think this is, b***h? It's not that."
Some fans jumped into her defense after watching the video. "Them teenage white boys really do be racist and misogynistic but I think we all know that. If you know bae I mean Rico then you know in terms of energy, Rico and Carti damn near tied. Rico Nasty deserve WAAAY better," a fan defended Rico. "Male carti fans are so f**king weird and annoying."
Another fan added, "I'm getting a brain aneurysm thinking about my queen getting booed by prepubescent white boys." Someone else echoed the sentiment, tweeting, "No rico literally needs to do a solo tour she deserves so much better than these bum white males."
Also defending Rico was Kenny Beats, who said, "Don't ever fix your mouth to say anything about Rico Nasty if its not 'legend' 'icon' or 'innovator.' " The tweet didn't go unnoticed by Rico who replied, "Period Kenny get ya cousins."
The "Smack a B***h" raptress further called out Carti's fans on Twitter, writing, "Ok so y'all wanna be funny ? Lmao how about I be funnier." She added in a separate post, "Y'all mothers should have swallowed you little pissy frogs."
Calling them "Anti black a** crowd," Rico added, Weak a** little boys wit blonde pubes . Ugh . Get me out of here. Y'all all got dirty a** shoes !!!!!"
Not apologetic of what she had said, Rico continued, "Yeah I said it . Not deleting s**t . Try me again . I a fly off the stage and possess u. Or I make u sit in silence . Wassup. Cause a real b***h getting paid regardless . Keep playing . D**kwheats."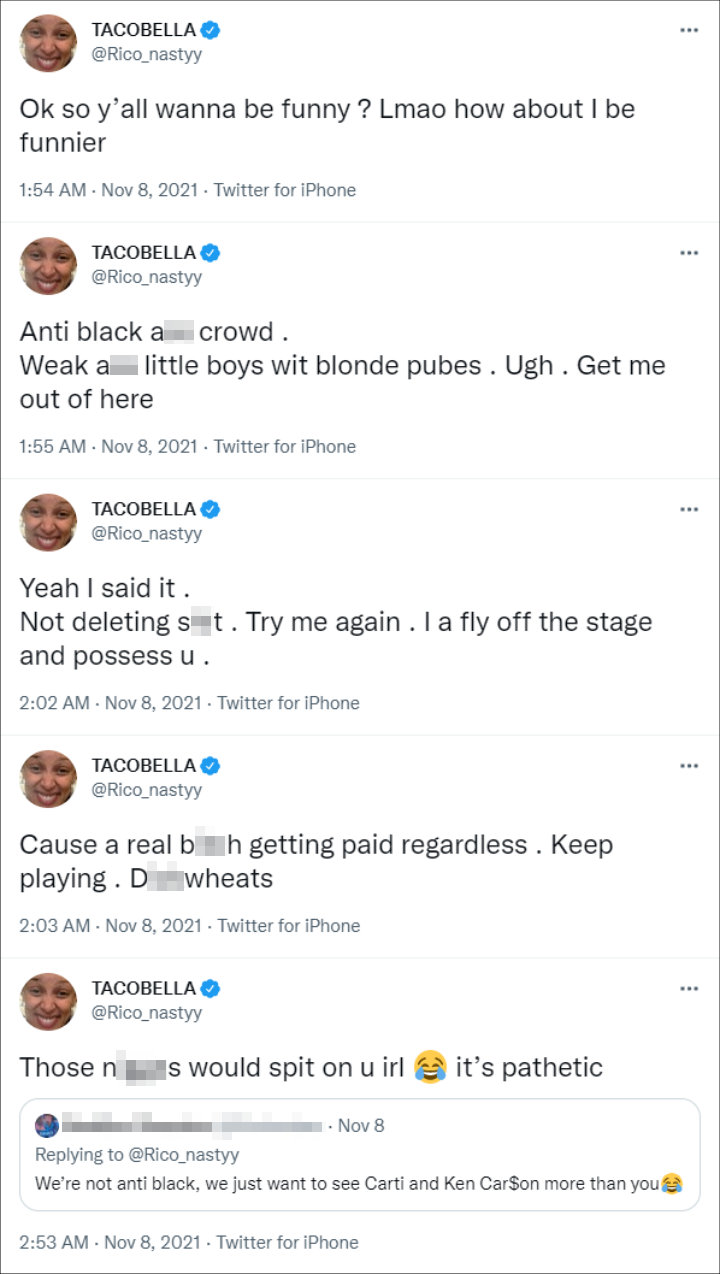 Rico Nasty called out Playboi Carti's fans.
Her rants prompted one fan to reply to one of her tweets, writing, "We're not anti black, we just want to see Carti and Ken Car$on more than you." To that, Rico clapped back, "Those n***as would spit on u irl it's pathetic."
Source: Read Full Article