LeBron James Dragged for Showing Support for Tory Lanezs Album
The Los Angeles Lakers star faces backlash after taking to Twitte to show support to the Canadian rapper, who just released his 20-track new album 'Sorry 4 What'.
AceShowbiz –Tory Lanez released his new album "Sorry 4 What" on Friday, September 30 and LeBron James was among people who praised the Canadian rapper for the 20-track new set. Considering Tory's ongoing shooting case against Megan Thee Stallion, his support to Tory didn't sit well with some people.
On Friday, LeBron sang Tory's praises as he responded to CuffsTheLegend's tweet which said that "Tory consistently makes damn good music." Echoing the statement, the Los Angeles Lakers star penned, "FACTS!!!! He never misses. That boy talented as hell man! Bangers for days!!"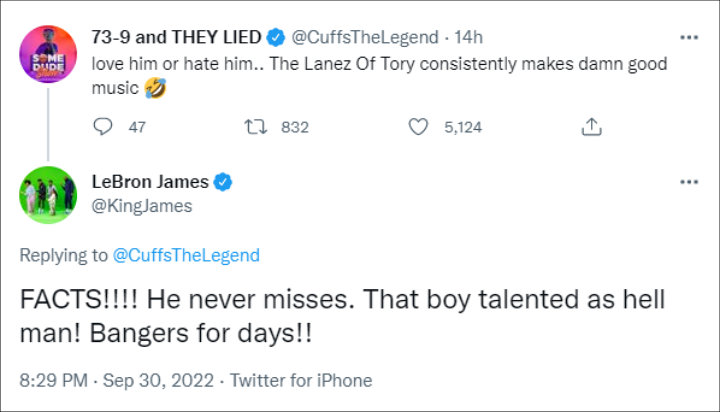 LeBron James praised Tory Lanez for his new album.
Some Internet users were not happy with LeBron's response and the backlash was immediate. Some of them accused the athlete of being hypocritical as he previously advocated for protection for black women.
Sharing a screenshot of LeBron's old tweet, a critic wrote, "so you're changing this by siding with a man who almost killed a black woman and she is still facing daily harassment from his incel cult members because she dare to stand up against him??" The said old tweet, meanwhile, read, "The most DISRESPECTED person on earth is THE BLACK WOMAN! I promise you I'll do my best to change this as much as I can and even more!! LOVE to you QUEENS all over this country and beyond!"
Another person responded to LeBron, "What a thing to wake up and see. What a betrayal to all the Black Women who have had Lebron's back. Wow. I'm actually speechless. This tweet is a DECISION OF SUPPORT for a man who shot Megan multiple times. The lack of value we are shown as Black Women has no depths."
"y tf would u say this sht i'm so sick rn," someone questioned, while another person asked, "Shall we open up all of y'all's playlist and see the problematic artists you listening to?" A user sarcastically sent a "good luck" to LeBron amid the backlash.
However, there were also people who defended LeBron. "Only thing LeBron said was he liked his music," a fan noted. "All the times he spoke up for black women don't matter now because of the 1 time he has done something y'all don't agree with. This is why there is no sense in pandering . How did this turn to black women are not protected?"
LeBron has yet to address the criticism.
Source: Read Full Article