Inside Kacey Musgraves Relationship With Cole Schafer
Country musician Kacey Musgraves finally confirmed her relationship with poet Cole Schafer, although fans had suspected they were dating for a while because the pair had been spotted several times this summer. 
In early 2020, Musgraves announced her divorce and from fellow country star, Ruston Kelly. The pair had been married since 2017, and stated they would remain friends, per People. "It's two people who love each other so much, but for so many reasons, it just didn't work. I mean, seasons change. Our season changed," she told Rolling Stone of her ended marriage in February.
Musgraves announced her fourth studio album, called "Star-Crossed," on August 23. It is slated for a September release and draws inspiration from her divorce from Kelly. Although it is unclear yet if any of Musgraves' upcoming songs from "Star-Crossed" are about moving on with Schafer, here is what fans need to know about the new relationship.
Kacey Musgraves and Cole Schafer met by chance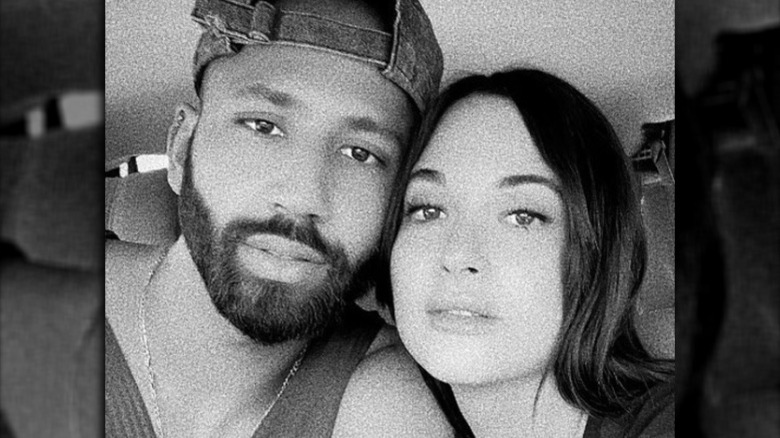 Although Kacey Musgraves and her boyfriend, poet Cole Schafer, have been photographed throughout the past few months, it wasn't until this week that Musgraves confirmed their dating status. In an August 26 profile for The New York Times, the country musician spoke briefly about how the two met: They caught each other's attention at a restaurant. "He did not know who I was, which I loved," she told the NYT. 
The "Space Cowboy" singer then noted how tiring it can be to be noticed all the time. "A handful of grown men come out, and they're sweating trying to keep up with you on the sidewalk," she said, referring to the eager paparazzi. "It feels very predatory. Sometimes I get a little overwhelmed with how self-centered being an artist is. It just feels like me me me me me."
Schafer shares sweet moments with Musgraves on Instagram, including a post for her birthday. "Here's to you looking to your right when you stepped into F***. Here's to you writing me back," he wrote. "Here's to you making it through thirty-two and here's to you making history in thirty-three. It's been so damn pretty falling for you, Kacey."
Kacey Musgraves and Cole Schafer are artists from different mediums
While Kacey Musgraves is a prominent country musician, her boyfriend Cole Schafer is also an artist — but in a different way. Schafer is a poet who writes under the pen name January Black, per The New York Times. He has several published works under his belt, including collections "One Minute, Please?" and "After Her." It seems like Schafer might write about his love with Musgraves one day, as he admitted on Instagram that he's "trying like hell not to write about her."
Just this May, Musgraves had told Elle that she wasn't looking to date and was instead doing her own thing. "I haven't spoken much about this chapter, and I don't feel like I owe that to anyone, but I owe it to myself as a creator to flesh out all these emotions that I've felt, and I do that through song," she reflected. "It would be strange if I didn't acknowledge what happened in my life creatively, but it is scary to be like, 'I'm about to share my most personal thoughts about me, about this other person, about a union that I had with someone.' I mean, I'm not a ruthless person. I care about other people's feelings. So it's kind of scary," she said.
It seems like Musgraves and Schafer both have new chapters to write about now. 
Source: Read Full Article