Everything Britney Spears Has Said About Her Conservatorship
The following article includes mentions of mental health issues and allegations of abuse.
In the late '90s and early 2000s, Britney Spears was the reigning queen of pop music. She's been back in the spotlight lately, but it's sadly not because of any new creative projects. Spears has been under a conservatorship — or, a legal agreement through which "an individual or organization [is] chosen to protect and manage the personal care or finances — or both — of a person who has been found by a judge or a jury to be unable to manage his or her own affairs" (via California court's Handbook for Conservators) — since early 2008, following a couple of hospitalizations for issues related to her mental health.
Britney's father, Jamie Spears, was named as her conservator at the time. Per Los Angeles Times, he was given control of many aspects of the performer's life, including her career decisions, her finances, and even some of her personal choices. But while the conservatorship was originally meant to be temporary, it's still in place today after many extensions by Judge Brenda Penny. Britney has notably stayed pretty quiet about the arrangement for a long time, but she has slowly begun to speak out about her circumstances in more recent years through lawyers, court testimony, and social media posts.
The best person to tell us about Britney Spears' life, of course, is Britney herself, so we scoured the internet to find everything she has said about her conservatorship over the years to get a sense of what the situation has really been like for the pop star.
Britney Spears goes on the record about her conservatorship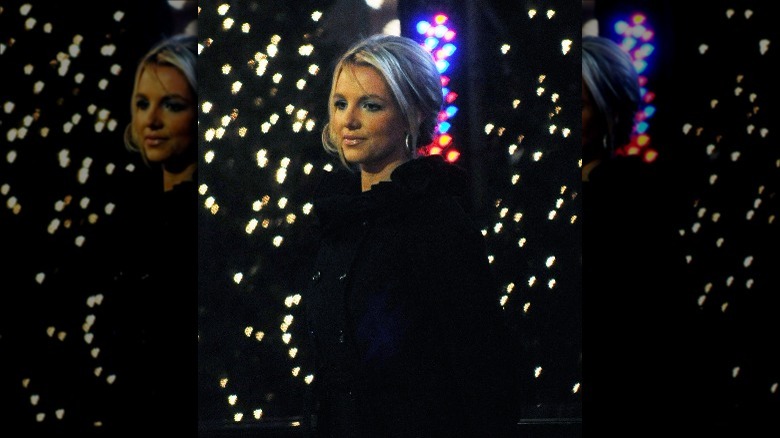 On November 28, 2008, Britney Spears released her first album while under a legal conservatorship. Two days after the world heard "Circus," we got an intimate update on the pop star when MTV aired the documentary, "Britney: For The Record." The public saw a rare glimpse into Britney's life, learning what her dad, Jamie Spears, made her for breakfast (girts), going on set of the "Womanizer" video with her, and even following along on a trip to Manhattan, where she saw "In the Heights" on Broadway.
In some scenes, you don't even have to watch very closely to see how controlled and upset Britney seemed — though she confessed to the camera in her own words, in reference to the conservatorship, "If I wasn't under the restraints that I'm under right now, I'd feel so liberated." Noting that she felt like people around her were "not listening" when she tried to express her emotions, Britney added that, even back in 2008, she felt like her "situation" was worse than jail, because sometimes prisoners have a release date, but her circumstances were "never-ending."
Britney went on to explain that she'd previously let people into her life who tried to take advantage of her because she was "lonely," and may have been referencing the conservatorship when she said she "really paid the consequences for that — big time" and would have to pay this price for a "really long time." The star already missed the "freedom" of driving, for example, and tearfully told the cameras, "I'm sad."
She has been trying to speak publicly about the conservatorship since 2016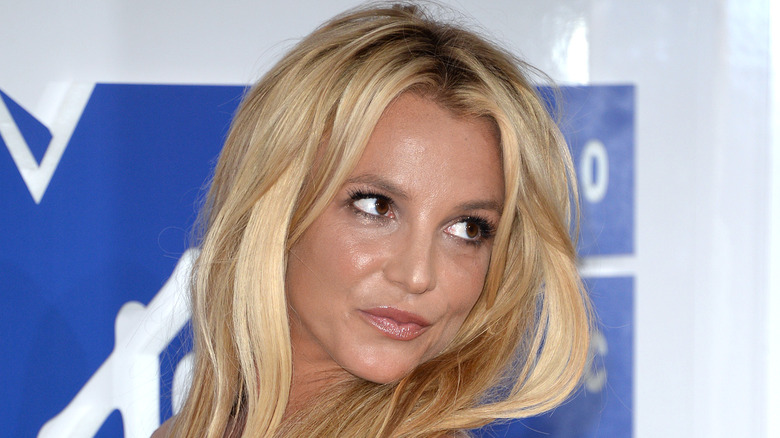 Britney Spears began a Las Vegas residency while under conservatorship, debuting her "Britney: Piece of Me" show in late December 2013. She's also released four albums during this time, while all of her business, financial, and personal decisions were mostly under her father, Jamie Spears', control. There were many people around Britney allegedly telling her what she could and couldn't do — so, it's not surprising that she stayed quiet about the conservatorship for years. But in 2016, while promoting her latest album, "Glory," in the U.K., the star reportedly made public remarks about the conservatorship for the first time since 2008.
"Okay, so I have this conservatorship. I've been under this conservatorship for three years [SIC] and I felt like a lot of decisions were made for me, so I wanted ['Glory'] to be my baby and I've been really strategic about it," the singer allegedly said of the album-making process during a taping of "The Jonathan Ross Show," according to writer Grace Medford's account on Twitter. These remarks didn't make the final cut of the episode, however. As another audience member wrote in a now-deleted tweet (via Pop Crush), "She really looked like she wanted to talk about it but Jonathan changed the subject cuz he couldnt [SIC] talk about it."
So, Britney Spears has apparently been trying to speak about her situation for a very long time, but it seems some quick editing conveniently prevented most of the public from hearing her. Now we're sad, too.
Britney Spears acknowledges the #FreeBritney movement in a court filing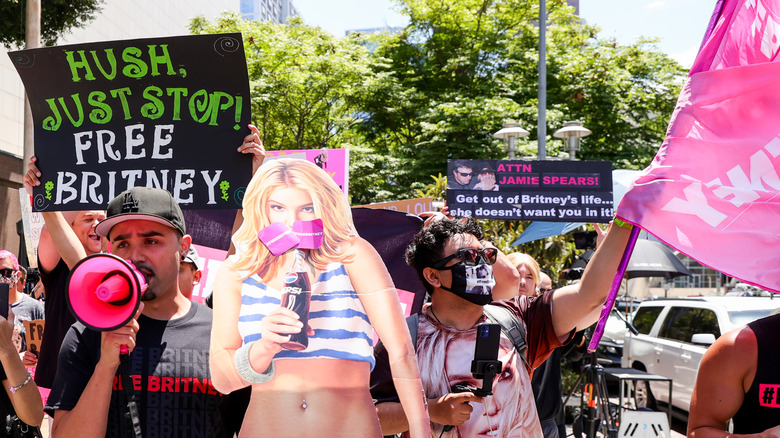 The phrase "Free Britney" was first seen on the internet around 2009 (via The Washington Post). As of this writing, "#FreeBritney" is a fan-fueled movement aimed at bringing awareness to the realities of Britney Spears' conservatorship. However, dad Jamie Spears called the movement a "joke" and a "conspiracy theory" in mid-summer 2020 (via Page Six). "The world don't have a clue," Jamie, who reportedly resented how the movement made him seem like a bad guy who was stealing Britney's money, added. "It's up to the court of California to decide what's best for my daughter. It's no one else's business."
That August, Britney made her feelings about her fans' support known in legal documents filed by her lawyer requesting to make details of her conservatorship public. "Far from being a conspiracy theory or a 'joke' as James reportedly told the media, in large part this scrutiny is a reasonable and even predictable result of James' aggressive use of the sealing procedure over the years to minimize the amount of meaningful information made available to the public," the documents read in part, per CBS News. "Britney believes it is consistent not only with her personal best interests but also with good public policy generally that the decision to appoint a new conservator of her estate be made in as open and transparent a manner as possible." 
The documents didn't directly quote Britney Spears or use the phrase "Free Britney," but they significantly marked one of the first times the public was explicitly told her feelings.
The pop star testifies in court for the first time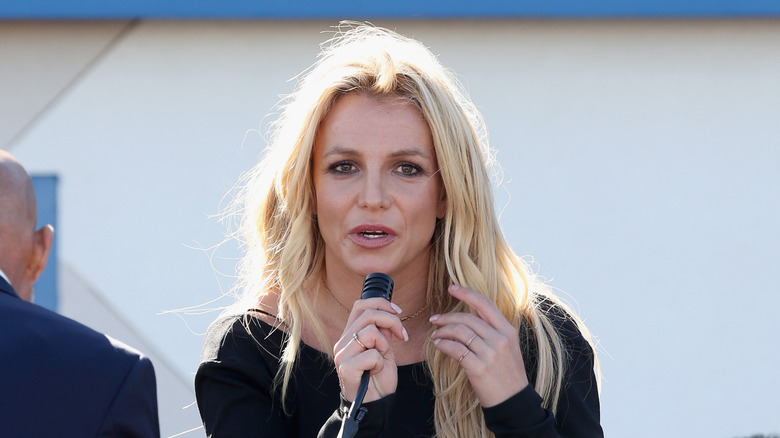 In April 2021, Britney Spears' court-appointed attorney, Samuel Ingham III, filed a request that she speak for herself in court. It was granted by Judge Brenda Penny (via Billboard), and on June 23, 2021, the pop singer spoke openly about her life under conservatorship for the first time since 2008. In addition to making several serious allegations about being forced to take medications, go on tour, and enter a rehab facility against her will in 2019, she told the court, "I just want my life back" (via Variety).
Britney went on to allege that her father, Jamie Spears, "loved the control" he had over her. She also claimed that her family "lived off" of the conservatorship and that anyone allowing for the alleged abuse she'd been forced to live under "should be in jail." Further alleging that she was not allowed to do simple activities of daily living under the conservatorship, like drive her own car or ride in her boyfriend, Sam Asghari's, car, Britney was also allegedly forced to use an IUD even though she said she wants to marry Asghari and have a baby. Per the American Civil Liberties Union, allegedly denying the pop star her reproductive freedom is a disability rights issue.
Perhaps most notably, Britney Spears revealed that she'd been lying to the world by pretending she was okay and content under the conservatorship. "I'm not happy," she said. "I can't sleep. I'm so angry it's insane. And I'm depressed. I cry every day."
If you or someone you know is struggling with mental health, please contact the Crisis Text Line by texting HOME to 741741, call the National Alliance on Mental Illness helpline at 1-800-950-NAMI (6264), or visit the National Institute of Mental Health website.
Britney Spears admits she felt 'embarrassed' by the conservatorship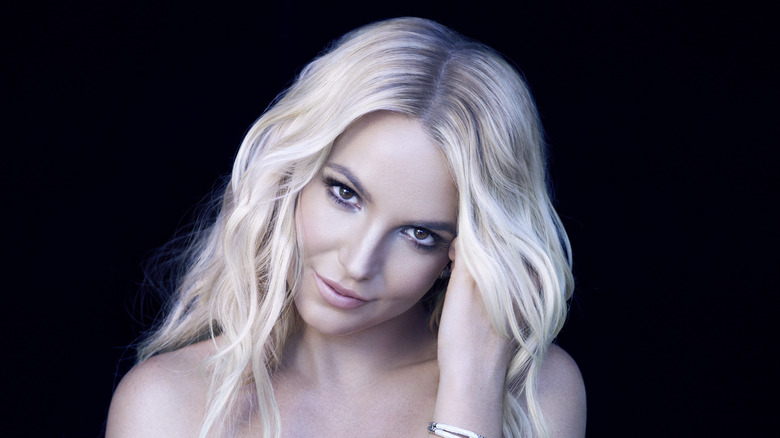 After testifying in court in June 2021, Britney Spears began speaking much more openly about living under a conservatorship on social media. "By the way I've posted … my life seems to look and be pretty amazing," she wrote in part on Instagram on June 24, one day after the public heard her speak about her conservatorship for the first time in about 13 years. "… I'm bringing this to peoples [SIC] attention because I don't want people to think my life is perfect because IT'S DEFINITELY NOT AT ALL … and if you have read anything about me in the news this week … you obviously really know now it's not !!!!"
"I apologize for pretending like I've been ok the past two years … I did it because of my pride and I was embarrassed to share what happened to me," the post continued, with Spears adding, "I feel like Instagram has helped me have a cool outlet to share my presence … existence … and to simply feel like I matter despite what I was going through." 
The caption was accompanied by a picture of a child and a quote by Albert Einstein. "If you want your children to be intelligent, read them fairy tales," it read. "If you want them to be more intelligent, read them more fairy tales."
The singer hires a new lawyer in the fight to end her conservatorship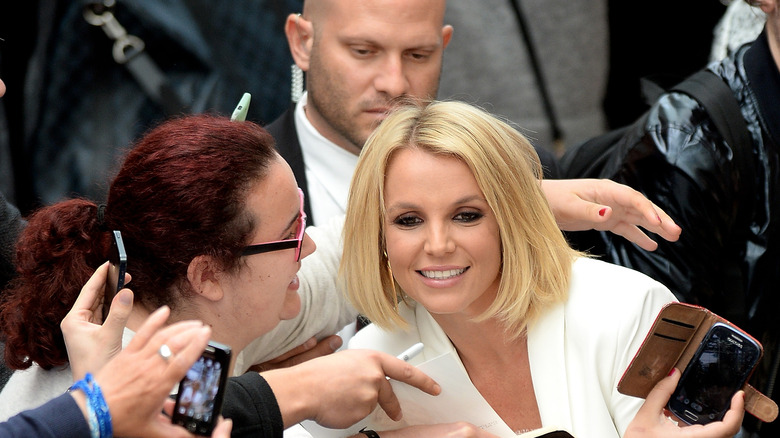 On July 14, 2021, Britney Spears spoke in court via telephone for a second time to ask the judge for the right to hire her own lawyer. Her court-appointed lawyer, Samuel Ingham III, had resigned earlier in the month, after Spears publicly made her desire for new representation known. Per Billboard, Spears spoke about her father's alleged abuse again, saying, "I want to get my dad removed, ma'am. I'm angry and I will go there."
She was granted the right to hire Mathew Rosengart, who also addressed the court. "This is not working. We know that. The goal is to end the conservatorship. We have questions if this was even the proper forum back in 2008," he stated. "We will be filing as quickly as possible to get Mr. Spears removed from the conservatorship. If he loves his daughter, it is time to step aside and move on so she can have her life back."
Later that day, Spears shared the news with fans on Instagram. Saying she now had "real representation," the pop star wrote in part, "Thank you to my fans who are supporting me … You have no idea what it means to me be supported by such awesome fans !!!!" Further noting that she was celebrating with cartwheels and horseback riding, Spears also acknowledged the "Free Britney" movement with the hashtag, "#FreeBritney."
Britney Spears calls out her family on Instagram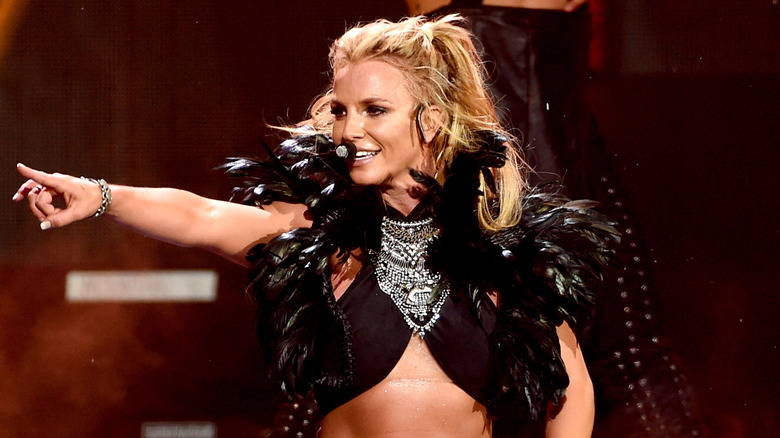 Continuing her social media spree, Britney Spears told her Instagram followers and critics alike that she didn't plan to stop posting her well-known dancing videos on the platform, noting that they're the closest thing we'll get to seeing her perform live. "For those of you who choose to criticize my dancing videos … look I'm not gonna be performing on any stages anytime soon with my dad handling what I wear, say, do, or think," she wrote on July 17, 2021. 
Spears proceeded to call out certain family members' show of public support, like younger sister Jamie Lynn Spears, who'd previously sung a medley of Britney's songs at the 2017 Radio Disney Music Awards. per StyleCaster. "I don't like that my sister showed up at an awards show and performed MY SONGS to remixes !!!!!" she wrote. "My so-called support system hurt me deeply !!!!" (In a since-deleted post, Britney had previously stated, "There's nothing worse than when the people closest to you who never showed up for you post things in regard to your situation … and speak righteously for support.")
Britney continued, "This conservatorship killed my dreams … so all I have is hope and hope is the only thing in this world that is very hard to kill … yet people still try !!!!" Further criticizing the media for bringing up "humiliating moments from the past" in documentaries about her situation, Britney's caption accompanied an image telling haters to "take me as I am … or step on Legos" and some other, er, rather unkind sentiments.
This pop star has a lot more to say about her conservatorship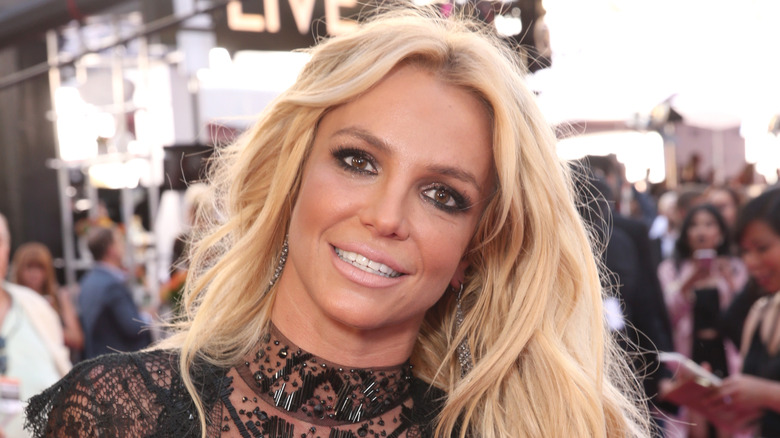 Hiring Mathew Rosengart as her new lawyer seems to have made Britney Spears feel like there are brighter days ahead for her. In an Instagram post shared on July 20, 2021, she said that she's looking forward to the future, but added, "I think we all know that I will never be able to let go and fully move on until I've said all I needed to say … and I'm not even close !!!!" Spears added, "I was told to stay quiet about things for so long and I finally feel like I'm just getting here."
It seems like we will be getting more honest Instagram posts from Spears about her life as time goes on — but it might be a long time before her conservatorship comes to an end, according to Variety, as Spears' former manager, Larry Rudolph (who resigned in early July 2021, per Deadline), her former lawyer, Samuel Ingham III, and others will reportedly have to consent to its termination. It's also very unlikely that the conservatorship will end before Spears has had a psychological evaluation, which is something she clearly said she was opposed to in her original court testimony on June 23, 2021 (via Variety).
Britney Spears paints to express herself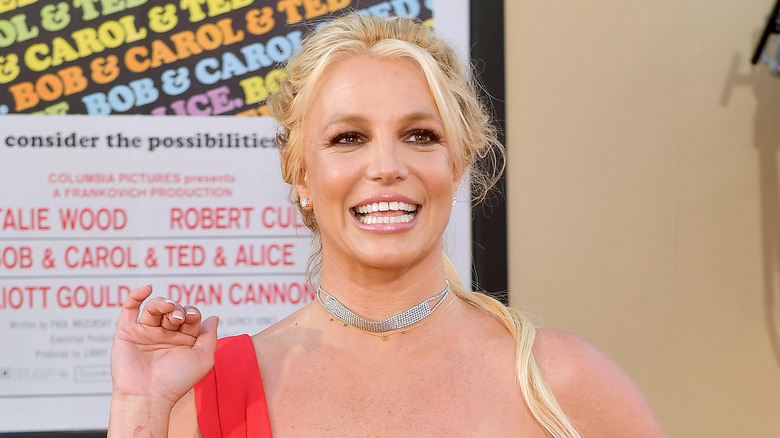 On July 27, 2021, Britney Spears admitted on Instagram that all of the "change going on in [her] life" related to the court battles over her conservatorship had left her "feeling overwhelmed." So, instead of her usual outlets of singing or dancing, the music star went to a craft store and bought a big piece of white mural paper and decided to paint about it all. "This is an expression of how I'm feeling at the moment … rebellious… colorful…bright…bold …spontaneous…magical…so obviously showing my true colors," she wrote in the caption of a video featuring her painting. 
Spears went on to admit that she wasn't a "professional painter," but "certainly felt like [she] was" after creating a mural that included a fish — though, it should be noted that an artistic touch runs in the family. Previously that same month, Spears shared a picture of one of her sons' pieces of artwork replicated as street art on Instagram. 
All in all, these are a pair of innocent posts, but Spears may have also been sending a message of support to "Britneysgram" — the podcast that has been instrumental in the "#FreeBritney movement — when she tagged the account in the former post.
What's going on between Britney Spears and sister Jamie Lynn?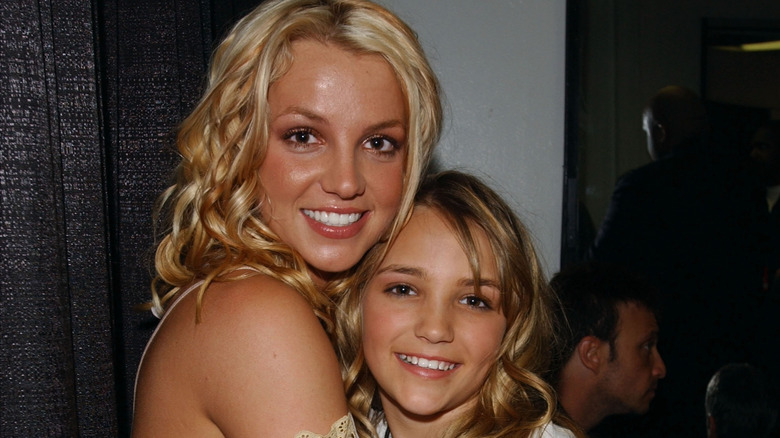 After sharing the aforementioned Instagram post calling out her family — not to mention that since-deleted post that didn't name names, but asked, "How dare you make it public that NOW you CARE … did you put your hand out when I was drowning ????" (via Insider) — a social media war has broken out between Britney Spears and her sister, Jamie Lynn Spears. 
Seemingly in response to being directly called out, Jamie Lynn posted Instagram selfies on July 18, 2021, originally along with the since-edited caption (via Page Six), "May the peace of the Lord be with you, and your spirit." Britney fired back with a video of herself dancing to Billie Eilish's "Bad Guy." The caption originally read, "May the Lord wrap your mean a** up in joy today," but was also later edited. It's worth noting that Jamie Lynn has a financial stake in Britney's conservatorship, as she became a trustee of part of the pop singer's estate in 2018, per The Blast. While Jamie Lynn has claimed she's not financially supported by her sister, The U.S. Sun reported that she frequently uses a Florida condo owned by Britney. Jamie Lynn has since denied this allegation.
Basically, it's all really messy, and we hope the whole family can eventually work things out. As for Britney Spears, she's clearly got more to say about her conservatorship, as she's since shared an Instagram text-post reading, "If standing up for yourself burns a bridge, I have matches. We ride at dawn."
Source: Read Full Article