Body Language Expert Breaks Down Britney Spears Surprise Engagement Announcement
On September 12, Britney Spears shocked her fans when she posted an Instagram Reel detailing that she got engaged to her longtime boyfriend, Sam Asghari. The Iranian-born actor and model, who met the pop star in 2016 on the set of her "Slumber Party" music video (per People), reportedly popped the question early Sunday. A rep for Asghari confirmed via People that they "made their long-standing relationship official … and are deeply touched by the support, dedication, and love expressed to them." Earlier this week, Spears posted a photo on Instagram celebrating her relationship with Ashgari and thanking him for being with her "through the hardest years of [her] life." She also expressed desire to marry and have children during her testimony when she spoke out about the conservatorship she has been under for the past 13 years. And in an interview with Forbes from March, Asghari also shared his desire to get married and have children, stating that he did not mind being a "young dad."
Instagram seems to be the perfect place for Spears to share her special news with all of her fans. She has been posting on the social media site more often as her conservatorship has been reduced. Often, she uploads Reels of her expressing herself through dance in her home, so it made sense that she would use the same medium to show off her new relationship status. But just what did her body language in the clip mean? Keep scrolling to find out.
Britney Spears' actions spoke volumes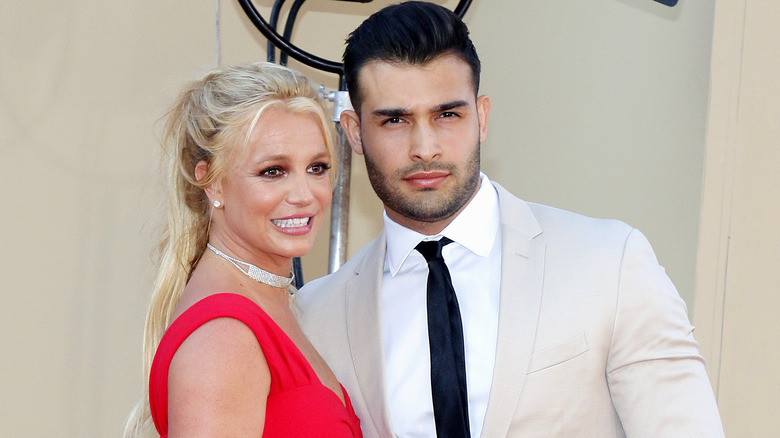 In the Instagram Reel announcing her engagement, Britney Spears seemed to be constantly moving as her now-fiancé, Sam Asghari, held the camera in front of the two of them, filming them selfie-style. Spears spoke very little in the video, only exclaiming "yes" when Asghari asked her if she liked her ring. Otherwise, Spears expressed her emotions through her movements, which spoke volumes, as body language expert, media coach, international personal branding expert, and author of "A.W.E.S.O.M.E," Jess Ponce III, exclusively told Nicki Swift.
Ponce III explained that this Reel was the first time her fans have seen "Britney, the performer" in "a while," citing her "recent public exchanges" as "more serious in nature." However, Ponce III called Spears "a true entertainer [who] said a lot with minimal words." He stated Spears seemed to be "almost playfully taunting people" with how coyly, yet obviously she showed off her engagement ring. Ponce III also pointed out that she seemed to be sort of poking fun at others who have shown off their engagement rings on Instagram. Ponce III added that Spears' movements showed off her "playful, almost defiant, independence."
He also noted that Spears covering her mouth was "noteworthy," as the movement seemed to have multiple meanings. It appeared to convey Spears' "shocks [sic] and amazement," but also sometimes "seemed to mimic someone who couldn't or shouldn't speak" — a message that was anything but "subtle." Here's hoping the newly engaged pair enjoys their new relationship status!
Source: Read Full Article