Investigation to examine whether Australian fighter pilots were lured by China
Australian Federal Police and the nation's top spy agency are investigating allegations several former Australian Defence Force members have been approached to train the Chinese military.
Defence Minister Richard Marles announced on Wednesday he had commissioned a review into his department's policies and procedures, vowing to act if systemic weaknesses are putting Australian military secrets at risk.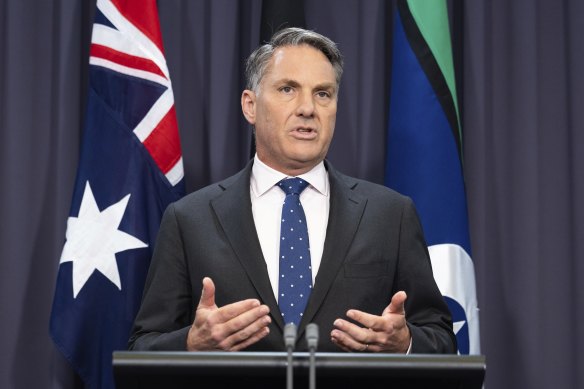 Defence Minister Richard Marles said the government would strengthen any weaknesses in systems used to protect Australian military secrets.Credit:Alex Ellinghausen
Marles declined to say whether the government had identified any former military personnel who had provided training to China.
But, he said, a joint taskforce on countering foreign interference, run by the AFP and Australian Security Intelligence Organisation, is "currently investigating a number of cases" involving former Defence staff.
"Australians who work or have worked for the government in any capacity, particularly our ADF, who come into possession of the nation's secrets, have an obligation to maintain those secrets beyond their employment with, or their engagement with, the Commonwealth," he said.
"This is an enduring obligation and to reveal any of those secrets is a crime. It's clear and unambiguous."
Marles said an initial investigation into reports Australian fighter pilots had been approached by China to train their personnel had uncovered enough evidence to justify a more extensive inquiry.
He said Defence already had policies in place to protect Australian military intelligence from foreign powers "but if there are weaknesses in our system the Albanese government will strengthen them".
The initial probe was triggered by revelations from the British government last month that about 30 former British fighter pilots had been training Chinese pilots at a flight school in South Africa.
A former Australian Air Force pilot, speaking anonymously to CNBC, said he was offered nearly $1 million a year to work for the Chinese military.
Opposition defence spokesman Andrew Hastie welcomed the new inquiry, saying reports ex-Australian fighter pilots were approached by the Chinese People's Liberation Army were "deeply concerning".
"Such conduct, if these allegations are verified, is highly improper and contrary to the Australian national interest," he said.
"Our national military secrets – including tactics, techniques and procedures for our elite fighter pilots – must be safeguarded by serving Defence members and our veterans. They are not for sale to another country."
The lawyer for a former United States fighter pilot told a Sydney court last week his client would "vigorously" resist being extradited to the United States.
Daniel Edmund Duggan, now an Australian citizen, was arrested in Orange last month after recently returning from China.
He reportedly listed the same Beijing address as a Chinese businessman who was jailed in America for hacking into US military aircraft designs.
Duggan's lawyer, Dennis Miralis said the exact allegations against his client are unclear because he was secretly indicted by a US grand jury.
He said Duggan maintains that he has not broken the law in China, Australia or the United States.
"Whilst there is some commentary concerning the nature of the allegations, Mr Duggan's position is very clear – he denies having breached any US law, any Australian law, any international law," Miralis said.
"This is a position that he will defend vigorously."
Cut through the noise of federal politics with news, views and expert analysis from Jacqueline Maley. Subscribers can sign up to our weekly Inside Politics newsletter here.
Most Viewed in Politics
From our partners
Source: Read Full Article