How a Tight Family, Total Honesty and Deleting Twitter Led to the Rapid Rise of Billie Eilish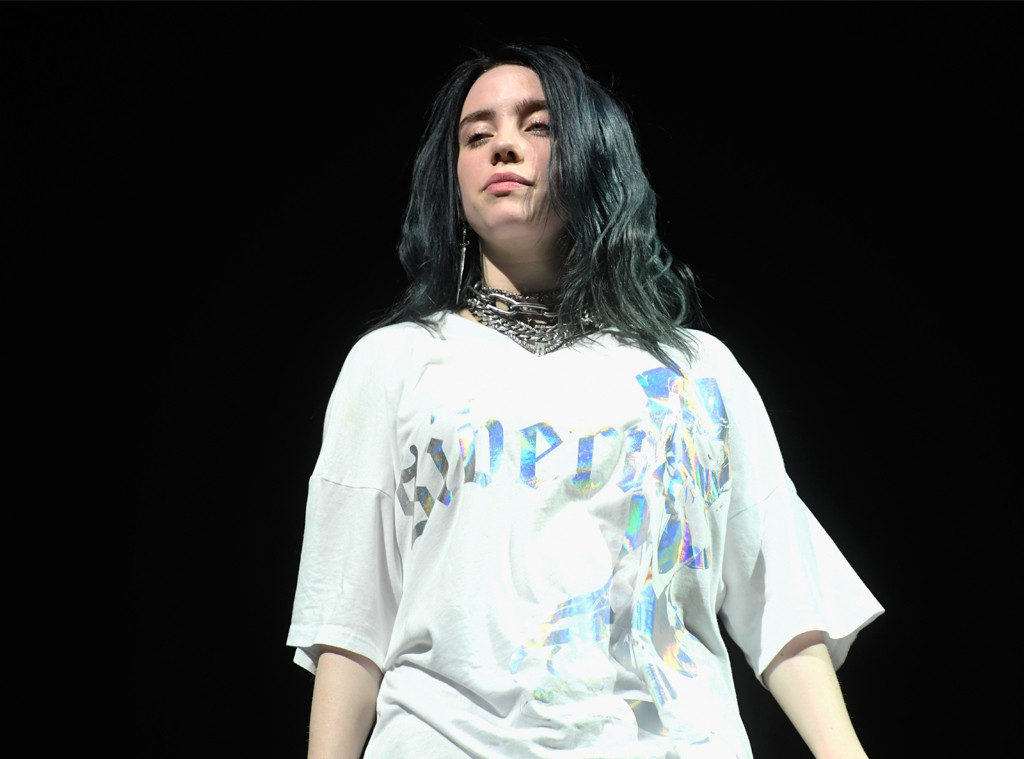 (Photo by Frazer Harrison/Getty Images for Coachella)
In the last few months, Billie Eilish has seen her first album, When We Fall Asleep, Where Do We Go?, debut at No. 1, had the No. 1 song in the country for one week, unseating Lil Nas X's "Old Town Road" after a record 19 weeks with "Bad Guy," delivered an unforgettable performance at both Coachella and Saturday Night Live, and—perhaps most importantly of all—finally met (and collaborated with) Justin Bieber.
Not bad for someone who can't even legally vote yet.
When talking about the 17-year-old wunderkind, it's hard not to bring age into it. It's the easy story for those of us who don't count ourselves among the Gen Z set to obsess over: How did pop music's Next Big Thing, who's nominated for The Female Artist of 2019, The Song of 2019, The Album of 2019 and The Music Video of 2019 at this year's People's Choice Awards (held on Sunday, Nov. 10 only on E!) accomplish all that she has before ever even becoming a legal adult? And how did she pop up, seemingly from out of nowhere, to lay claim to such a title?
Despite the fact that there are millions of fans her age who've been following her since her single "Ocean Eyes" dropped on SoundCloud in 2016 who will tell you there was nothing overnight about this, Eilish isn't bothered by the amazement over her age as it relates to her success. Or not too bothered, at least.
"It does," she told The FADER in March when asked if being introduced as "The Young Girl" gets old. "But my age is a good thing. People are more impressed if you're younger and good at something. Half of me doesn't really want to age, because I don't really want to not have that."
It'll be a while, though, before she even has to begin to worry about that.
Born on December 18, 2001—making her the first artist born in the 2000s to achieve a No. 1 album, if you weren't feeling old enough yet—as Billie Eilish Pirate Baird O'Connell (Yes, really. "Pretty weird, right? Pirate was going to be my middle name but then my uncle had a problem with it because pirates are bad," she told the BBC in 2017. "Then Baird is my mother's name."), life as a performer seemed almost destined from birth.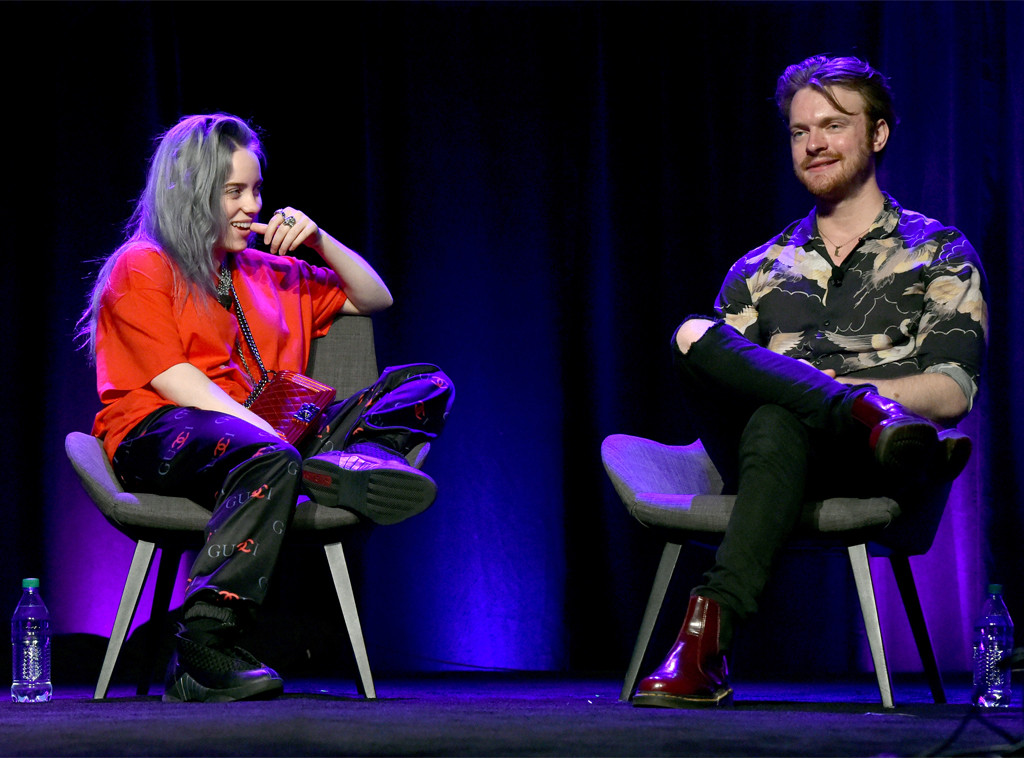 (Photo by Lester Cohen/Getty Images for ASCAP)
Eilish and her older brother Finneas O'Connell were raised in Los Angeles' Highland Park neighborhood by actor parents Maggie Baird and Patrick O'Connell, both of whom were very into music. They home-schooled both kids, in part, because the year their son was born, a trio of brothers known as Hanson were storming up the charts. "I was completely swept away by these kids," O'Connell told The New York Times in March. "They were religious Oklahoma home-schooled, but nonetheless. Clearly what had happened was they'd been allowed to pursue the things that they were interested in."
While Baird taught her kids a beginner's songwriting class, both siblings were encouraged to follow their passions. For Eilish, that meant, at first, dance and horseback riding and singing in the Los Angeles Children's Chorus. It was her brother (who would later appear in the final season of Glee as Alistair) who devoted himself to music first. Referring to Finneas as her "built-in best friend," Eilish and her sibling developed a supernatural connection that only comes when you spend every formative day and night together. (Until Finneas was 10, the entire family shared a four-person bed in their two-bedroom house. When each child needed their own room, Mom and Dad took over the living room.) That connection would prove to be the foundation of her career.
When Eilish was only 13, her brother asked her to sing the vocals on a song he'd written for his band. Her dance teacher, hoping to use the track to choreograph to, asked the siblings to upload the track to Soundcloud. Recorded in the comfort of their own home, the song wasn't the first they'd written together. (The first, The Walking Dead-inspired "Fingers Crossed," was written at 12 and "was trash, bro," Eilish told The FADER.) And yet, thanks to the mysterious ways of internet virality, "Ocean Eyes" blew up.
"We had no intentions for it, really. But basically overnight a ton of people started hearing it and sharing it. Hillydilly, a music discovery website, found it and posted it and it just got bigger and bigger. It was really surreal," she told Teen Vogue in 2017. "Then, Danny Rukasin, who is now my manager, reached out to my brother and was like, 'Dude, this is going to get huge and I think you're going to need help along the way. I want to help you guys.'"
Immediately, she began taking meetings with labels interested in signing her. Around the same time, her potential career as a dancer was sidelined.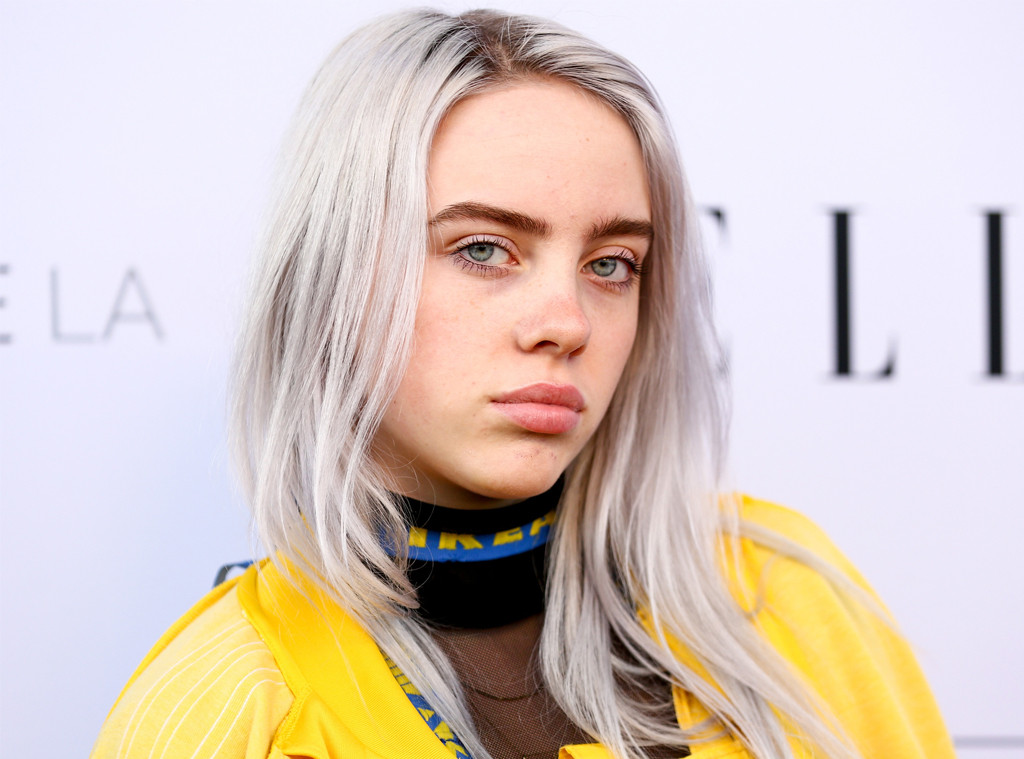 Rich Fury/Getty Images
"I strained my growth plate. My bone separated from my muscle in my hip. It was really bad," she told the BBC. "It's so weird, because it can't happen to you if you're over 16 – but I was in a class with a bunch of seniors, because I was at that level. We were doing hip-hop and it just popped. So I haven't really danced since then, which was like a year-and-a-half ago, which has been horrible."
Horrible, maybe, but also a sign. Within months, she was signed to Darkroom and Interscope Records. "Her sense of style, how she thinks, the way she talks — everything about her was just different," John Janick, CEO of Interscope, told the NYT. "She had such a strong point of view, especially for being 14 years old."
And rather than pushing "Ocean Eyes" to radio much in the way a label launches any traditional pop star, Eilish's team opted to take things slow, cultivating her presence online much in the same way Soundcloud rappers spend years building clout before they seem omnipresent almost all at once.
"We didn't want it to be about a song," Brandon Goodman, who manages Eilish and Finneas alongside Rukasin, told the NYT. "We never wanted anything to be bigger than Billie the artist."
And every step of the way, the artistry has remained paramount. Her sound, written and produced exclusively alongside her brother, feels entirely unencumbered by genre and her style, all baggy clothes that are actively anti-silhouette, stands in stark opposition to the Arianas and Selenas of the world. She demands—and, more importantly, has been afforded—complete control.
"I could easily just be like, you know what, you're going to pick out my clothes, someone else will come up with my video treatments, someone else will direct them and I won't have anything to do with them," Eilish said. "Someone else write my music, someone else produce it, and I won't say anything about it. Someone else run my Instagram."
Life might be easier for her if she let herself be a puppet, she readily admits, "but I'm not that kind of person and I'm not that kind of artist. And I'd rather die than be that kind of artist."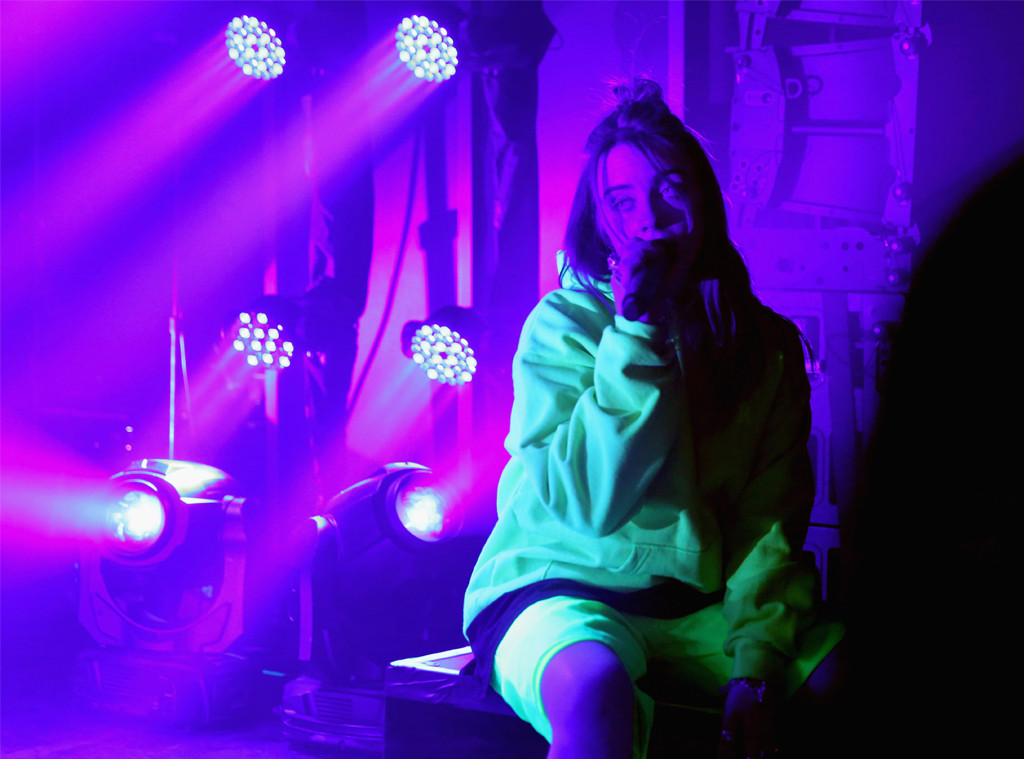 (Photo by Diego Donamaria/Getty Images for SXSW)
The funny thing about authenticity, though, is that it works. Since the release of "Ocean Eyes" in 2016, Eilish has racked up a billion streams on Spotify. And rather than having that guided by one or two monster singles, she has eight songs that have over 140 million streams on the service. Her debut EP, Don't Smile at Me, was released in August 2017 and became a sleeper hit, eventually peaking at No. 14 on the Billboard 200 in January of this year. She has 18.2 million followers on Instagram. Dave Grohl who sat in the audience with his daughter when Eilish appeared on The Ellen DeGeneres Show earlier this month, has likened her rise to "the same thing…that happened with Nirvana in 1991," while touting her music as proof that "rock and roll is not even close to being dead."
"For the past two years, people have been like, 'Whoa, this came out of nowhere overnight!'" Goodman told the NYT.
And while it may have happened incredibly fast, to the point where her debut album notched the second-largest sales week for an album in 2019 only behind Ariana Grande's behemoth thank u, next, it hasn't been without its challenges.
While the homeschooling was inspired, in part, by Hanson and the idea of letting their children pursue their passions, it was also crucial because Eilish has an auditory processing disorder, meaning that it's hard for her to listen to something and absorb the meaning in the way you and I might take for granted. And in 2018, after fans began compiling video footage of noticeable tics during filmed interviews, Eilish went public with the Tourette's diagnosis she's been living with her entire life.
"I've never mentioned [my Tourette Syndrome] on the internet because nobody thinks I'm deadass," Eilish wrote on her Instagram story last November. "As well as the fact I've just never wanted people to think of tourettes every time they think of me."
As she told The FADER, "It's confusing when someone is making a weird face gesture or throwing out their neck. The internet hasn't really seen the bad ones, because I'm really good at suppressing them. The thing is, the longer you suppress them, the worse they get afterwards. I'm sure one day everyone will see the tic attacks that happen when I'm stressed and haven't slept. But it could be a lot worse, and it's not, and I'm grateful for that. And you know what, it's f–king whatever."
While remaining a relatively well-adjusted teen thanks to the fact that her close-knit family is always within arm's reach—aside from Finneas joining her on tour, her mom works as her assistant and her dad works with the crew as lighting director—she knows she's found herself in the position of being a role model to the millions of teens who hang on to her every lyric and obsess over her Instagram stories. "I completely recognize the responsibility, and I do think about it," she told the NYT. "But it's not going to change the way that I am."
Case in point? She refused to "be shamed" for mourning the death of friend and controversial rapper XXXTentacion, who was murdered last year following seriously disturbing allegations of domestic abuse. "I don't think I deserve getting hate for loving someone that passed," she told the newspaper.
She's also found herself in some hot water for a song on the new album, the curiously titled "Wish You Were Gay." The song, written from the perspective of a lovelorn girl who states that it would be easier to accept the rejection from the object of her affection if he were, in fact, gay, has received a bit of backlash—minimal, really, but still. She insists, however, that it's not meant to be an insult in the slightest.
"I'm not saying that something isn't offensive. Obviously that's up to whoever is being offended by it, but I just mean it's so clear that it's not an insult," she told Apple Music's Zane Lowe earlier this month. "I also feel like you can relate to it, no matter what. I grew up with this girl that was a best friend of mine, and she liked girls, and when we made this song, she loved it because she was in love with a girl who didn't like girls. It's the same kind of thing. I wish you were gay."
And then there's social media.
While the internet is where Eilish has amassed and cultivated her considerable fan base, all that connectivity isn't without its downsides. "I grew up with the internet, so it's not a new thing, which is kind of trash, but it's also like, it is what it is," she told NPR in March. "The thing that's scary is that anybody can say anything and everyone might believe them. That's what's scary to me is that anybody could just be like, 'You know what, this happened,' and it didn't. There's a lot of lying going on in there. The whole internet is very gullible because they want to hear drama."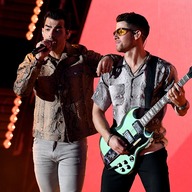 Photos
Musicians Performing Live on Stage
They also like to be a part of the drama. And have brought plenty of it to Eilish's feet by way of comments on her appearance, her music, you name it. It was enough to alter the way she used the platforms that helped make her a star. "I used to read every single comment and every picture I was tagged in and respond to every single DM, but now I barely go on Instagram because I can't handle that s–t," she told NME in January. "F–k that s–t. I just don't wanna see all the horrible things people say. I don't wanna see that I should have died instead of this artist. It takes not looking at my phone to stop myself from engaging. I had to delete Twitter in March because of it. Nobody is going to win. If somebody said something to me in person, I'd beat their ass."
And then there's this perspective: "You wouldn't believe the s–t people say about me. It's f–king funny though, because who's making money? Who's playing shows across the globe? Who's getting free shoes? Me. Not to be cocky or anything, but f–k you."
While life has changed in every imaginable way for Eilish and will surely continue to do so—she embarks on a world tour on April 24—she's aware that this won't last forever. But as long as she's got her family holding her down, she's prepared to enjoy the ride. "We can't have this be the rest of our lives. We were talking about it the other day, we're just like, 'I'm 17, dude.' I can't have my life exactly like this forever, and he can't either," she told Lowe, noting that her brother just bought a house with his girlfriend and got a dog. "It's a weird balance, because I want to grow in my life, and grow up and have a life. But I already have my career."
Speaking with the NYT, Finneas described his sister's rapid rise as "an autonomous thing, and it's moving forward really fast, and we're all on it." Their father concurred. "It's a train, or a river, or a vortex, and we're all flying down," he said, prompting Finneas to admit, "But traveling it safely feels much easier than trying to bail out."
As Eilish told the newspaper, "I'm realizing the place I'm in right now is kind of my time, though—my moment. These are the good old days."
Something tells us they're just getting started.
(This story was originally published on April 16, 2019 at 3 a.m. PT.)
Watch the 2019 People's Choice Awards Sunday, Nov. 10 at 9 p.m., only on E!
Source: Read Full Article