Hollywood Celebrates as Donald Trump Leaves White House for the Very Last Time
He's outta there!
After four long years, many celebrities on social media breathed a big sigh of relief on Wednesday morning as Donald Trump and First Lady Melania Trump left the White House for the very last time.
Ahead of Joe Biden's inauguration, the two hopped aboard Air Force One at Joint Base Andrews to head to Mar-a-Lago — with Trump making his final speech as president before 46 takes office.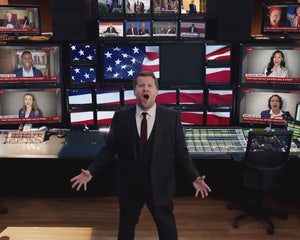 James Corden Drops 'One Day More' Parody as Late Night Hosts Skewer Trump's Final Day in Office
"I will tell you that the future of this country has never been better," Trump said as he said farewell, never mentioning Biden by name. "I wish the new administration great luck and great success. I think they'll have great success. They have the foundation to do something really spectacular."
"And again, we put it in a position like it's never been before despite the worst plague to hit since I guess you'd say 1917, over 100 years ago," he added. "Just a goodbye. We love you. We will be back in some form."
"Have a good life. We will see you soon," he concluded as The Village People's "YMCA" — a song the band has continually asked Trump to STOP playing — began to play one last time. It was followed up by "My Way" from Frank Sinatra, who daughter Nancy Sinatra said "loathed" Trump.
Here's how celebrities and other notable figures who have been very vocal with their criticisms of Trump over the last four years reacted to his final moments as POTUS.
Source: Read Full Article