Are Any of Queen Elizabeth II's Corgis Still Alive?
You can't think about the royal family's pets without thinking about Queen Elizabeth II's corgis.
Her Majesty isn't the only royal who has had canine companions but her pups are certainly the ones we've heard the most about over the years. They were even mentioned during Prince Harry and Meghan Markle's joint post-engagement interview. Now though, fans are wondering if any of the queen's beloved dogs are still alive today. Here's the answer to that, plus a few things you probably didn't know about the corgis' fabulous lives.
All the queen's corgis
According to the American Kennel Club, Queen Elizabeth's love for the breed of canines began at a young age as they have been a favorite of the royals for many years
Then-Princess Elizabeth was gifted her first Pembroke Welsh Corgi on her 18th birthday. She named her pup Susan and the two became inseparable. The queen later started a breeding program with pups bred from Susan's lineage.
The royal has reportedly owned around 30 corgis in her lifetime and has seen 14 generations of Susan's descendants. But a few years ago she made the difficult decision not to breed anymore for fear that she could trip or fall over a young puppy.
Her Majesty's pets lived royally
Of course, Her Majesty's animals got the royal treatment and lived lavish lifestyles over the years. The dogs had their own spacious room at Buckingham Palace called the "Corgi Room" where they slept on elevated wicker furniture.
The also ate gourmet food. That's right no canned food for these pups.
"When I worked at the palace, we actually had a royal menu for the dogs," former royal chef Darren McGrady revealed to Hello!. "It would list each day what the dogs were to have. One day it would be beef, the next day chicken, the next day lamb, the next day rabbit, and it alternated through those days."
He added, "The beef would come in, we would cook it, dice it into really fine pieces and then we did the same with the chicken. We'd poach them, and again chop them really, really small to make sure there were no bones so the dogs wouldn't choke."
Are any of the Corgis still alive today?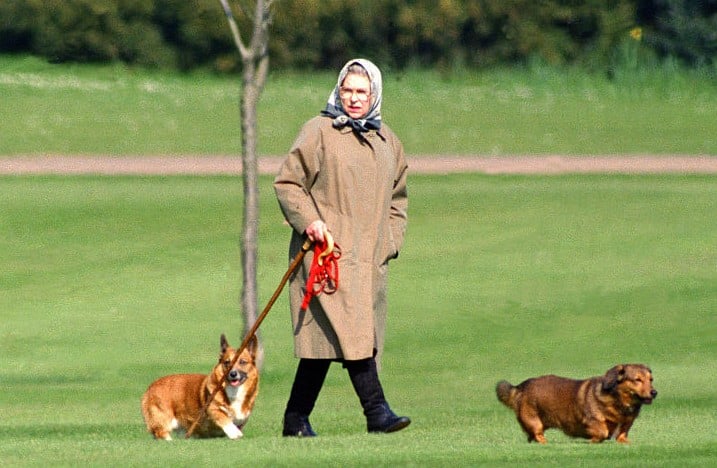 Sadly Queen Elizabeth's last corgi, a 12-year-old pup named Whisper, died at Windsor Castle in October 2018.
Whisper was not a descendant of Susan. Williow, a pooch who passed away in April 2018, was the last. Whisper actually belonged to a staffer at the queen's Sandringham estate and after that employee's death in 2016, Her Majesty took the canine in.
"Whisper was a friendly chap and followed her everywhere," a palace source told the Daily Mail, adding that queen was devastated by the corgi's passing.
The royal family matriarch now has just two living dogs. They are not full-bred corgis though. Her remaining four-legged friends are dorgis (dachshund-corgi mixes) named Candy and Vulcan.
Read more: Queen Elizabeth II Eats This Unhealthy Food Every Single Day
Source: Read Full Article