There's More Than One Way to Win for Tennis' Francis Tiafoe
Over the past 10 years, tennis star Francis Tiafoe Jr. has earned his nickname, "Big Foe." It isn't because of his size — most male players are slightly taller — but rather, an endorsement of his aggressive playing style. His latest performance during the 2023 US Open is a reminder that Tiafoe is never not on offense, combatively honing in on opponents with a heavy, unconventional forehand, and high-speed serves that can reach up to 140 mph.
Last year, Tiafoe hit a milestone by doing what 112 others have failed before him — defeating Rafael Nadal, one of the sport's premier players in a tense three-and-a-half-hour match. At just 25, the Maryland-born, Orlando-based star has became the youngest American to reach the quarterfinals of the US Open since 2006. Although he maintains a cool confidence around him, there are understandably far greater expectations this time around.
Since then, Tiafoe has shown a meteoric rise in the tennis charts, jumping from No. 26 in 2022 to a top 10 ranking this year by patiently refining his game year in, year out. And despite any external Nadal-related pressure he felt in the US Open, Tiafoe says he still treats each match as a standalone opportunity to play to the best of his abilities.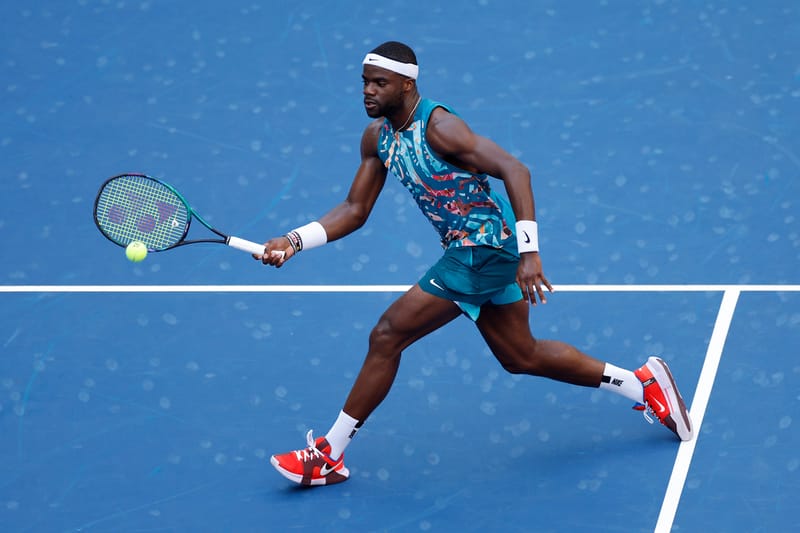 Sarah Stier/Getty Images
"I just approach each match with focus. I try to give it my all."
"I just approach each match with focus," he told Hypebeast in a post-competition interview. "I try to give it my all."
Just days before the latest US Open, Tiafoe stayed out of the limelight while training in his home state of Maryland at the renowned Junior Tennis Champions Center. The JTCC is where Tiafoe first learned to play tennis at the age of four, when his father began working on the center's construction crew.
Tiafoe has learned the lay of the land since first competing in the competition in 2014. These past two weeks saw him go head to head with fellow American, Learner Tien, followed by matches against Sebastian Ofner, Adrian Mannarino, and Rinky Hijikata.
While his 2023 US Open run came to a close in a defeat to American underdog, Ben Shelton, Tiafoe remains content, noting he's grateful to be in the position [he's] in," as it was the first time multiple Black American men had advanced to the quarterfinals in US Open history. "It's great with two people of color going at it. Obviously a historic moment," Tiafoe told the press after the match.
Tiafoe's gameplay wasn't the only thing catching the public's attention, he also was turning heads for his outfits on the court. In his match against Hijikata, he sported a teal tank top splashed with an abstract geometric graphic in shades of orange and a lighter blue. Complimenting the flashy top was a pair of teal shorts and bright red sneakers, courtesy of Nike, who he's been sponsored by since 2016. Tiafoe says he collaborates with the brand to select outfits for each competition that he feels "best fits [his] personality."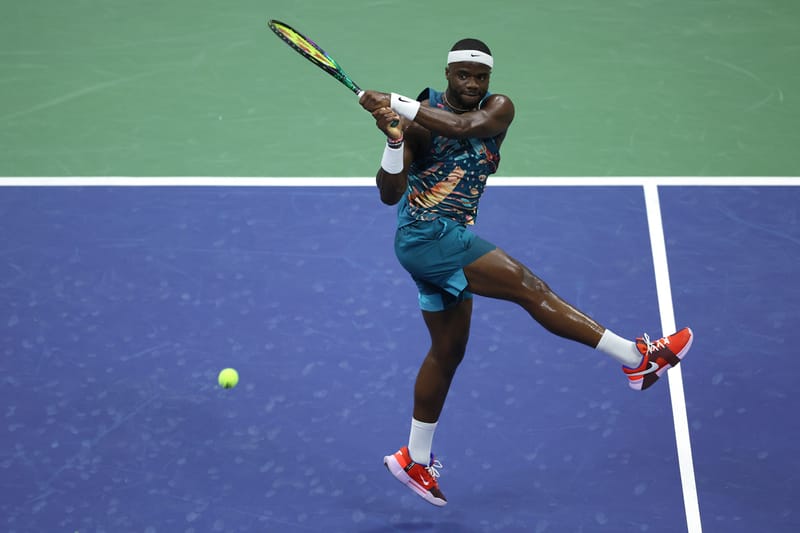 Clive Brunskill/Getty Images
Perhaps more notable, fans also took notice on the number of times Tiafoe changed his shirt within a match. During his faceoff with Ofner, Tiafoe was documented to have swapped his top six times. The incident was so commented on that the New York Times even dedicated a thinkpiece to it. While some athletes are no stranger to superstitions or compulsive rituals, Tiafoe simply wants to be comfortable as he plays in temperatures that have recently risen above 90°F. "I sweat a lot," he says. "And it's been crazy hot in New York."
Beyond an outfit change, or six, Tiafoe continues to keep it stylish off the court. A lifelong "lover of cars" who always fantasized about owning his own, the player was recently named a Global Brand Ambassador for Cadillac and these days, he's whipping around in a custom black Cadillac Escalade with red interior.
Tiafoe tries to keep it lowkey, for the most part, he says. He's conservative when it comes to spending his winnings, using most of it to support his family, and occasionally indulge in an NBA game or vacation. It's safe to say that the player has earned himself a vacation after months of grueling training. And when he returns, you can find him on the court, working tirelessly as ever on improving his game.
Source: Read Full Article