"Brooklyn Nine-Nine" Star Stephanie Beatriz Wants To See More Bisexual Representation On TV
Brooklyn Nine-Nine star Stephanie Beatriz is happy that her character coming out as bisexual sparked a lot of conversation. Now, she wants to see more TV shows tackle LGBTQ representation.
"What has been so rewarding to me is to get that feedback, especially on social media and especially from people who are still struggling to name that identity to themselves or to their friends and families," Beatriz said on BuzzFeed News' Twitter morning show AM to DM.
Beatriz, who plays Rosa Diaz on the hit series, said she wants to see more bi representation on television and in pop culture so that it continues to normalize the experience for all viewers, not just those who identify as bisexual.
"Being bi, especially, is many little coming out moments over and over and over again and over again," she said. "And I think those of us who identify as bi would have to do that less if there were more of us represented in the media."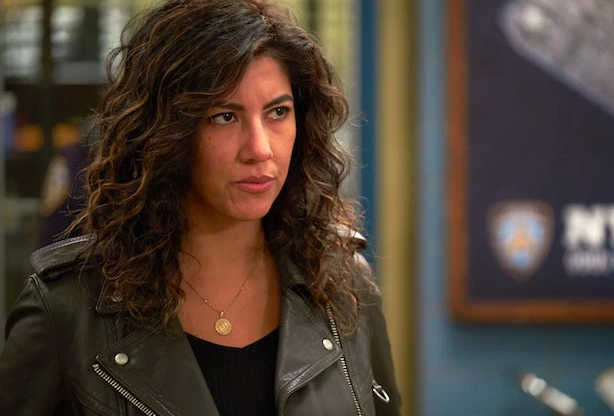 Stephanie Beatriz on Brooklyn Nine-Nine.
The actor said that while "it seems so silly and simple," the way social issues are portrayed on television is important because "art has a great way of creating social change."
"It really is the way that social change will happen," Beatriz said. "Beginning to experience other lives through characters that you love on television is a really incredible, powerful tool.
"I'm so proud Brooklyn Nine-Nine took that risk and said, 'Yeah we want to make one of our core ensemble members come out and come out in this very public way on the show and in her own personal life.'"
View this video on YouTube
In addition to working on Brooklyn Nine-Nine, Beatriz is currently filming the upcoming In the Heights, which is due out in theaters in 2020. According to the actor, who stars as Carla alongside Lin-Manuel Miranda, Anthony Ramos, and Dascha Polanco, she spent all of Monday filming a dance number in the actual neighborhood of Washington Heights in New York City with extras who were also from the area.
"After we finished the number, we wrapped this long day and he sort of shouted to the gods, 'This is for the ancestors' and it's true," Beatriz said. "All of us have this blood running through our veins and in our DNA of people that came many, many, many miles for us to be able to create art in this moment now, and that is wild to me that I get to be part of that and live it and feel this electricity."
Krystie Yandoli is an entertainment editor for BuzzFeed News and is based in New York.

Contact Krystie Lee Yandoli at [email protected].

Got a confidential tip? Submit it here.
Source: Read Full Article