Why Isn't Keanu Reeves On Social Media?
Keanu Reeves is experiencing a career renaissance, and people aren't mad about it. The super-chill actor has one of the best reputations in Hollywood and thanks to a string of recent roles, is back in the forefront of people's minds.
His overwhelming popularity on the internet is ironic considering Reeves himself is a very reserved man who avoids the spotlight whenever possible – and definitely steers clear of social media.
Learn why Reeves tends to stay off the radar and why he isn't on any social media channels.
Reeves has been unlucky in love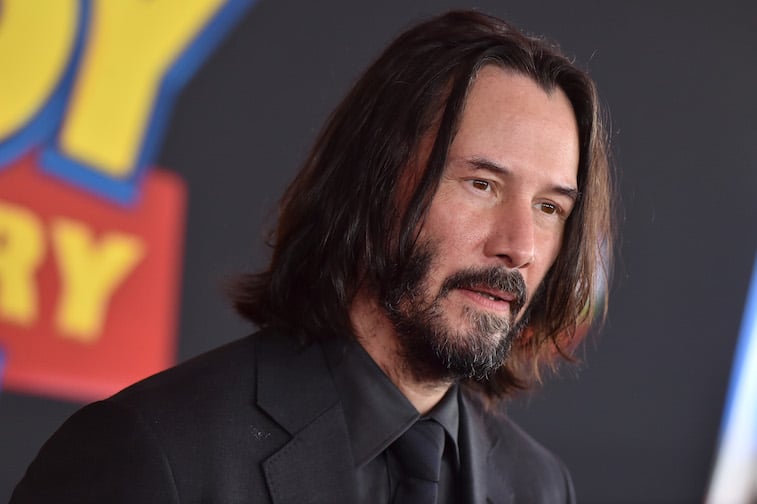 While many fans know of some the real-life tragedies that have beset Reeves over the course of his life, few know the whole story behind his aversion to relationships. In 1998, Reeves started dating a production assistant named Jennifer Syme.
According to reports the two bonded right away and Syme became pregnant shortly after they started dating. However, their happiness quickly turned to tragedy when the baby girl was stillborn at eight months.
Understandably, the couple went through an intense mourning period which led to them breaking up only a few weeks after the death of their daughter.
Reeves was to experience another loss when Syme died in a car accident a year and a half later. The dual loss devastated Reeves and he has gone on the record to state that the deaths of his girlfriend and his baby daughter are the real reason why he isn't rushing to get into a serious relationship.
Needless to say, that doesn't stop the inquiries into his private life, and fans are forever wanting to know whether or not Reeves is dating anyone. The only indication that Reeves has given as to his relationship status is the enigmatic statement, "hopefully it will happen for me."
Keanu Reeves is a private person
Not only does Keanu Reeves steer clear of putting any relationship drama on display, but he also prefers to live his life away from the glare of the cameras, period. A Rolling Stone interview with Reeves describes how much of a struggle it is for Reeves to reveal anything about his personal life and that he is intensely uncomfortable with direct questions. He stated how much he likes his privacy, a stance that he has stayed consistent with over the years.
While there have been many stories over the years about Reeves' uncanny ability to manifest into situations of distress and help people, they are always told by other people, not Reeves himself. It's easy to see that the actor is very modest as well as reserved, and doesn't like a lot of attention drawn to him.
Reeves doesn't need to be on social media
A recent interview with Reeves revealed just why he avoids social media platforms like Facebook and Twitter.
"Privacy is really important to me," he said, surprising no one, "and yeah, I don't really have anything to say about anything."
Whether or not that last point is true, it seems that Reeves doesn't have to be on social media in order to make a huge impact in the world.
After all, Reeves is undergoing a dramatic upswing in his career without the help of social media, and fans love him even more than ever before. He is one of the rare actors with a resume that has both independent films and blockbusters, and he has nothing to prove to anyone, not critics or audiences.
With even more on his plate in the next couple of years in terms of big movie projects, it will be interesting to see what twists and turns the lovable actor's journey through life ends up taking.
Source: Read Full Article