Why Did Jennifer Aniston Have To Cut People Out Of Her Life?
Ever since the early days of the COVID-19 pandemic, Hollywood's A-listers have spoken out about the importance of mask wearing and social distancing. On June 30, 2020, "Friends" star Jennifer Aniston used her Instagram platform to address the importance of being responsible and covering up. Prompted by fashion designer Tory Burch's #WearaDamnMask challenge, Aniston shared a picture of herself in a black face mask, writing, "I understand masks are inconvenient and uncomfortable. But don't you feel that it's worse that businesses are shutting down… jobs are being lost… health care workers are hitting absolute exhaustion. And so many lives have been taken by this virus because we aren't doing enough."
Aniston wasn't the only star to spread awareness about wearing masks. Spurred on by Burch's #WearaDamnMask campaign, celebrities including Reese Witherspoon, Anne Hathaway, and Patrick Dempsey also uploaded selfies of themselves wearing masks, and encouraged their followers to do the same. But Aniston's feelings about coronavirus were personal; in July 2020, she posted a picture of her friend Kevin in a hospital bed after contracting COVID-19. "This is Covid. This is real," the actor wrote, adding "We can't be so naive to think we can outrun this."
Given Aniston's stance on masks, it makes sense that she has also firmly been in favor of vaccinations — so much so that she has apparently lost some friends over the issue. So, what happened?
Jennifer Aniston believes in the importance of the COVID-19 vaccination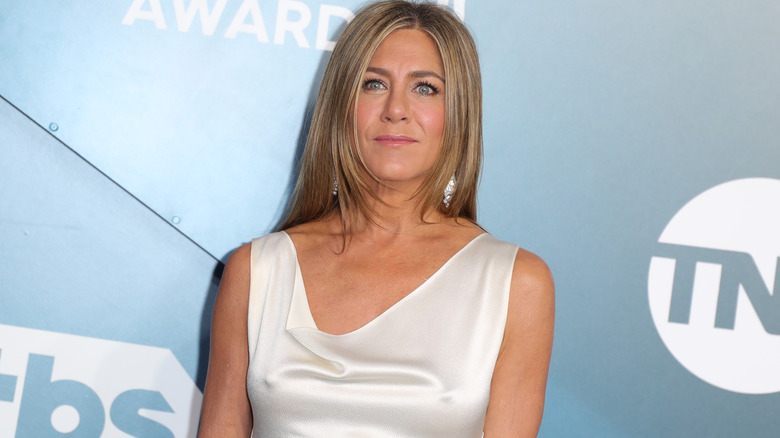 In an interview with Instyle for September 2021, Jennifer Aniston opened up about new developments in her life, including the challenges of acting during the COVID-19 pandemic, and her views on vaccinations. (To no one's surprise, "The Morning Show" star takes her shots seriously.) Explaining that she's had to cut people out of her life who "have refused or did not disclose [whether or not they had been vaccinated]," Aniston said, "There's still a large group of people who are anti-vaxxers or just don't listen to the facts … I feel it's your moral and professional obligation to inform, since we're not all podded up and being tested every single day." She continued, "It's tricky because everyone is entitled to their own opinion — but a lot of opinions don't feel based in anything except fear or propaganda."
Doing her part to serve the greater good, Aniston told fans that she was fully vaccinated as of May 2021. "Fully vaccinated and it feels soooo good," she wrote on Instagram at the time. "We are extremely lucky and privileged to have access to COVID-19 vaccines in the U.S. right now. Unfortunately, that's not the case everywhere." Maybe Aniston can mend fences with "anti-vaxxers" in the future, but given the hard line she's drawn between her and those who aren't vaccinated, it doesn't seem likely to happen any time soon.
Source: Read Full Article