The Truth About Johnny Depps Dating History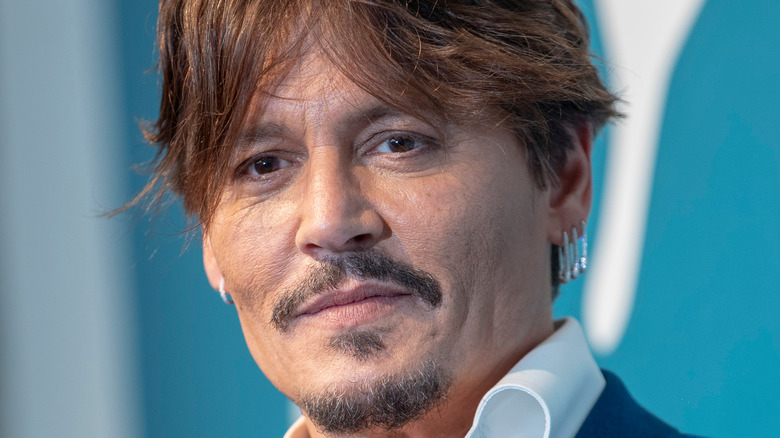 Johnny Depp was swept into stardom in 1987 when he was just 24 years old on the Fox Network's crime drama cop series titled "21 Jump Street." As the true breakout star of that series, he started his life as a modern-day movie legend just three years later when he starred as Edward Scissorhands in the Tim Burton movie of the same name (via IMDb). Even before Depp was a TV star, he was already married and it was his first marriage that led him to Hollywood.
Depp was born on June 9, 1963 in Owensboro, KY, but money troubles forced the family to move to Florida when he was just a boy. According to Biography, he was married by the young age of 20 to makeup artist Lori Alison, who was five years his senior. The pair moved to Los Angeles where he began his acting career in earnest, as well as a penchant for dating co-stars.
Johnny gets divorced and quickly begins dating again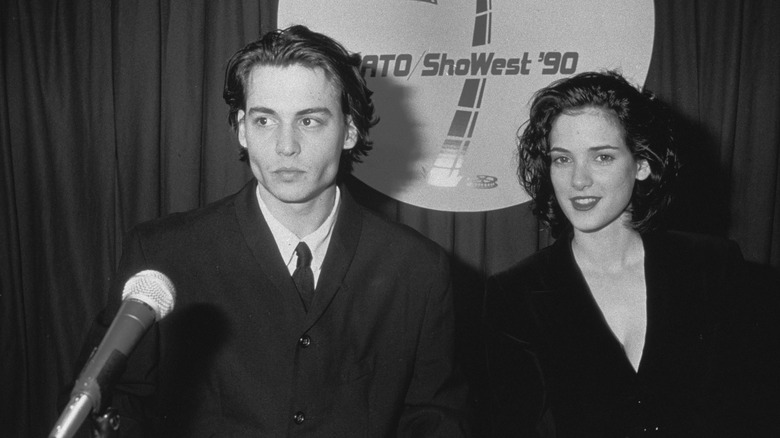 In 1984, Johnny Depp landed a small role in the classic horror flick, "Nightmare on Elm Street," and his career started taking off. Sadly, his marriage was not as successful as his first flick and it ended a year later. 
According to Elle, Depp was soon dating actress Sherilyn Fenn, and she even appeared with him in an episode of "21 Jump Street," but that relationship was over by 1988. In 1989, he briefly dated "Dirty Dancing" star Jennifer Grey and Elle reports he even asked her to marry him during the short time they were together.
After that romance ended, Depp met Winona Ryder and both ended up starring in "Edward Scissorhands." The pair dated from 1989 to 1993 and were engaged for three of those years, according to Cheat Sheet. The pair remained friends for years, however, but both moved on as Depp's romantic life became even more fraught and eventful.
Johnny has more high profile relationships before settling down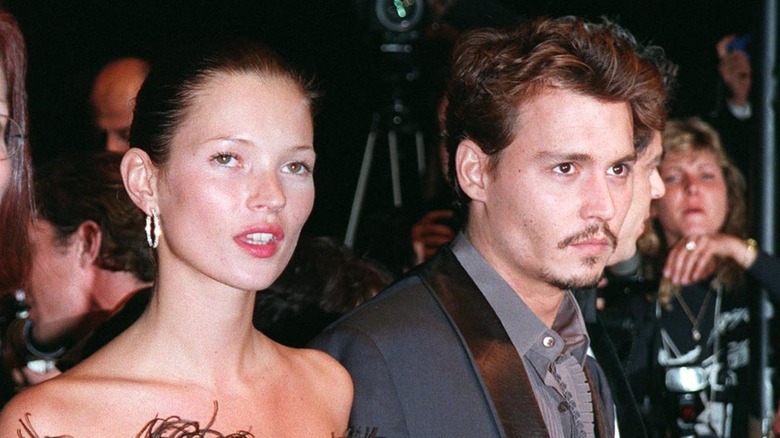 After Johnny Depp and Winona Ryder finally called it quits, Depp reportedly dated actress Juliette Lewis, whom he met on the set of "What's Eating Gilbert Grape?" Another brief fling followed with Ellen Barkin, an actress who was nine years Depp's senior (via Elle).
It looked like Depp finally found something long term when he began dating model Kate Moss in 1994 and the pair actually stayed together for four years. After it ended, Moss was devastated and told Vanity Fair all about it.
"There's nobody that's ever really been able to take care of me. Johnny did for a bit. I believed what he said," Moss explained. "Like if I said, 'What do I do?,' he'd tell me. And that's what I missed when I left. I really lost that gauge of somebody I could trust. Nightmare. Years and years of crying. Oh, the tears!"
After his relationship with Moss ended, Depp did find love again with French singer, actress, and model Vanessa Paradis.
Johnny seems to find long-term happiness with Vanessa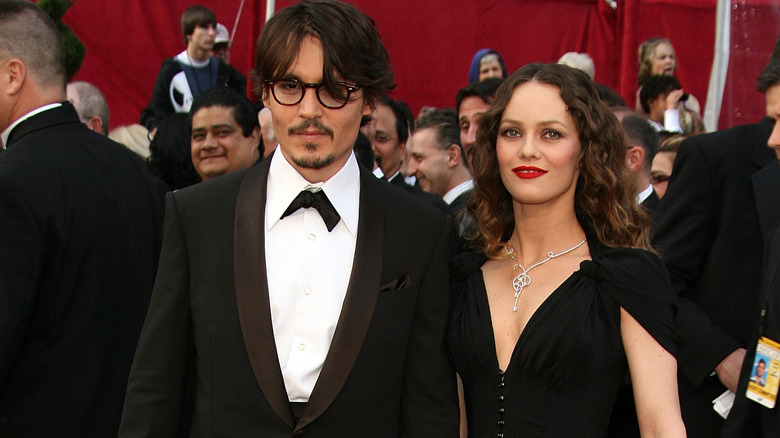 Johnny Depp met Vanessa Paradis in 1998 and the two remained together until 2012, with Pardis giving birth to children Lily-Rose Melody and John Christopher Depp III (via Elle). Depp once described their meeting to The Daily Mail, saying, "It was the Hotel Costes. She was wearing a dress with an exposed back and I saw that back and that neck, and then she turned around and I saw those eyes, and – boom! – My life as a single man was done."
While the pair never married, they did seem to split amicably when they made their separation official after 14 years together. In 2013, Depp reflected on the breakup with Rolling Stone.
"Relationships are very difficult. Especially in the racket that I'm in because you're con­stantly away or they're away and so it's hard. It wasn't easy on her. It wasn't easy on me. It wasn't easy on the kids," he said. "So for whatever reason that ceases, it doesn't stop the fact that you care for that person, and they're the moth­er of your kids, and you'll always know each other, and you're always gonna be in each other's lives because of those kids. You might as well make the best of it."
Johnny's next relationship with Amber ends in scandal and divorce
In 2015, Johnny Depp married actress Amber Heard. The two had been together since 2012 after meeting several years prior while filming "The Rum Diary," according to Elle.
That marriage ended within a year as Heard filed for divorce in 2016, alleging abuse, and two years later she wrote about it in a Washington Post op-ed. Two of Depp's former flames – Winona Ryder and Vanessa Paradis – stepped up to defend him when Heard's case went to court.
According to The Independent, Ryder stated the following in a sworn deposition: "I obviously was not there during his marriage to Amber, but, from my experience, which was so wildly different, I was absolutely shocked, confused and upset when I heard the accusations against him. The idea that he is an incredibly violent person is the farthest thing from the Johnny I knew and loved. I cannot wrap my head around these accusations."
Paradis also spoke up with a letter shortly after the allegations, stating, per In Style, "Johnny Depp is the father of my two children. He is a sensitive, loving and loved person, and I believe with all my heart, that these recent allegations being made are outrageous. In all the years I have known Johnny, he has never been physically abusive with me and this looks nothing like the man I lived with for 14 wonderful years." 
Source: Read Full Article