The Sussexes Time Magazine cover led to salty, bitter tears in the UK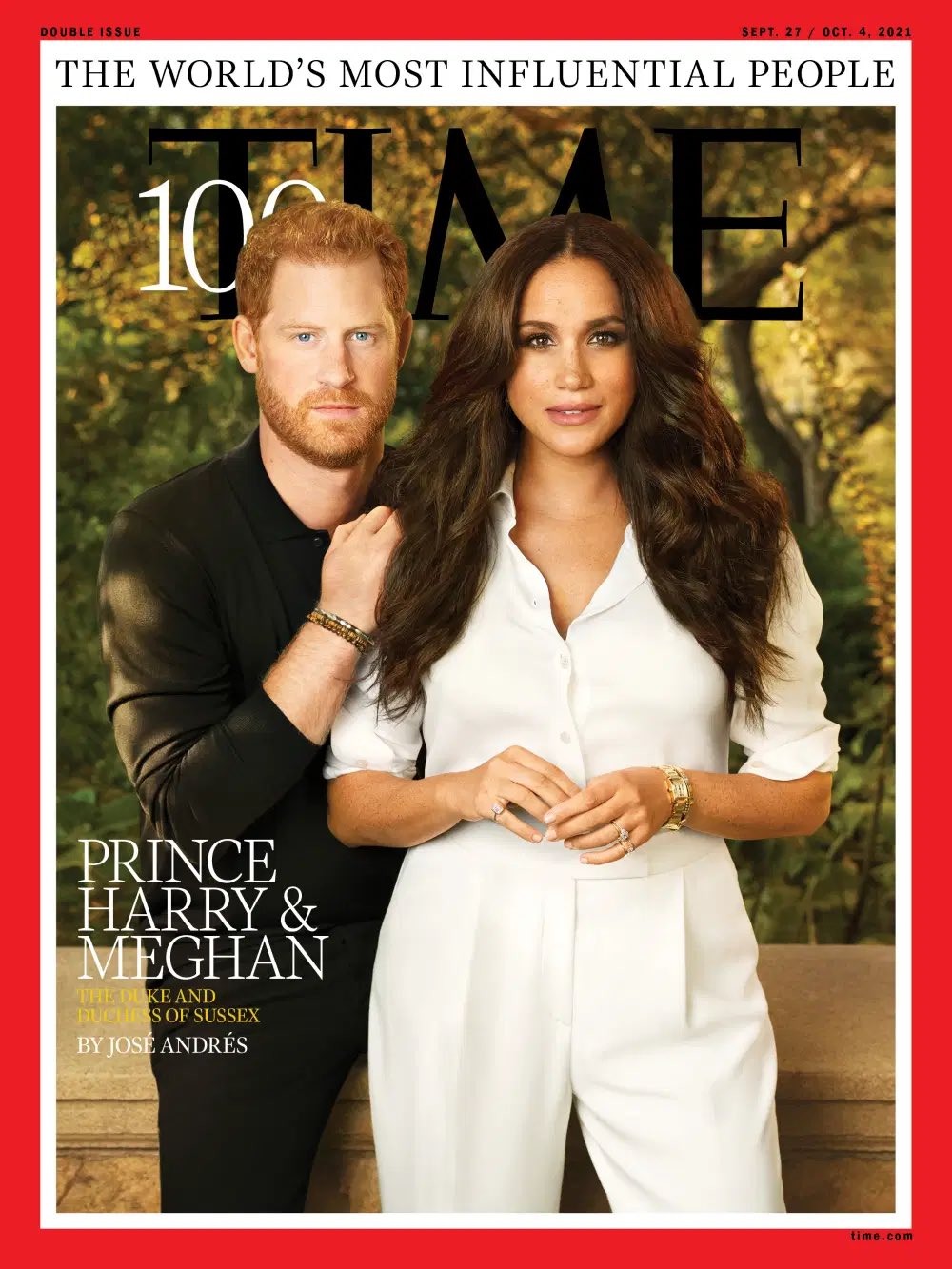 I'm sure almost everyone saw that Salt Island was in full meltdown mode all day yesterday, basically as soon as Time Magazine released their covers for the Time 100, or Time's Most Influential People list. The Duke and Duchess of Sussex not only made the Time 100 list, they were one of the covers, with an exclusive (and lovely) photoshoot from Montecito. Britain's biggest tabloids hired "body language experts" to cry about how powerful Meghan looked and how Harry was cowering behind her or something. There were tears spilt about Photoshopping and don't you know, the photoshoot happened "on a terrace at their $14.65 million mansion." Won't anyone think about the bathrooms?!
I forgot to mention this, but as soon as I saw the cover, I knew the Daily Mail would do one of those crazy cost-breakdowns of everything Meghan and Harry were wearing and what everything costs in every photo. Yeah, the Daily Mail did just that. The DM claims Meghan wore $384,000 worth of jewelry in the cover shot, which included a Cartier Love bangle, Princess Diana's Cartier Tank watch and two pinky rings from Shiffon which are apparently supposed to represent "female empowerment." She also wore her engagement ring and wedding band, shock.
Meghan's olive green outfit was sourced to The Row, which of course means $$$. I guess I don't get why everyone on Salt Island is freaking out to this degree? I mean… they're not paying for it. Meghan and Harry are paying for their own clothes and jewelry now. Plus, these might have been loaned to them for the photoshoot.
— Omid Scobie (@scobie) September 15, 2021
https://www.instagram.com/p/CT17ZvXsxtk/
A post shared by Meghan & Harry (@dukeandduchessofsussexdaily)
https://www.instagram.com/p/CT2Ar9vtFzN/
A post shared by The Telegraph (@telegraph)
Cover & Instagrams courtesy of Time Magazine.
Source: Read Full Article