The Real Reason Alex Rodriguez Left Good Morning America
Alex Rodriguez may now be best known as a baseball superstar and Jennifer Lopez's ex-fiance, but there was a time when fans could tune in to ABC to see the athlete and father of two serving up content on "Good Morning America." 
Yep, Rodriguez served as a contributor on the popular ABC morning show for a short stint back in 2017 and 2018, signing on the dotted line with ABC News to offer up reports on sports (of course), family, and money matters, as well appear on as "World News Tonight With David Muir" and "Nightline." A source told Page Six in May 2017 that A-Rod — who had only recently gone public with his ill-fated romance with J-Lo – would be popping up on screens around once a month, but claimed "it could be more if he [did] well."
But, unfortunately for the former New York Yankee, that didn't exactly come to fruition. New York Post reported in September 2018, just over a year after his new gig hit the press and after only a handful of appearances, that Rodriguez had already left his position on the morning show behind and would no longer be contributing reports on ABC shows. But what exactly happened? Read on for all the details.
Did Michael Strahan have something to do with Alex Rodriguez's disappearance from Good Morning America?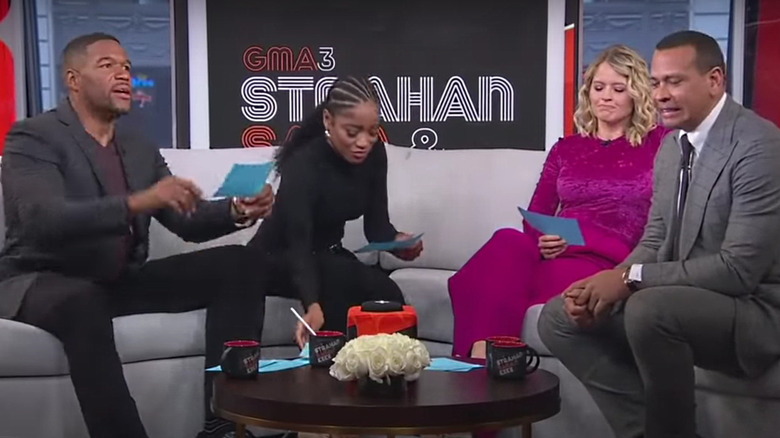 When it was confirmed in 2018 that Alex Rodriguez's short-lived "Good Morning America" stint had come to an end, it was alleged that Michael Strahan's position on the morning show could have played a part. 
The former NFL player joined the show as co-host in 2016 — following that dramatic exit from what was then known as "Live with Kelly and Michael" — and a source claimed to New York Post that with Strahan "as a main host, there was no room for A-Rod, even just as a contributor." Rodriguez's team also supposedly felt he was a little redundant and "if there was anything sports related ABC would use Strahan."
Notably, Strahan did confirm that he wasn't made aware of Rodriguez's hiring until it was made public. "Alex and I have been friends for a long time. So when I heard the news — which was before everybody else heard the news — I wasn't surprised by it," he told E! in June 2017, adding that he thought it was "great."
Rodriguez's slew of jobs was also blamed for the star parting ways with "GMA" so soon. New York Post's insider claimed that it was apparently "logistically difficult" for the father of two "because of his busy schedule," as he notably signed on to contribute to ESPN's "Sunday Night Baseball" after his gig with ABC as well as doing several other jobs.
How does Alex Rodriguez feel about Good Morning America after leaving his contributor gig?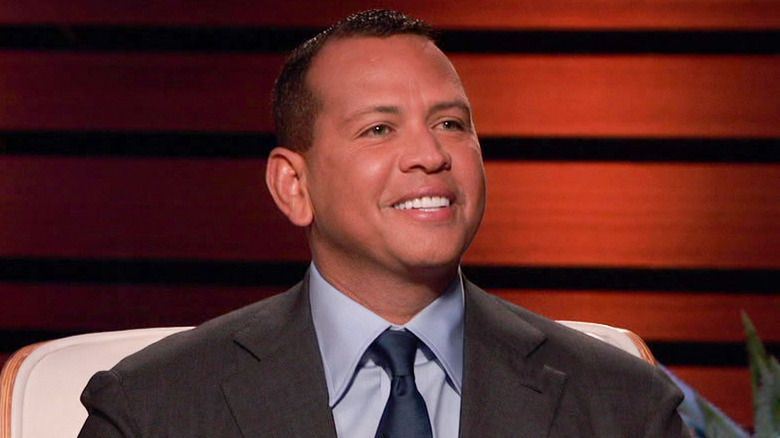 As for how Alex Rodriguez feels about "Good Morning America" and the alphabet network after waving bye bye to his role as contributor? Well, it seems there's no bad blood. Rodriguez has appeared on multiple ABC shows since, including his three-season stint on the entrepreneurial show "Shark Tank," starring on Season 9, Season 10, and Season 12 from 2017 to 2020.
In September 2020, Rodriguez also appeared to dispel any suggestion of drama with Michael Strahan and the morning show when he appeared on the "Good Morning America" spin-off, "Strahan, Sara and Keke," with Strahan, Sara Haines, and Keke Palmer. At the time, Rodriguez chatted about his relationship and impending wedding with Jennifer Lopez, around seven months before the two infamously officially called it off and went their separate ways.
Although, while it seemed like all was good between the baseball legend and the network, he and Lopez notably did go to "GMA"'s longtime rival to break the news of their split. After weeks of rumors suggesting their romance was on the rocks, the now former couple chose to give NBC's "Today" their exclusive statement confirming their breakup in April 2021. But that could just be a coincidence, right?
Source: Read Full Article