The Low-Key Way Mark Consuelos Proposed To Kelly Ripa
When Mark Consuelos and Kelly Ripa first met, it was supposed to be simply work-related. However, sparks flew immediately, and they have surpassed the 25-year mark in their marriage. The story of their early days together contains some surprises, including an unexpected type of marriage proposal.
As Elle detailed, Ripa and Consuelos met when he auditioned for the soap opera "All My Children." She played Hayley Vaughan, and the show was casting the role of Mateo Santos. As Ripa noted on "Radio Andy" (via Elle) she had done screen tests with "every Latino actor in the city and around the city and then California." The soap wanted a truly Latino actor, and eventually, the casting director told Ripa about Consuelos. At the time, Consuelos was a recent college graduate with virtually no acting experience. When Ripa saw his picture, "I saw my entire future with him flash." She admitted she had never been a "hopeless romantic" and "it never occurred to me that I would grow old with someone." That all changed with Consuelos.
When Consuelos auditioned for "All My Children," he sensed the executive producer wasn't impressed (per "Live with Kelly and Ryan"). However, Ripa certainly was. "I fell in love with Mark the day I met him. The day I met him, I just knew," she admitted. Consuelos said back then he "didn't think I had a chance with this one," referring to Ripa. He got the part, and the first scene of them together aired in May 1995.
Kelly Ripa and Mark Consuelos had a brief split and a whirlwind elopement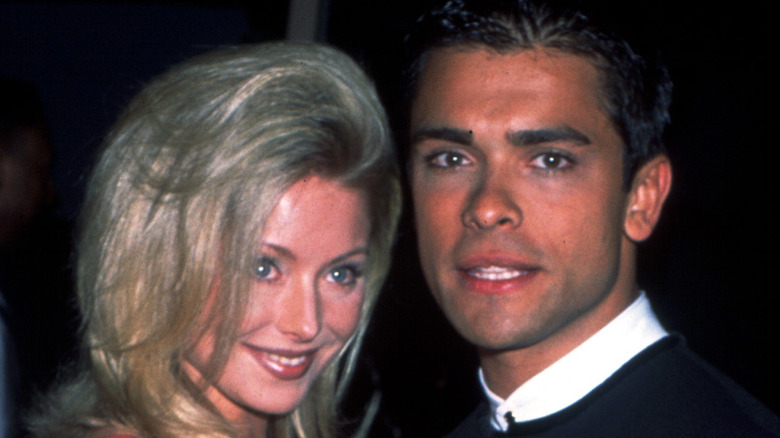 Per Elle, Kelly Ripa and Mark Consuelos started dating soon after he joined "All My Children." They kept it quiet, though, determined to maintain professional boundaries at work. About a year later, Consuelos was ready to propose, but his timing came at an interesting juncture in their relationship. Ripa explained on the podcast "Betches' Comments by Celebs" the two had split a week prior to their wedding (via ET Online). "He popped the question the day before we got married, but that day, that very day that we got back together, we were at a taping of 'Regis and Kathie Lee,'" Ripa shared.
As the couple hung out and ate pizza, Consuelos decided to pop the question (per "Live with Regis and Kathie Lee"). Ripa recalled, "I was, like, licking the grease from my elbow… and he's like, wanna fly to Vegas and get married?" Ripa recalled. As InStyle detailed, the two had gone for a walk in the park before they went to his apartment for pizza and wine. "I said, 'Ask me when you're serious.' And he said, 'I am serious. Let's go to Vegas tomorrow and get married,'" Ripa recalled. She said yes, and they flew to Vegas. 
The news didn't make waves on the "AMC" set though. "Most people didn't know that we were even dating, until we were married for, like, six months to a year," Ripa recalled during an episode of "Live with Kelly and Ryan."
Mark Consuelos and Kelly Ripa have a marriage filled with happiness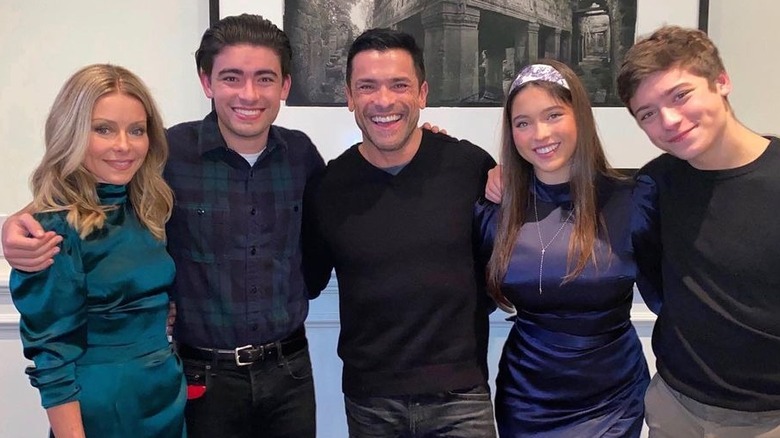 Kelly Ripa and Mark Consuelos started a family soon after their Vegas elopement, detailed Us Weekly. Michael arrived in June 1997, and Lola was born in June 2001. Their third, Joaquin, arrived in February 2003. As Ripa explained on "Live with Kelly and Ryan," Michael was slated to be named Joaquin. However, just before he was born, both of Consuelos' grandfathers died. As a result, they named him after the two men. With Lola, when Ripa was in labor, she heard Barry Manilow's "Copacabana" as she rode in a cab. The first line from the song references a showgirl named Lola, which inspired Ripa. "I turned to Mark and said, 'Lola Consuelos is a great name,' and he goes, 'That is a great name,'" the Ripa recalled, cementing their pick.
They again considered using "Joaquin" with their third child, but Consuelos couldn't agree until he tried something first. After testing the name out in a faux baseball announcer's voice, envisioning his son playing one day, he agreed on Joaquin. "Ask me how many baseball games Joaquin's played," Ripa teased, quickly answering, "zero." 
Now, after 25 years of marriage, Ripa and Consuelos have three grown kids who all went off to college. E! News noted their youngest started his freshman year at the University of Michigan, while the two oldest chose New York University. It's been a wild ride for the couple, but they seem more in love now than ever before.
Source: Read Full Article