Tekashi 6ix9ine's Girlfriend Shared a Video of Him Sucking Her Toes, So Yeah…That Happened
Today in Tekashi 6ix9ine updates you never asked for but I'm giving you anyway, the rapper's girlfriend Jade just shared a video of him sucking on her toes before his incarceration. Which, no thanks! If it's simply too early in the morning for you to deal with a video of someone sucking on another person's toes, please SHIELD YOUR EYES. Otherwise, here ya go/sorry:
#PressPlay: #6ix9ine's girlfriend out here missing the love he shows her toes 👀😩
A post shared by The Shade Room (@theshaderoom) on
Jade has been super supportive of her man since he went to jail–and even recently got a tattoo of his face inked on her chest.
FYI, Tekashi was arrested on November 18, 2018 and was indicted on six counts including "conspiracy with others to commit racketeering, discharging a firearm while committing a crime, committing a crime of violence in aid of racketeering, assault with a dangerous weapon, carrying a firearm, and committing a crime in aid of racketeering." He ended up pleading guilty to a bunch of charges in February and his sentencing is expected to go down next year.
Also, wait, did I say Jade has *a* tattoo of Tekashi's face on her chest? Sorry, she has a full THREE tattoos in his honor festooning her body—two of his face, and one of the number 69:
These jail calls are serious 😩🙄🌈
A post shared by JADE ⚡️ (@__ohsoyoujade) on
That's a…choice!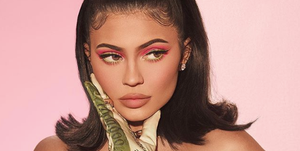 Source: Read Full Article