Sophie Turner's Out Here Sharing Pics of Joe Jonas Naked in a Bathtub
We interrupt the meltdown you're inevitably having after learning The Office is leaving Netflix to bring you breaking Sophie Turner/Joe Jonas news: Turner, a legend™, just posted a pic of Joe, naked in a bathtub, on her Instagram Stories.
Can we all just take a minute to appreciate this flex? Her mind.
The pic in question shows Joe chilling in a luxurious-looking French claw foot bathtub with a matching tub next to him, probably for Sophie. Joe and Sophie have been lounging around Paris lately because they're having their wedding ceremony soon. (Dr. Phil kind of spilled the beans on that one, but ALSO Sophie and Joe have technically been married for weeks, so it's NBD.)
Soooooo without further ado, feast your eyes on Sophie's Instagram Story: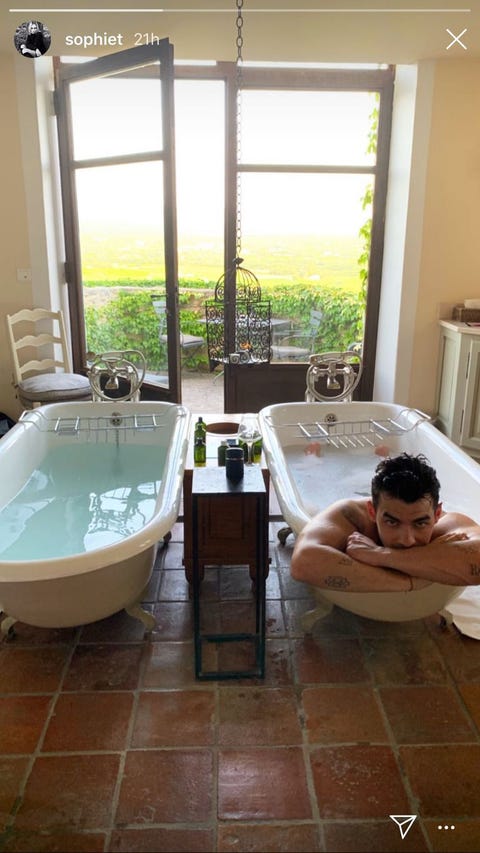 C'est bon, c'est bon, c'est bon.
We really have both Sophie and Joe's Instagrams to thank for this. The couple has been sharing pics all throughout their French getaway, including touristy shots of the Eiffel Tower, which is obviously a must-see. They've also spent plenty of time cuddling with their husky puppy (they actually have two, named Waldo and Porky Basquiat).
Nap game strong.
A post shared by J O E J O N A S (@joejonas) on
The Instagrams and bathtub pics are nice, but don't expect them to air everything. Sophie told Porter a few weeks ago that she didn't even want people to know about her Vegas wedding to Joe in the first place, but Diplo unintentionally changed that.
"It would have been better if no one had known, but I actually think it was funny," she admitted. "I think at some point I would have had to stop saying 'fiancé,' but yes, I would have kept it a secret."
Welp, secret's out!
Source: Read Full Article