So Kim Kardashian Made Bonkers Amounts of Money During Her Skims Launch
To call Kim's launch of her new shapewear collection Skims a success would be a massive understatement, 'cause TMZ is out here reporting that she earned millions in mere minutes after her site launched. Specifically, Kim "pushed $2 million in product" within the first few minutes after Skims' launch, and almost the entire collection sold out.
TMZ's sources say these numbers are "unprecedented for shapewear and undergarment brands," and that by comparison Spanx made $4 million in profits in their first year, while Skims made half that in a few seconds. Though to be fair, Skims had the advantage of being marketed and made by Kim Kardashian West, who has built-in brand recognition and influence.
SHOP NOW
TMZ claims that Skims had "thousands" of items for sale, and that nothing was priced higher than $100. And apparently, Kim and her team are already working to restock products ASAP so that the collection is always available.
"I know what I want in this area, and that's not the case with every project I work on," she told Cosmopolitan earlier this summer. "I do get insecure and just 'Oh, I hope you like it, I hope people understand this and it'll translate.' But this one, I'm like no, I got this. I know exactly how to make it comfortable and even a bit sexier."
Guess she was right, tbh.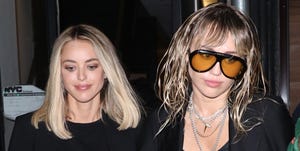 Source: Read Full Article