Priyanka Chopra: 'I love staying in bed in pajamas. It's my favorite thing'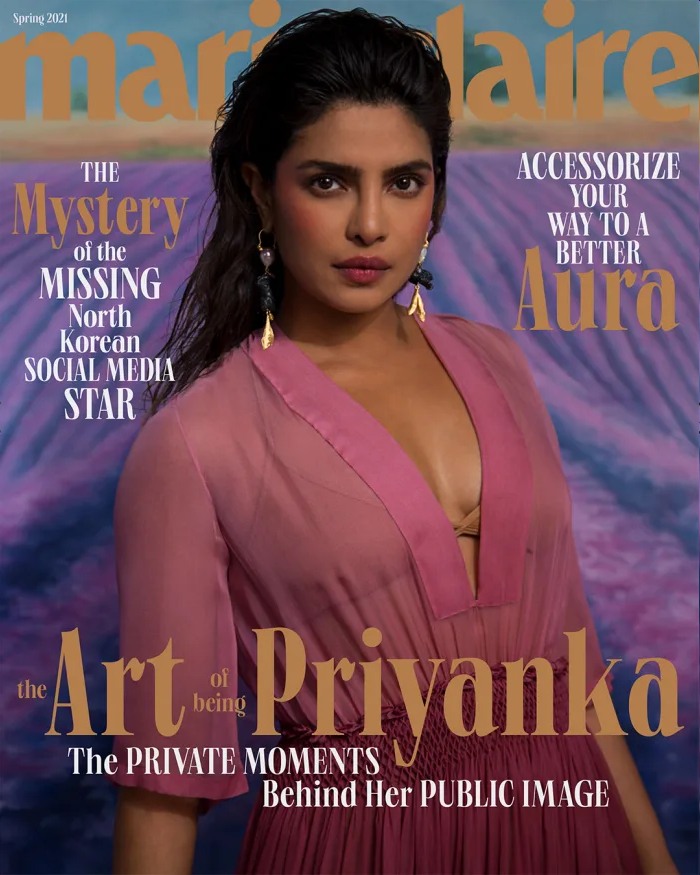 Priyanka Chopra covers the latest issue of Marie Claire to promote a variety of projects. There's Netflix's The White Tiger, which she stars in and produced (and is already available) and she's also talking about her memoir, Unfinished, which she completed during the pandemic lockdown in LA last year. She's also releasing a hair-care brand, Anomaly, and she's filming like five movies right now. Priyanka talked mostly about what she got done during the lockdown, completing her book and colorism in India. You can read the full piece here. Some highlights:
She got quarantine bangs. "It was one of these quarantine decisions, which I could have completely regretted, but I play a sad writer in this next movie. I don't know why, but I feel like 'sad writer' means bangs."

She tried to stay busy during lockdown: "It was the opposite of what I would normally do. I love staying in bed in pajamas. It's my favorite thing. But when I had so much time to do that, I didn't want to do it as much. I saw myself craving a routine."

She finally decorated her LA home, which she shares with Nick Jonas: "We [our families] never get to meet as often as the world thinks we do, but whenever we end up together, it's a huge-ass party. It's all our parents, the girls and the boys."

Spending more time with Nick: "Both of our schedules are so crazy individually that there was no world in which we would have ever had six months together. It only took a global pandemic for that to happen."

Experiencing racism in America: "It's so difficult to hear you talk about it right now… In high school, I feel like the kids who were after me didn't even understand why. I think it's that they decided that they were more powerful than someone else—me—and when you pick on someone, it's because you're insecure. Bullying happens to kids and adults. It happens with positions of power, and we've all seen that abused in multiple ways."

She reads what people say about her online: "I am just like everyone else. In the morning when I'm driving to work or I'm having my coffee, I'm flipping through Twitter, Instagram, the news, and when my name pops up, I'm like, Alright, what are people saying? How are we feeling?" Chopra Jonas claims to read everything on the Internet about her—and her husband. "I just don't react to it or let it affect my mental well-being," she says.

On The White Tiger: "I don't think it's about the country. It's about hunger, it's about ambition, and it just happens to be placed in India. It could be in any other developing economy or a place where there is poverty. It just goes to show when you have an empty belly, what that can do to a man. To me, it's a metaphor for desire and how far you go to get it."

On her modeling jobs for skin lightening creams: "[Skin lightening] was so normalized in South Asia; it's such a large industry that everyone was doing it. In fact, doing it is still a check [mark] when you are a female actor, but it's awful. And it was awful for me, for a little girl who used to put talcum-powder cream on my face because I believed that dark skin was not pretty." In Unfinished, Chopra Jonas recalls being called "dusky" by industry influencers and the media.
[From Marie Claire]
It's true what she says about skin lightening being normalized, and colorism being so deeply ingrained in Indian culture, as it is in many Asian cultures. While Priyanka was definitely old enough to know better at the time, I sort of feel like she took the hit for it in recent years because she's one of the few Indian stars who has a major profile in Western media. They made her "the face" of the larger colorism issue when she was only one small part. I'm also super-jealous that she was able to accomplish so much in the past year. I feel like most people were just trying to keep their head above water, and there was Priyanka, setting work goals for herself and completing tasks on time. Last thing: sad writers do NOT have bangs. We have mess buns.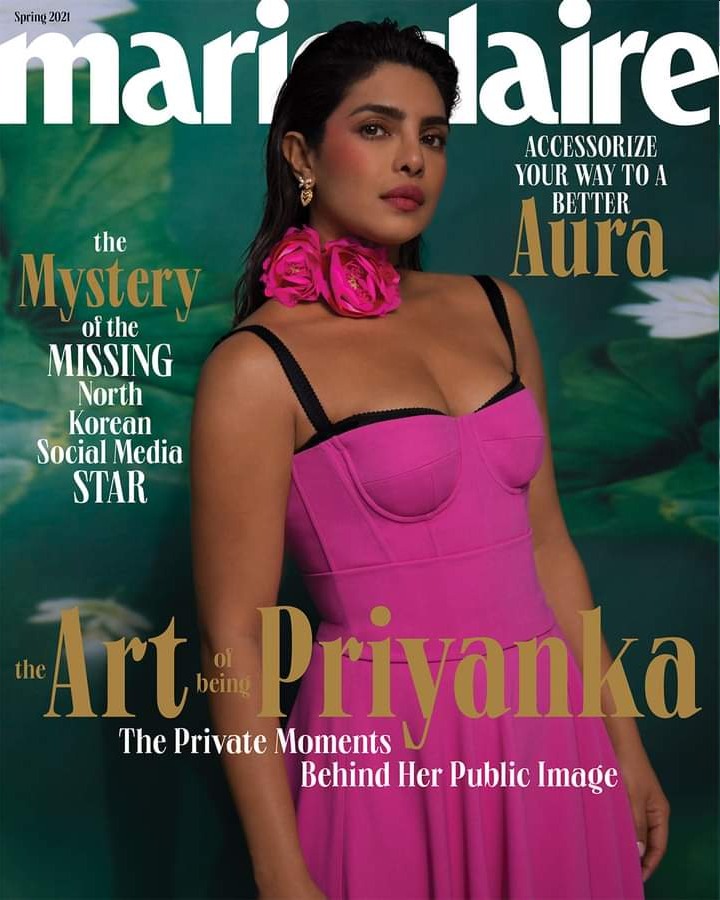 Covers courtesy of Marie Claire.
Source: Read Full Article