Phylicia Rashad Responds to Backlash Over Her Insensitive Reaction to Bill Cosbys Prison Release
Among celebrities calling out the Clair Huxtable depicter on 'The Cosby Show' are William Baldwin, author Julie Klausner and broadcaster Gretchen Carlson.
AceShowbiz –Phylicia Rashad has addressed backlash over her support for Bill Cosby. Hours after she celebrated her former "The Cosby Show" co-star's prison release, the Clair Huxtable depicter on the sitcom insisted that she didn't mean to be "insensitive."
The 73-year-old offered her clarification via Twitter on Wednesday, June 30. "I fully support survivors of sexual assault coming forward. My post was in no way intended to be insensitive to their truth. Personally, I know from friends and family that such abuse has lifelong residual effects. My heartfelt wish is for healing," she stated.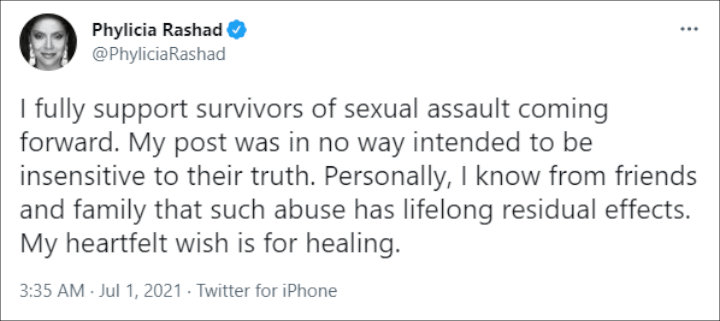 Phylicia Rashad addressed backlash over her support for Bill Cosby.
Phylicia's post came just hours after she expressed her joy about Bill's release from jail. She tweeted, "FINALLY!!!! A terrible wrong is being righted- a miscarriage of justice is corrected!"
Many of the actress' famous pals, however, condemned her support for the 83-year-old comedian. One in particular was William Baldwin who wrote, "The bye Phylicia to end all bye Phylicia's." The "Difficult People" creator and former star Julie Klausner questioned, "why phylicia."
Also criticizing Phylicia was broadcaster Gretchen Carlson. The latter complained, "Phylicia! #BillCosby being released from prison on a technicality is a complete miscarriage of justice & will never be an exoneration for the brutal crimes he committed against women. The world is now woke & women will no longer be silenced. You should be ashamed of yourself."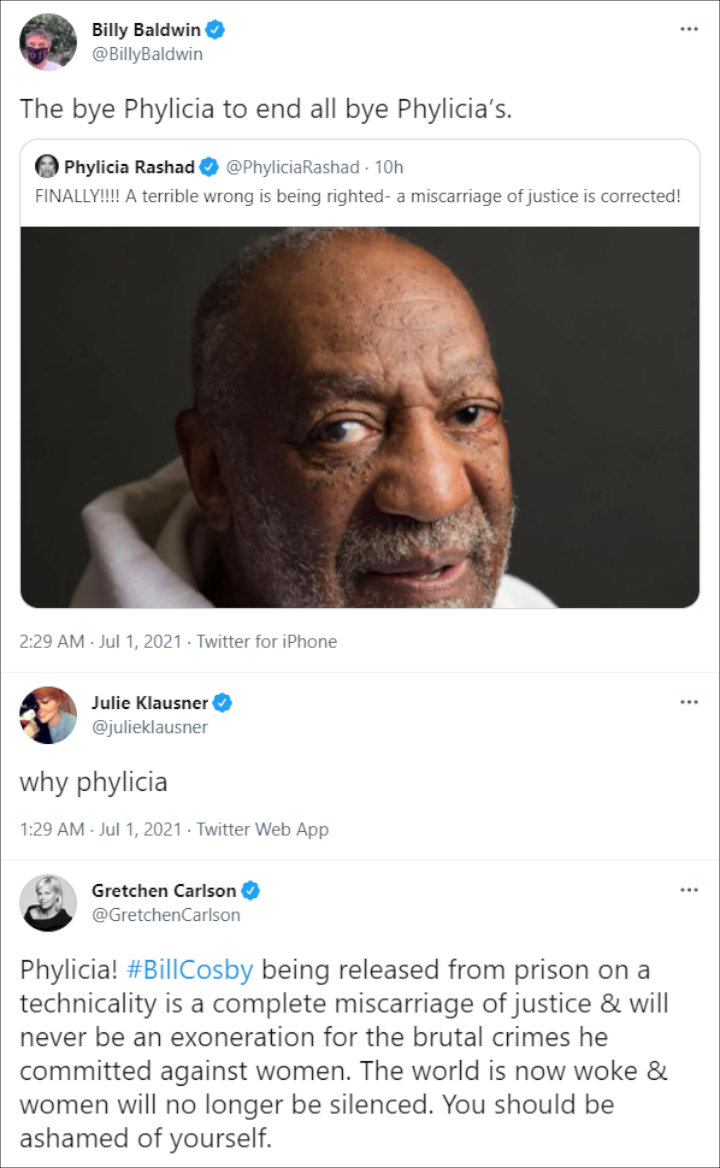 William Baldwin, Julie Klausner and Gretchen Carlson slammed Phylicia Rashad for supporting Bill Cosby.
Other celebrities also slammed the Pennsylvania Supreme Court decision for vacating Bill's 2018 rape conviction. "I know many young women and men who are so Afraid to press charges against their rapist and Re traumatize themselves I am heartbroken today to hear of the news of Cosby's release .this is sickening. My heart is with my sister survivors. We have work to do," Rosanna Arquete raged on Twitter.
Debra Messing, meanwhile, noted on her own page, "To every woman who was sexual assaulted by #BillCosby my heart hurts for you today and I am full fury. It's horrifying." Padma Lakshmi argued, "Cosby drugged and raped 60 women. Do they not deserve 'fairness' and justice?"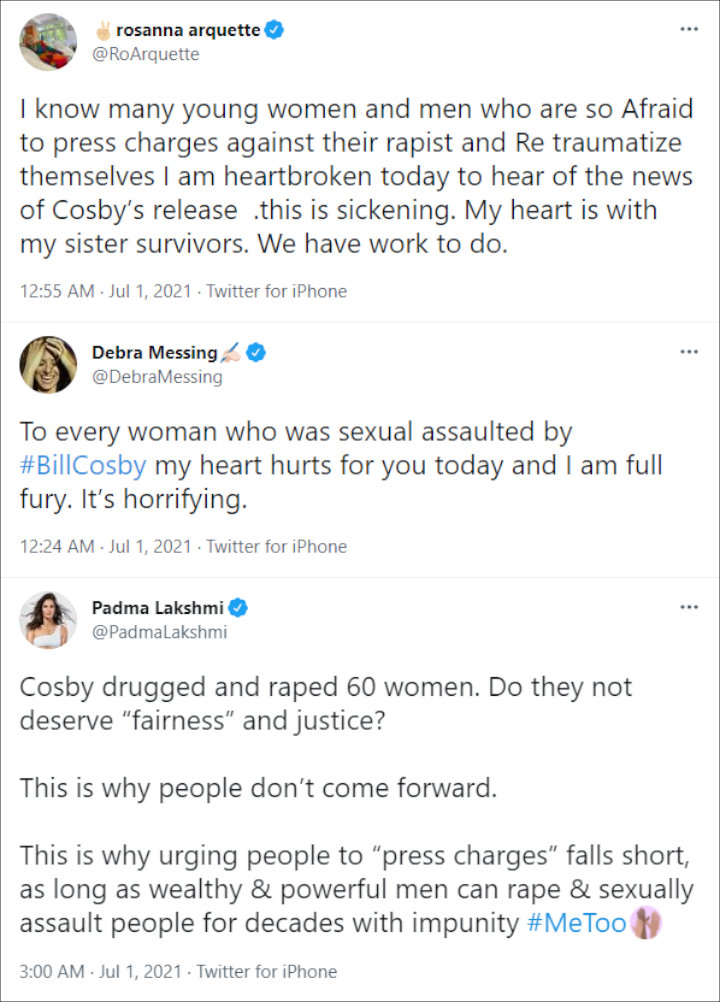 Rosanna Arquete, Debra Messing and Padma Lakshmi condemned court's decision for vacating Bill Cosby's 2018 rape conviction.
"This is why people don't come forward," the author further fumed. "This is why urging people to 'press charges' falls short, as long as wealthy & powerful men can rape & sexually assault people for decades with impunity #MeToo."
Source: Read Full Article