Khloé Kardashian Gushes Over Cheatin' Tristan Thompson & Shares GREAT New Shot Of Infant Son In Birthday Tribute!
Khloé Kardashian wants her ex-partner Tristan Thompson to have a very special 32nd birthday.
And she wants to show the world new shots of the former couple's surrogate son, too! So we are definitely here for BOTH of these new developments!
On Monday afternoon, the Revenge Body alum took to her Instagram page to share a series of pics and videos commemorating the ex-NBA star's 32nd birthday. Khloé turned the comments off on the post itself, but her own writing is the cutest part of it all, anyways. In a sweet message about Tristan's parenting skills with True and the ex-couple's surrogate son, the Kardashians star wrote:
"Happy birthday @realtristan13, You are truly the best father, brother & uncle. Your love, attention, silly dances, hugs, carpool rides, bed time rituals, the way u show up for them. All of the above means more than you'll ever know to your family of littles. My birthday wish for u is that u continue to crave change, healing, and transformation. Be strong, be kind, be patient, be free. Continue to Make your soul and your mommy proud. Happy birthday baby daddy."
Cute.
And it gets better. In addition to the sweet message, Khloé also shared new PICTURES! Yes, that means multiple new shots of her and Tristan's surrogate son!!! Of course, the KUWTK alum has already posted some subtle snaps of the baby boy in recent months, but this new post celebrating Tristan's big day offers us some of the clearest photos yet.
Ch-ch-check it out for yourself as you swipe through the pic carousel (below):
https://www.instagram.com/p/CpvjtE2PvFj/
A post shared by Khloé Kardashian (@khloekardashian)
Love that! True is so adorable holding that baby boy in the first shot as Tristan and his other son, 6-year-old Prince, look on. And it all just gets cuter from there. More, more, more!!
Speaking of more, one other KarJenner family member went above and beyond for the ex-basketball star's birthday, too: Kris Jenner. The momager maven took to her IG Stories to deliver a long, sweet message in honor of Tristan.
Kris wrote about the sudden and difficult loss of his mother Andrea Thompson earlier this year:
"Happy Birthday Tristan! I know this year has been hard so far. But you seem to find the positive and the light amongst the sadness. You look at the glass half full and it has been so great watching you grow as a dad, a friend, a brother, an uncle, and a son.
And she went on to share more gratitude regarding Tristan's resilience in the face of grief:
"You have shown me such inspiration and many lessons when it comes to how you deal with adversity and challenges that seem insurmountable. You have used these challenges as opportunities to better yourself day by day. And I know how proud your mom is of the man you have become. Thank you for that, and for being such a special part of our family. We love you very much!!"
Ch-ch-check out Kris' full celebratory series (below):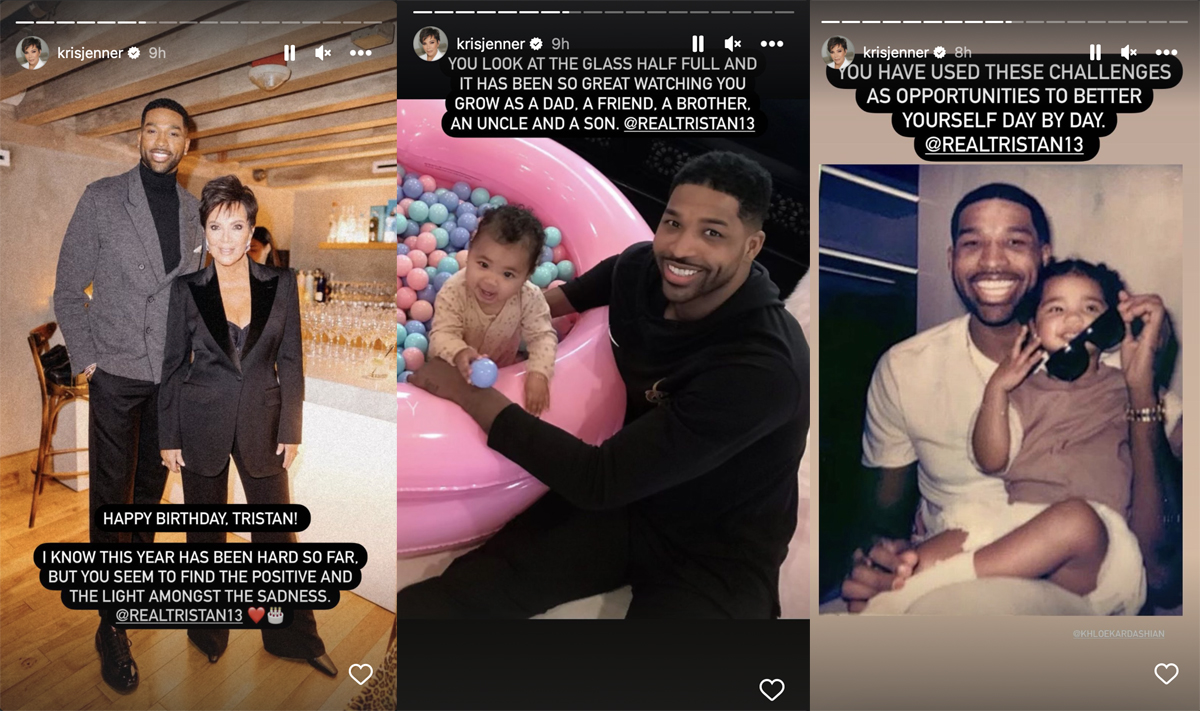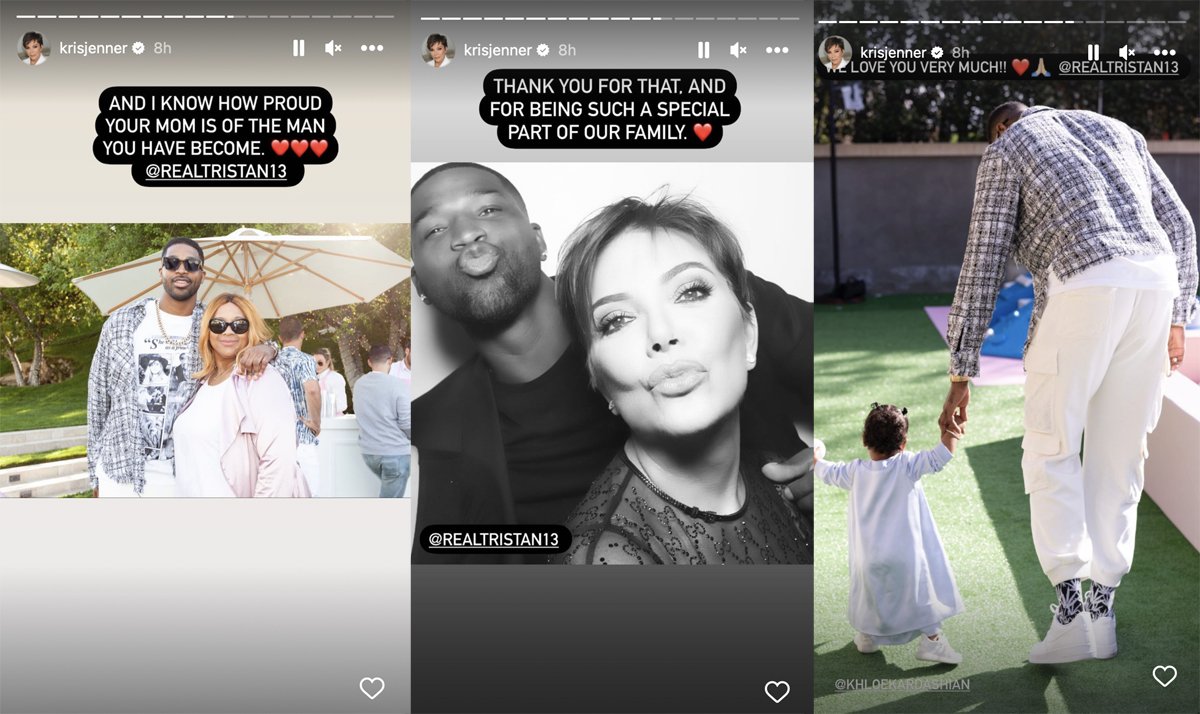 Well said!
Interestingly, there was one notable famous family member who did not wish Tristan a happy birthday: Kim Kardashian!
We only say that because she and Tristan have seemed to be remarkably close in the past — even amid the hooper's infidelity struggles and the pain he caused Kim's little sis. But as of early Monday evening, Kim hasn't posted anything to celebrate Tristan's birthday. Kinda inneresting in our opinion!
What say U tho, Perezcious readers??
Related Posts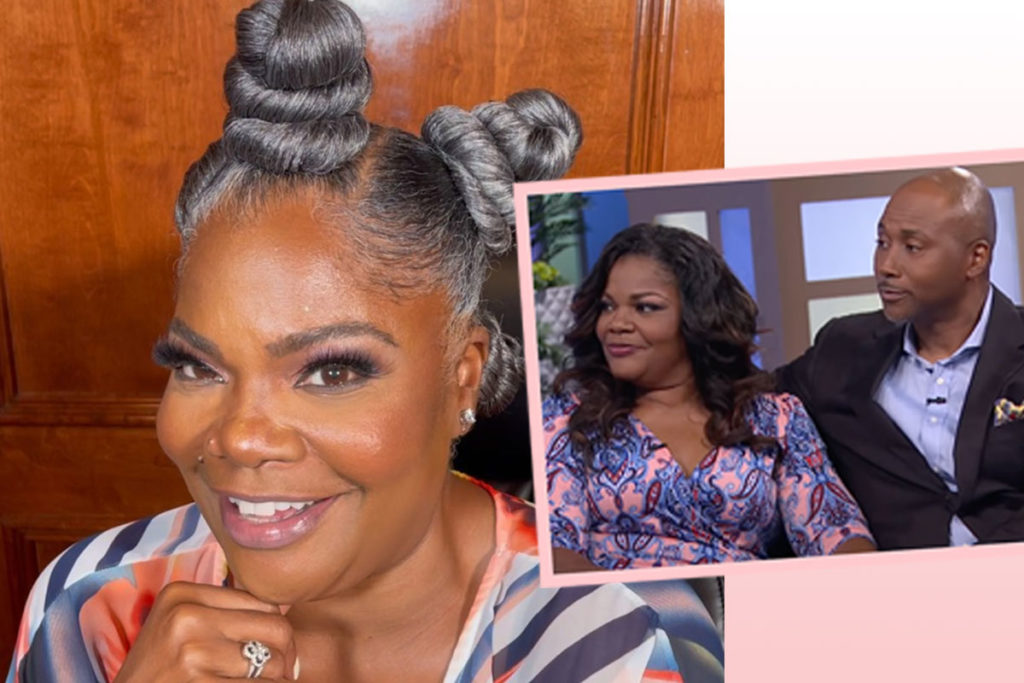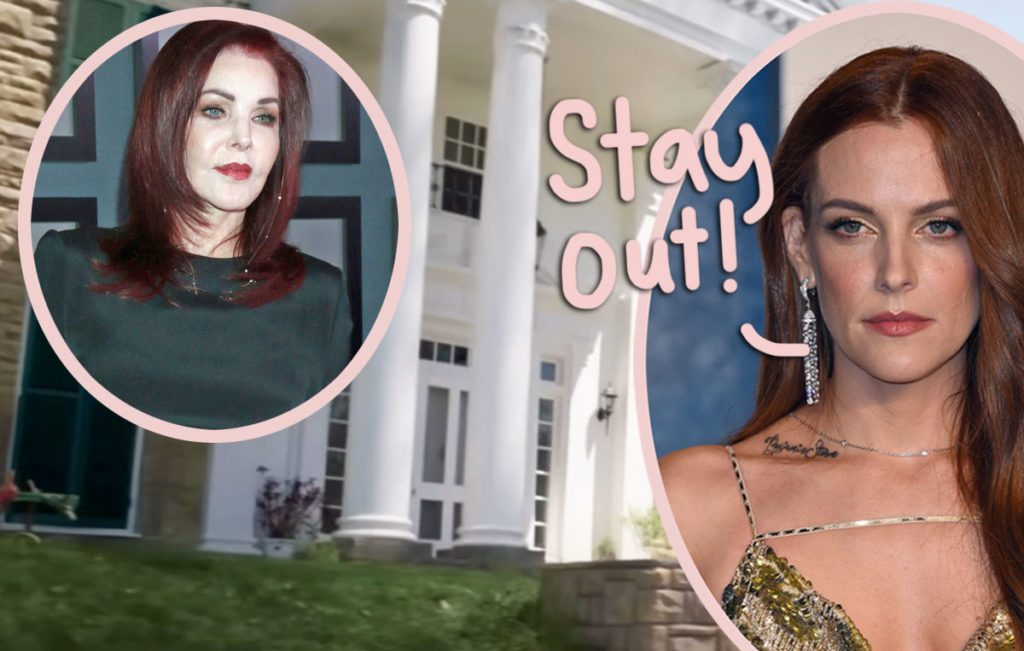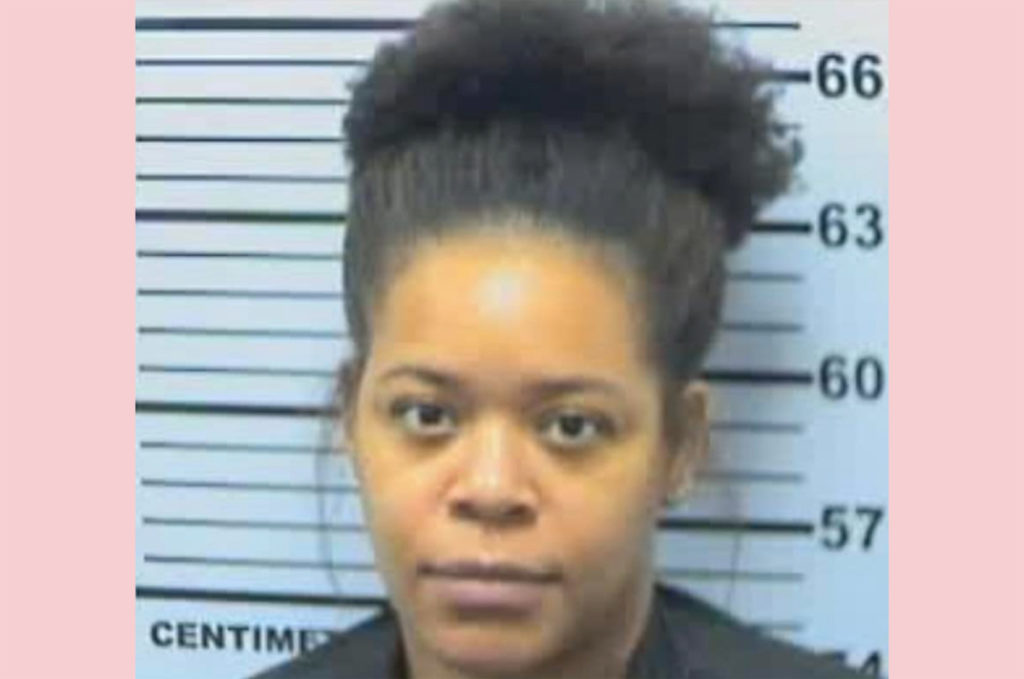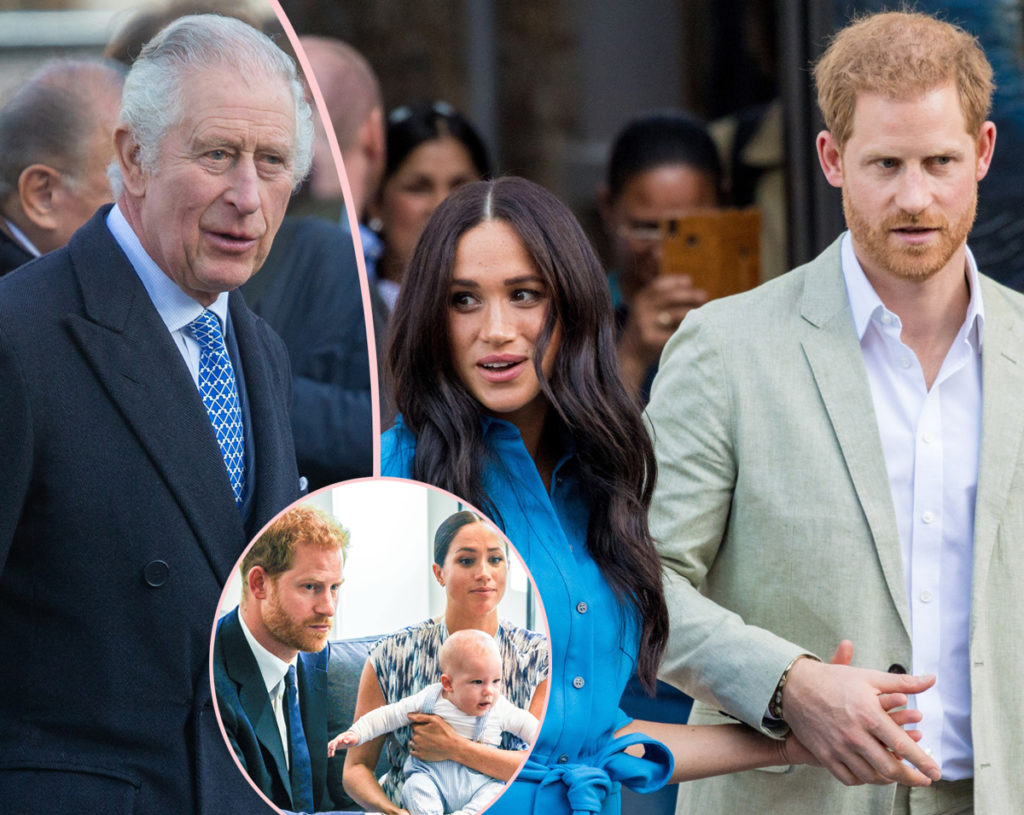 Source: Read Full Article