Kelly Rowland Hits the amfAR Gala Red Carpet With Son Titan and Husband Tim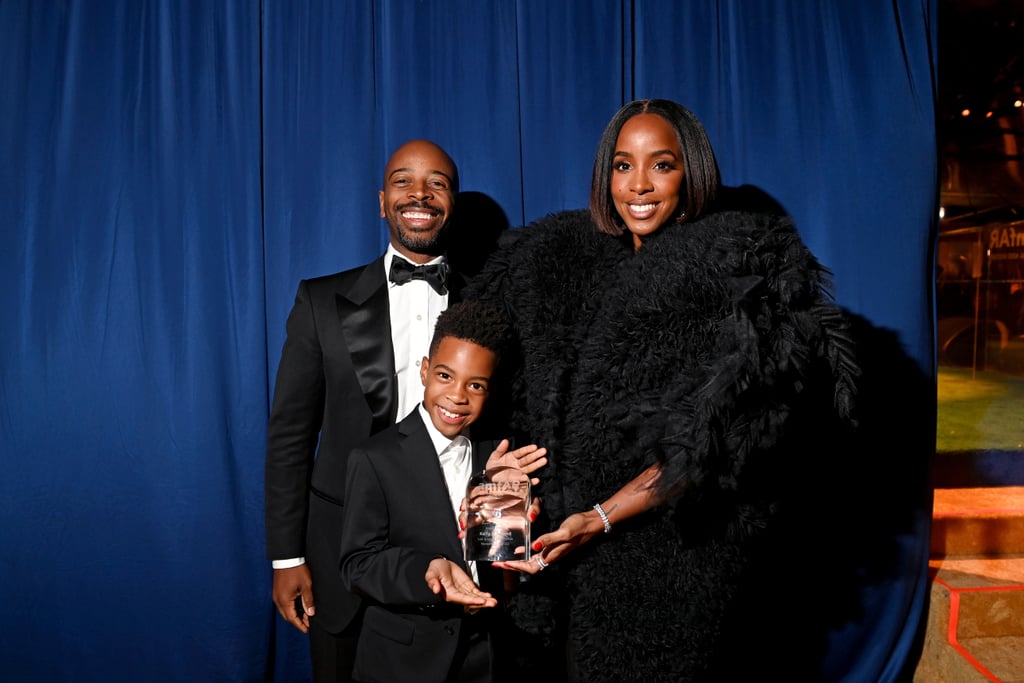 Kelly Rowland Hits the amfAR Gala Red Carpet With Son Titan and Husband Tim

Kelly Rowland made a rare public appearance with her family at the amfAR Gala in Los Angeles on Nov. 3. The Destiny's Child singer brought husband Tim Weatherspoon and son Titan as her dates for the star-studded event, which fundraises for HIV/AIDS research programs. After posing with Rowland on the red carpet in matching black suits, Weatherspoon and Titan took the stage during the ceremony to present her with the award of courage, both beaming with pride the entire time. Weatherspoon delivered a speech to celebrate Rowland's ongoing support of afAR's mission to end the AIDS epidemic.
"We're so proud to celebrate you today, honey," the talent manager said with his arm draped over his son's shoulder. "Simply by being you with your heart, you have always wanted to make the world just a little bit better. But being able to experience the joy of parenthood and seeing how that too has even made you stronger in your resolve to pay it forward makes me smile each and every day. Many of the things you do, you prefer to do quietly, and that started when you were just a young woman in Destiny's Child," he added before listing off a few of Rowland's philanthropic ventures, from working with Ronald McDonald House Charities to cofounding the Survivor Foundation with Beyoncé Knowles. He also gave a sweet birthday shoutout to Titan, who turned 8 years old on Nov. 4 and proudly clutched his mom's award as she later addressed the crowd.
After the amfAR Gala, Rowland shared a photo of her, Weatherspoon, and Titan on Instagram, writing, "Lastnight, @timspoon & @titanjewell presented me with the Award of Courage! I want to Thank @amfar for my beautiful Award!! May we all continue to strive to be the most amazing version of ourselves, and be kind to help others. Thank you AMFAR for leading the charge in HIV/AIDS research!" Though the singer frequently posts on social media about her family — which also includes a 1-year-old son named Noah — they hardly ever step out in public together, making their recent appearance extra special.
Read ahead to see all the adorable photos of Rowland and her biggest supporters at the amfAR Gala.
Source: Read Full Article