Julia Fox Is Out Here Liking Kim Kardashian's Instagram Following Date Night with Kanye West
Literally so much is happening in the Kardashian family right now, it's almost as though someone should give them a reality show in order to keep up with it all. But we're here to talk about Kim Kardashian and Kanye West. In case you missed it, Kim is currently in the Bahamas with Pete Davidson, while Kanye appears to be dating actress Julia Fox. Who, in turn, is out here liking Kim Kardashian's photos.
Podcast host Amanda Hirsch of Not Skinny But Not Fat was the first to notice this, posting proof that Julia went ahead and liked Kim's Instagram from yesterday, January 5th.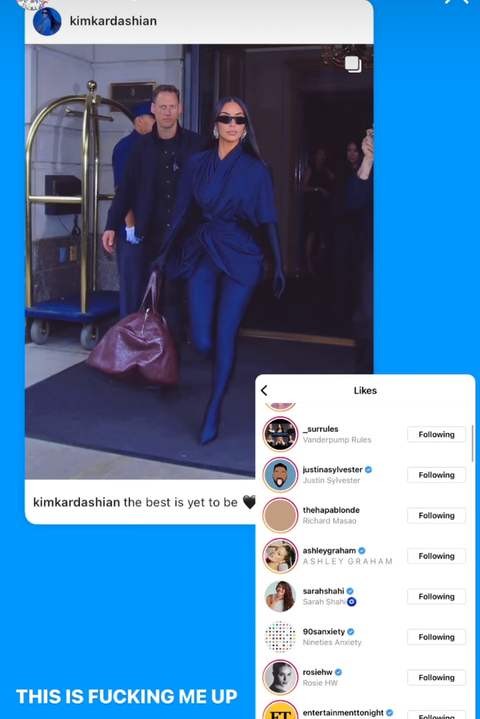 On top of that, Paper Magazine pointed out that Julia Fox was part of their Break The Internet shoot with Pete Davidson:
https://www.instagram.com/p/CYW4bxDJ0Ux/?utm_source=ig_embed&utm_campaign=loading
A post shared by Paper Magazine (@papermagazine)
Literally so much happening here / EVERYTHING IS CONNECTED.
Anyway, despite Kanye publicly dating Julia Fox, E! News reports that he's still trying to get back together with Kim and is fighting for their marriage.
"Kanye has not given up on Kim," a source says. "She's the only one in his heart and he believes they are soulmates and will end up back together. The other women that he is spending time with are a distraction. He likes the attention that he's getting from them, but that's all it is. Kim is still the only one he truly wants to be with."
Meanwhile, another source tells the outlet that Kanye wasn't "overly affectionate" with Julia during their date on January 4th, where they saw Slave Play and then went to Carbone. "They touched down and went straight to the theater," the source said. "They left Carbone a few hours later and went back to the same hotel."
Source: Read Full Article