Jennifer Lopez Wrote the Sweetest Things About Charli D'Amelio for Time100's Next List
It's pretty obvious that Charli D'Amelio is experiencing some major career success right about now. At 16, Charli is holding the title of the most followed person on TikTok with over 100 million followers (and counting!). Charli and her sister, Dixie D'Amelio, secured a brand deal with Hollister last year and her fam's reality TV program, called The D'Amelio Show, is coming out sometime this year. It's no wonder why Charli ended up on Time100's Next list this year…but it is worth wondering why THE Jennifer Lopez wrote her blurb!
Here's what J.Lo said about Charli, in full:
Just a few questions that J.Lo's burb has left me with: Does J.Lo count herself as a fan of Charli's? Are J.Lo and Charli CLOSE FRIENDS? Did the D'Amelio's get to hang out with J.Lo and Alex Rodriguez??? I have too many questions, and the room is spinning. Probably from trying—and failing miserably at—recreating Charli's dance videos.
Charli seems to be pretty fond of J.Lo's words, because she reposted the blurb to her Instagram stories along with two pink heart emojis.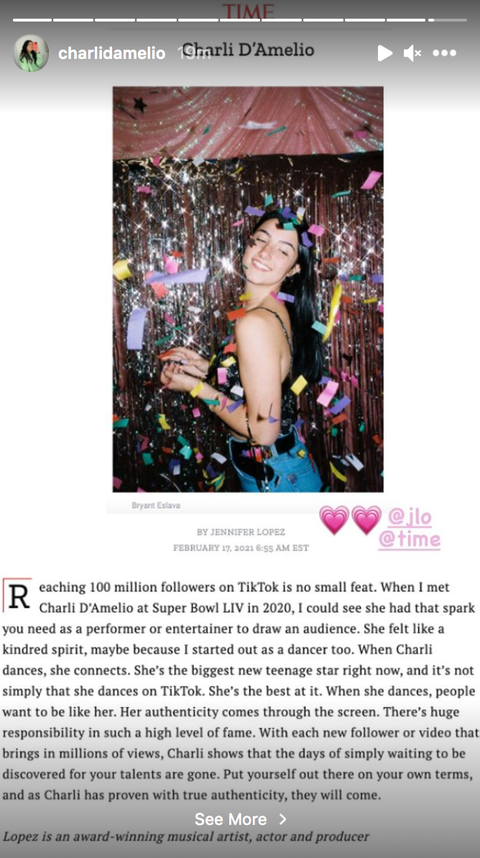 It also is worth mentioning that J.Lo and Charli have some type of relationship, as J.Lo's kids are fans, and J.Lo actually let Charli be in her music video last year.
Welp, looks like I'll be reviving my goal of achieving widespread TikTok fame…again!
You love all the nitty-gritty deets on celebs. So do we! Let's overanalyze them together.
Source: Read Full Article