Irina Shayk Seemingly Addresses Lady GaGa Rumors & Says She Still Believes In Marriage After Split From B
Irina Shayk isn't giving up on love!
It's been a little over a month since we reported the supermodel and Bradley Cooper split after four years together. The overall amicable exes are said to both be ready to move on and date new people, all while remaining active as co-parents in their daughter Lea de Seine's life.
In a new interview with Harper's Bazaar, the 33-year-old momma opened up like never before — sharing her feelings on marriage, motherhood, and what she REALLY thinks about the public's obsession with her high-profile breakup.
Appearing on the publication's summer digital magazine cover — her first major spread since the split — the Russian beauty revealed she has not given up on love, nor the institution of marriage itself.
"Do I believe in marriage? Yes, of course. I'm not the kind of person who is against it."
Well, good for her! The woman went through a breakup, but it isn't the end of her world as we know it.
Although she and The Hangover star never made it down the aisle together, it's clear Shayk isn't over the idea of saying, "I Do" at some point in her future.
As you know, the former couple kept their relationship mostly private, and it supposedly later suffered following speculation of an affair between Bradley and his A Star Is Born costar, Lady GaGa.
Now, with the added benefit of hindsight, Irina explained she understands the world's fascination surrounding her ultra-private romance with Cooper, and why fans might have latched on to those pesky rumors:
"I think it's just human beings: if you cannot have it, you want to have it. There's a curtain there, you want to open the curtain. It's curiosity I guess."
We mean, who wouldn't be curious about the status of their union after that unforgettable Oscars performance of Shallow, all while Irina sat back and watched with a seemingly forced look on her face?
It was pretty hard not to wonder what was really going on with Cooper and GaGa, after so many public appearances like this one (below)…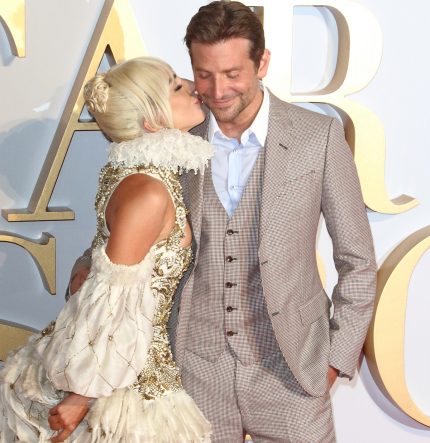 It seems Shayk is working hard to close that chapter of her life and focus on showing her two-year-old what it means to be your authentic self:
"You have to be really truly yourself for your kids, otherwise you're living in a lie. Tell me one reason why, just because you're a mother, you need to wear a longer skirt. No! I don't believe in that. I really don't. How is it that people think of this idea? Why should you have to change who you are and how you feel just because you become a mother? I'm like, tell me why. Tell me one reason! I don't believe in that. I don't understand why."
That was a bit of a tangent. LOLz. But still, we totally get the sentiment here!
The model also offered up a little tip for the next guy who tries to steal her heart:
"Every time people send me flowers, I'm like, just send me a tomato plant!"
Irina admitted she is very much a hopeless romantic and hopes her future beau will put in the work to keep their spark alive:
"Nobody's sending letters to anyone anymore. I really believe if you go for dinner with somebody, you don't have to send them a text or keep them updated on Instagram message. You freaking pick up the phone, call and say, 'Let's have dinner.'"
Dang. Who knows, maybe a few more thoughtful date nights might've saved that Bradley-ship before it sailed for good…
Anyway, before you go, ch-ch-check out these gorgeous shots of Irina's spread for HB (below):
Thoughts, Perezcious readers? Share them in the comments (below)!
Source: Read Full Article