Every Single Detail About Machine Gun Kelly and Megan Fox's Whirlwind Relationship
They may have met on planet Earth in 2020 (God, help us), but Machine Gun Kelly and Megan Fox's relationship is fully out of this world. That is, if you believe in twin flames and cosmic connections like they do. Since they went public this spring, the couple's been dropping mirror selfies and Instagram Stories like it's their job. In turn, Megan's ex Brian Austin Green then posted some shady sh*t. It's becoming a pattern, so before Megan and MGK post the mirror selfie that will inspire BAG to give up on his not-so-subtle subposting, let's go back to when their souls first connected.
March 2020
Right before 2020 took a turn for the worst and made connecting with people IRL so dangerous, the Jennifer's Body and The Dirt actors met on the set of their new thriller, Midnight In The Switchgrass. Filming shut down after only two weeks, but clearly that was long enough for them to form a connection. At the time, a source told E!,"The down time has been good for them…They are intrigued by each other and having a lot of fun."
April 15, 2020
Major development: Megan and Brian were seen exchanging their kids and a car seat in a Calabasas parking lot, suggesting they transitioned to coparenting their three young sons (Noah, Bodhi, and Journey).
May 15, 2020
The Daily Mail published photos of Megan and MGK getting takeout together in Calabasas. By this time, Megan and Brian had been seen without their wedding rings, and this outing set the stage for Brian's first cryptic Instagram post.
May 16, 2020
*Billy Eichner voice* And away we go! Brian posted a telling message on Megan's birthday. He wrote, "Eventually butterflies get bored sitting on a flower for too long. They start feeling smothered. It's a great big world and they want to experience it."
Think this is a reference to Megan's back tattoo (which says "we will all laugh at gilded butterflies")?
May 18, 2020
Brian confirmed he and Megan split in December 2019 during his podcast. He explained how the end of their decade-plus entanglement happened:
At the time, Brian also said that while he hadn't met MGK yet, Megan did talk about him and he knew that they were "friends at this point." The Beverly Hills, 90210 actor continued, "I really don't want Megan and I to be at odds. She's been my best friend for 15 years, and I don't want to lose that."
Literally That Same Day
Uhh, a source told E! a different story and made it clear that Megan and MGK are more than just friends. They spilled, "Megan has been working on a movie with Machine Gun Kelly and gotten close to him. They are hooking up and have been for a little while. She is separated from Brian Austin Green, and they are taking time apart as a couple. She has something going on with Machine Gun Kelly that she is excited about."
May 20, 2020
MGK finally released his much-anticipated "Bloody Valentine" music video, and Megan is alllll up in it as his on-screen girlfriend.
MGK later opened up about the creative direction for the video and basically pulled a stan Twitter and said it was vital that she step on his face. Two months later, he told Teen Vogue, "It's no secret. I think feet are beautiful. And I think Megan has the most beautiful feet that exist." He went on to explain, "I was like, 'Megan, you already know what I'm about to ask you. And she was like, 'Yeah, I literally got a pedicure just 'cause I knew you were gonna ask me that.' So I was like, 'All right. Well, plop it on.'"
And now we have this GIF!
June 15, 2020
The Daily Mail published pics of Megan and MGK kissing after a night out in Sherman Oaks, which you can check out right this way. MGK later tweeted his "Bloody Valentine" lyrics and wrote, "'I'm calling you girlfriend, what the fuck.' Life imitated art on that one."
"i'm calling you girlfriend, what the fuck"
life imitated art on that one. ❤️🔪
June 16, 2020
An E! source claimed that though Megan and MGK clearly have something going on, Brian isn't ready to file for divorce just yet. They explained, "He wants to give Megan space and is hopeful they will find their way back to one another. It's been hard to see her get back out in the dating world, but he is trying to fill his time with his kids and friends."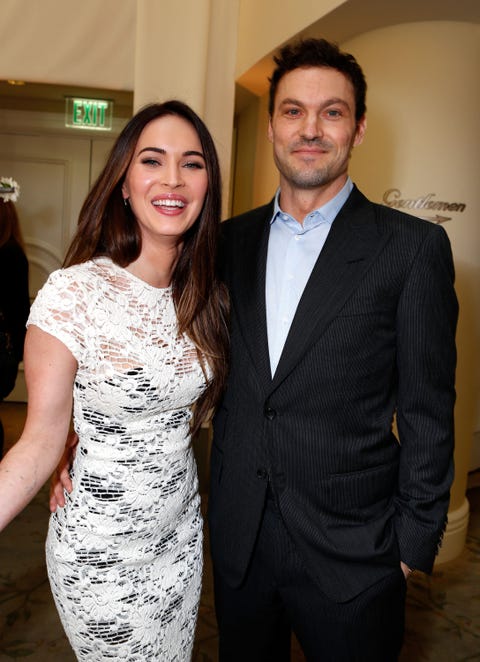 June 17, 2020
Us Weekly confirmed, "Megan and MGK have gotten more serious and are officially dating and referring to one another as boyfriend and girlfriend." A day later, an E! source said that basically whenever the kids are with Brian, Megan is with MGK.
Things! Are! Heating! Up! Can somebody please check on Brian?
July 22, 2020
Megan and MGK gave their first joint interview and spilled so much.
Talking to Lala Kent and Randall Emmett about filming Midnight in the Switchgrass, Megan said she had a feeling something would happen between her and MGK when he was cast. She explained, "Because I knew—I could feel that some wild shit was going to happen to me from that meeting, but I wasn't yet sure what. I just felt it like, deep in my soul—that something was going to come from that."
She went on to say:
Astrologist Susan Miller also appeared on the podcast and told them they are destined for marriage. Megan stated that they weren't engaged, but when Susan said that MGK was meant to be with someone who is "happy, or it could be a scholar," he said, "Yeah, Megan is always really happy." *Internally screams.*
July 28, 2020
MGK made their relationship Instagram official!
August 3, 2020
Brian went on the Hollywood Raw podcast to say some cryptic stuff about how he found out Megan and MGK were dating and suggested that he's going to keep everything mature. Brian revealed, "I found out in my own way. And that's as much detail as I'll give you on that one…I try to not read anything or look at anything and not involve myself in it. Just keep my head down and do what I do and focus on the kids."
However, the high road approach didn't last long because two days later…
August 5, 2020
Megan posted a shirtless pic of MGK on her feed and wrote, "Achingly Beautiful Boy… My heart is yours 🔪♥️🔪"
Which, Brian later mocked that by posting pics of his sons and copying the caption.
Somebody is an achingly petty boy.
August 12, 2020
Surprise, surprise. Brian is reportedly "annoyed that [Megan] is so focused on her relationship with Machine Gun Kelly." ¯\_(ツ)_/¯
August 14, 2020
When fans tried to thirst after MGK, he shut it down and made it clear that he's only "sucking one pair of toes."
True love.
August 29, 2020
Brian went on Instagram Live and implied that he and Megan could get back together because they have a mutual understanding that they're doing their own things right now. "I never say never," he said. "I kinda feel like people are on paths in life and sometimes your paths are together and you travel that path together and you see eye to eye and then sometimes paths do different things."
August 30, 2020
MGK attends the MTV Video Music Awards and said he'd hop on a plane right after to go be with Megan. Until then, he kissed a picture of her.
Machine Gun Kelly shows love for girlfriend Megan Fox at #VMAs:
"I'm actually getting on a plane right when I leave to come see you and give you a big kiss" pic.twitter.com/dH8G47kk01
September 10, 2020
MGK met Megan's kids! It's unclear if she also met his 12-year-old daughter, but they are obviously progressing in their relationship. An Us source even added, "It's too soon [for marriage] for everyone, both of their kids and Brian included. They are definitely super into each other. MGK is obsessed with Megan."
September 11, 2020
Now, Brian reportedly "isn't devastated by their split anymore" and doesn't care that they're "flaunting their relationship publicly." Good for him! Back to the real main characters in this news cycle!
September 16, 2020
MGK was the star for Kerrang's latest cover story! And the pictures are wallpaper-worthy! But in addition to that, he gave fans a teeny bit of insight into his relationship with Megan. Basically, she pulled a Regina George and told him his hair looks sexy pushed back. "I don't like seeing my face," he said. Smiling "bashfully," he added, "I only did this because my girl likes my hair pushed back sometimes."
September 18, 2020
MGK and Megan celebrated when his song started playing on the radio. Cute! But please focus on the road, y'all!
And that brings us up to date! The next time Megan or MGK post a lovey dovey mirror selfie, you can bet we'll keep you updated.
Source: Read Full Article