Cardi B Returns to Social Media With Brutal Clapback at Entitled Fan
After taking some time away from social media, the 'WAP' hitmaker comes back by declaring she does not owe anything to anyone in response to a hater who dubbed her a mean girl.
AceShowbiz -eh
Cardi B has been taking her time away from social media to avoid unnecessary drama, but the drama seemed to refuse leaving her alone. Once again hit with a hate remark from an entitled fan following her return to the online platforms, the "WAP" hitmaker gave a brutal clap back in response.
The online drama took place on Twitter, where one fan blatantly judged the "Up" hitmaker as a mean girl. "Because you know exactly what you meant and girl I live nowhere but in PA, you need to stop with this mean girl act towards us when we get the bare minimum from you," the fan tweeted, "We're your fans not your cult or your workers babe."
The tweet left Cardi fuming, and prompted her to immediately clap back at the so-called fan. "The bare minimum? I don't gotta give you or no body nothing but my kids and my mom. I don't care bout no fans no cult no nothing," the "Girls Like You" raptress fired back in a since-deleted tweet, "I came in the game wit not 1 fan base but my mouth. You wanted a answer now u have it. All of y'all have it IDGAF."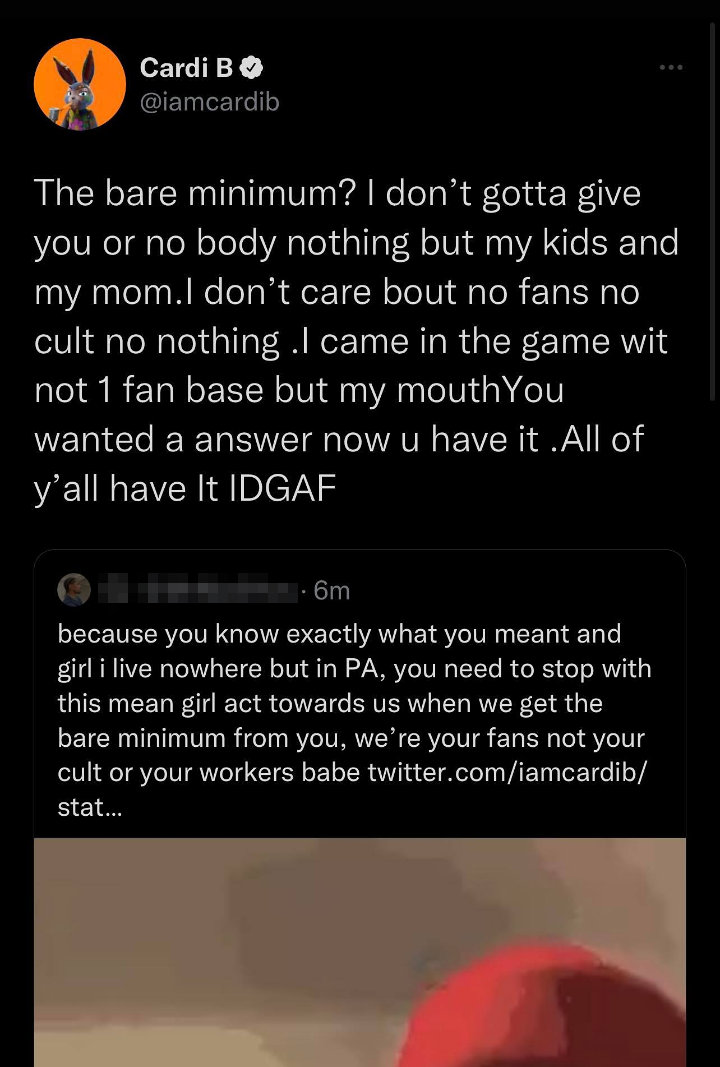 Cardi clapped back at a so-called fan who judged her.
The "I Like It" hitmaker has been struggling with trolls on the internet. That is why, she occasionally had the needs to stay away from social media and sometimes lost her temper on her accounts. At times, she would brush off any negative comments that came her way, but when necessary, she is not afraid to let haters know how she really feels.
Previously, Cardi was also pitted against fellow musician Billie Eilish. Many took issue with the "Happier than Ever" hitmaker after she called her fellow artist "so weird" in a red carpet interview at the 2022 Met Gala. Left frustrated by it, the "Bodak Yellow" hitmaker turned to Twitter to let others know what was up.
"I hate the internet cause one, how do y'all turn one of the most lit parties into drama? Two, 'ocean eyes' is the song I cater to my daughter," the 29-year-old raptress stated, "Three, Billie is my f**king baby. Yesterday, from the Met to the party, everything was drama free. Why do yall wanna turn everything into mess? [sic]"

Cardi expressed discomfort for social media.
On Friday, May 13, Cardi yet again expressed her discomfort for social media. She wrote a simple tweet that read, "Hate this base."
Source: Read Full Article