British Influencer Facing Backlash After Surgery
If you are a BTS fan who spends a lot of time online, there's a good chance you have come across British influencer Oli London.
London made headlines when they went under the knife 18 times to look like group member Park Jimin, per TMZ. The influencer also identified as Korean, but received criticism for their surgeries. They set the record straight on Instagram, writing, "I took the difficult and brave decision to come out as Non-Binary and Korean to help millions of other LGBTQI+ young people around the world, Kpop fans and the Korean people feel confident enough to be able to feel no fear to be able to express themselves and how they identify." London added that they wanted to be a "beacon of light" to this community, but looking like Jimin "[shouldn't] be a reason to outcast [them] from society."
However, the criticism seems to be at an all-time high for London. Keep reading for more details.
Oli London is reportedly scared to death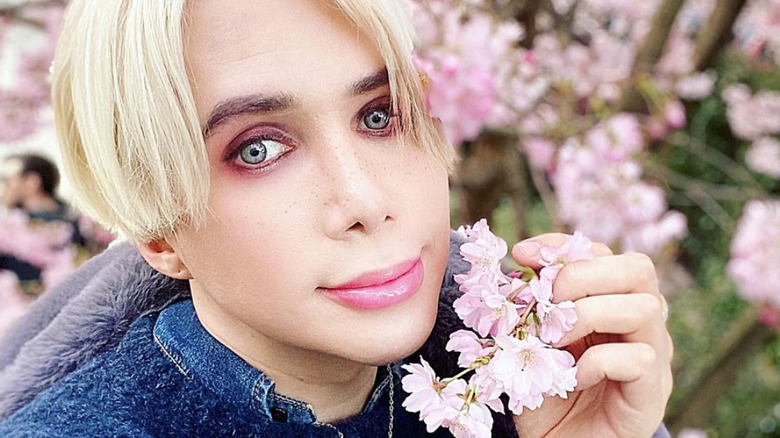 British influencer Oli London underwent 18 surgeries to look like BTS crooner Park Jimin, but is reportedly receiving "death threats," according to TMZ. London identifies as non-binary and changed their name to Jimin, but it seems the threats against them have only intensified. Some comments are telling them to "commit suicide" and others "[threaten] to gun them down." The influencer also identifies as Korean after going through surgeries including a brow lift and plenty of eye work. London alleges most of the attacks originate from "liberal white people," but "Republicans" and those dealing with identity issues have remained supportive.
Despite the threats, London wrote on Instagram that they "hope by sharing my story I can help others find themselves and be able to express who they really are." London seems to be taking a stand against critics and released a diss track on their YouTube channel in May. The purpose of the track was to "call out Youtuber's and people that have gone out their way to troll me online, to make videos about me and incite bullying towards me," they wrote on Instagram.
If you or a loved one has experienced a hate crime, contact the VictimConnect Hotline by phone at 1-855-4-VICTIM or by chat for more information or assistance in locating services to help. If you or a loved one are in immediate danger, call 911.
Source: Read Full Article